A help desk is essentially a single point of contact for customers to get in touch with you, and also for managers to handle customer communication and queries. It provides customers with a window for reaching out, in addition to email, through which they can submit queries or complaints. It also provides managers with a centralized source of information and management through which they can organize customer communication, resolve queries and manage the support team as well.
In other words, a help desk allows companies to offer reliable support services to customers and in turn, the best possible customer experience. Typically, businesses make use of comprehensive helpdesk software to handle internal and external support services. As mentioned before, it acts as a centralized digital source of customer insights and also an efficient way to manage the support team.
What is HelpDesk Software?
A helpdesk software solution is a tool that allows companies to handle support services in a much more efficient and quick way. They provide automation features to speed up redundant and repetitive tasks such as acknowledging a customer query and improving the effectiveness of resolving queries with an efficient ticketing system. By speeding up the entire process of customer support, improves customer experience and results in positive word of mouth, which is still, one of the best ways to increase brand reputation.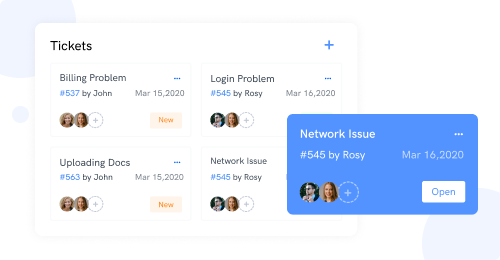 A Brief History
If we take a look at the history of the concept of help desks in business, we'll find that it dates back to 1960. That was when call centres came into being, initiated by companies as a way for customers to submit complaints and queries for fast resolution. However, there was no proper method to manage the priority of the queries that came in. Later in the year 1991, the concept of ticketing system was established, by which support processes became a lot more organized.
By 2014, when smartphones started gaining momentum, mobile integrated support services became the new norm. And now, bang in the middle of an increasingly digital generation, multi-channel customer support is the name of the game. Support.cc is the perfect example of a comprehensive helpdesk software system that not only offers an omnichannel presence with phone, chat, email and social media integrations, but also comes with several attractive features like a reliable ticket system and a rich knowledge-base for both customers and the support team to gain insights from.
Why Do You Need Helpdesk Software?
Customer experience, we all know, is the be-all and end-all of a business. without a satisfied or happy customer, no amount of products or services can help you grow. To effectively sell your product or service and have customers coming back to you for more – that is what a business strives for. And for that, there are no shortcuts but to offer the best customer experiences. As Sheila Lirio Marcelo rightly said, forging strong relationships should be the focus of all businesses, whether it is with customers, or colleagues, or partners. Addressing customer queries and complaints, needless to say, forms a large chunk of customer experience and establishes strong customer relationships. Delay in addressing queries or resolving complaints, can drastically bring down your reputation and credibility in the eyes of the customers. This is why you need top-notch helpdesk software to manage customer support. Here is a breakdown of the benefits that you will receive on installing helpdesk software.
1. Manage Customer Issues Promptly From Different Channels
Helpdesk software systems offer multi-channel integrations with which customers can submit queries or complaints from wherever it is convenient for them. For example, customers placing an order on your website can submit a query about the same order through your Instagram page, or over the phone or through an SMS. It will automatically be integrated with the help desk ticketing system and put in line for resolution as quickly as possible. Support.cc comes with omnichannel support integration along with a prompt ticketing tool that helps integrate queries from multiple channels and offers a quicker resolution of issues for customers.
2. Automate Tasks and Streamline Processes for Better Efficiency
Every help desk involves a set of tasks that are redundant, repetitive and time consuming with no real value addition. These include sending acknowledgements of complaints of queries to customers on receipt of their input, sending notifications to support staff on following up with pending requests etc. Task automation features allow you to automate and speed up all of these tasks, leaving you with more time to do more important work. Support.cc comes with amazing automation features that allow you to create tasks, prioritize them, invoke rapid responses to queries and also manage the workload more efficiently.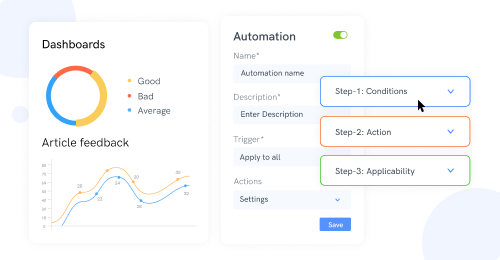 3. Unify All Support Channels in a Single Place
Helpdesk software systems allow managers to operate multiple channels of support from a single place. with proper integration and syncing of data, queries and complaints received from any channel are reflected in the dashboard and action can be taken promptly.
4. Learn More About Your Customers Through Analytics
Helpdesk software also offers the long term benefit of getting close and personal with your customers. with the help of analytics generated by your helpdesk software, you can get a lot of insightful information about your customers, such as the kind of services and products that they like, the kind of things they don't like etc. This allows you to learn more about each of your customers and incorporate the knowledge into your personalized marketing efforts.
5. Get Effective Feedback for Improvement
Most comprehensive helpdesk software solutions allow real-time feedback from customers on the customer service, on the knowledge base content etc. This allows you to know what they like instantly and implement changes for improvements. Support.cc allows real-time feedback from customers as well as from team members on the service and content that you offer. Once again, it lets you study your customers and colleagues better and allows you to be proactive in your efforts.
"Instead of focusing on the competition, focus on the customer." – Scott Cook
6. Proactively Support Customers with an Insightful Knowledge Base
Helpdesk software systems come with a rich knowledge base of content for customers and team members. You can add in your FAQs, informative articles on important subjects, instructions and other forms of insights into your knowledge base for your customers and colleagues to help them get quick info on certain matters. Support.cc features a full-blown knowledge base that acts as a library of content for everyone using the system. It also comes with features to add contributors to the content, tag authors, add HTML tags and also receive analytics on the content, so that you can see how it is doing.
7. Integrate Multiple Channels of Support for Maximum Reach
With the help of omnichannel customer experience, helpdesk software also helps you expand your reach among customers. Oftentimes customers decide against contacting you and silently just churn altogether if they have an issue and they don't have an easy way to contact you about it. Well-integrated helpdesk systems help avoid such issues to a great extent.
Who Can Use Helpdesk Software?
Helpdesk software can be used by any kind of business in any industry if they need to be available for their buyers for queries.
In Terms of Size
Small Business SMBs can make use of helpdesk software to put their available limited resources to the best use. You can set up your own knowledge base with a good amount of content for your customers to turn to whenever they need it. Additionally, being a small business, you will need to go above and beyond to make your customers happy with round-the-clock support. Automated ticketing systems can help immensely with that. Enterprise Enterprise businesses can make use of high-end comprehensive help desk systems that provide integrations with other departments as well, like product development and marketing. This can help you get expert hands-on on the subject to address complicated customer issues as well.
In Terms of Customer Segment
B2B B2B businesses stand to benefit the most from omnichannel support. Companies can make use of integrated phone calls for quality control where they are most likely to discuss all the details of their projects. In terms of automation, companies can incorporate custom features like escalations to send the client over to the respective subject matter expert. B2C Ticketing systems are an absolute must when it comes to B2C business.
As companies are likely to have more volumes of customers, considering that their products are lesser priced than that of a B2B company, they are also most likely to have higher volumes of customer queries and complaints. Automation works wonders for B2C as well, not to mention an informative knowledge base where you can redirect customers, in case their issues are already covered.
Important Factors to Consider When Looking for Helpdesk Software
If you are considering purchasing helpdesk software for your business, here are some important factors to consider.
1. Flexibility to Suit Different Business Models
Regardless of whether you are in B2B or B2C and regardless of what industry you deal with, your helpdesk system must be flexible enough to suit your business model and organizational structure. It must be customizable so that you can add or remove extra features to suit your special requirements.
2. Flow Management Features
Your help desk system must have flow management features so that you can help spread the workload across your team and get tasks done on time, with prompt notifications for the same.
3. Automation Features for Prompt Responses
To get the most out of your helpdesk software solution, you need automation features as well. It helps you stay focused on the more important tasks by handling the minor redundant tasks. It also helps speed up the process of query resolution and ensures that customers are informed about it promptly. Support.cc, for example, features effective automation capabilities with which you can create canned responses to answer common questions and queries quickly.
4. Knowledge Base
Helpdesk software systems help offer a rich source of information for both customers and team members alike. It helps take care of less complicated customer queries and also helps the team self-serve instead of escalating the issue to a superior.
5. Feedback Features to Make Improvements
Feedback features are once again a must-have when it comes to helpdesk software systems, as it helps you make real-time improvements and offer the best quality customer experience. Support.cc features real-time feedback features that allow you to collect, filter with relevant criteria and implement changes for improvement.
6. Reports and Analytics
Analytics are the tangible numbers against which you can measure yourself and make improvements. It is the best way to analyse your own performance against the business goals and take action to correct anomalies wherever required.
7. Ease of Use
Last but not least, you must make sure that your helpdesk software system is easy to use and set up in your work environment. Cloud-based helpdesk software often does not have the problem of installation. Nevertheless, a user-friendly interface and a crystal clear dashboard are absolutely essential for your team.
Conclusion
Helpdesk software invariably help streamline the whole process of customer support, and in turn facilitate smoother customer relationships. It helps you better manage your existing customers and ensures that their interest and loyalty is sustained. In short, Support.cc will help you build long-lasting relationships with your customers, which undoubtedly serves as the firm foundation for your business.