It is critically important to use helpdesk customer support to make your customers satisfied and delighted to partner with you to meet customer expectations. Often, businesses start out on the support front with a shared mailbox, which can almost never be sustainable. Here, the glitch comes while using the mailbox since it is used by multiple employees/representatives. You were also not known till where the issues have been solved.
What Does a Help Desk Do?
A help desk is defined as a technology that executes a few core tasks and further acts as a partner as you scale. To explain it in a traditional way, a help desk defines its goals and processes based on the best practices of both Government and Corporate such as ITIL (Information Technology Infrastructure Library). Its goal is "to restore normal operations faster and minimize the adverse effects on business operations" when dealing with customer issues. No matter if you are running either a small-scale company or an enterprise-level one, the help desk enables you to get rid of the queries.
Improve the way you serve your customers.
Start with FREE account today! Sign Up FREE for 10 users
A help desk is also referred to as a service desk, defined as a one-stop point of contact, which provides centralized and consolidated information and support management service that helps handle a company's internal and external queries. It enables the companies to resolve customer grievances efficiently and effectively just by automating the complaint resolution process from the ticket management system.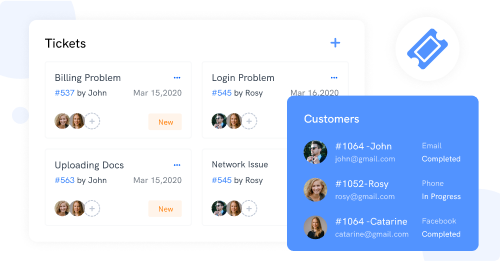 A helpdesk software can help in performing the following processes:
Allows an omnichannel service - It means you can choose the channels that fit your customer needs. These include live chat, phone support, texting, email.
Handle customer queries and issues in a systematic method - This can be done from listening to the customer query, managing and organizing to resolution and reporting.
Performing self-service capabilities - You should choose the right service desk and by doing so, it lets you take your institutional knowledge of your team and implement it to work for your company.
Monitoring, Tracking and Analysis - On a daily/weekly/monthly basis, you should monitor and track the tickets raised by the customers, who assisted them, how much time did they take to analyze the query and respond, and ultimately whether or not the problem is resolved? And finally, how do we satisfy the customer?
Useful Integrations - Sometimes, some applications, plug-ins, add-ons can be considered lifesavers to increase future growth.
Few of the solutions are free. However, they are inevitably limited. Some other helpdesk software offers a free trial, which can be used free of cost for a time period. Based on the solution that you find out using, you can choose the one that best suits your business needs.
Some Efficient Help Desk Solutions
Let us look at a few of the helpdesk software that helps you in solving your customer problems/issues.
AI-Driven Chatbots
Integrating AI-driven solutions such as Support Bots results in greater problem-solving solutions. Customers are often likely to associate in solving problems with a human-like and realistic voice that can answer their queries with informed responses.
Most organizations across various industries also choose it because AI is the only available solution capable of reacting to customer queries, as they simultaneously speak while traversing a complex software grid of the company to offer assistance and tips to the real-time operations.
Nowadays, many organizations are preparing their own AI-driven solutions like Smart bots, Chatbotor to make their customers ultimately satisfied. A few of these include Face-to-face recognitions, in-store transactions, personalizing recommendations based on the previous chat history and many more.
IoT
IoT can also be used to enrich communication. From operational management to the behavior of customers, IoT is capable of generating your essential business data. You can increase your customer satisfaction level with the insights offered by IoT technology. You are also allowed to gauze your customer's interest area, which is most important to personalize their experience.
In addition, you can suggest a relevant guide for them to use the specified features/functionalities based on the statistics gathered by IoT. This type of personalized interaction with the customers creates a longstanding relationship and bonding with your businesses.
Types of Helpdesk Software
We can categorize the helpdesk systems based on their availability in the market. For example, it can be done based on the customer support function, business size and other factors. In general, the helpdesk software is classified by their target users, source code accessibility, deployment type and more.
1. Web Help Desk
This is a Software as a Service (SaaS) or cloud-hosted one, where the company can rent the solutions on a subscription basis. It is also easier to scale up and is cost-effective.
2. Enterprise Help Desk
This model does not comprise the standard features. But, it goes beyond addressing the customer queries with a faster resolution rate because it includes such features that improve the company's overall efficiency.
3. On-Prem Help Desk
This is the type where the company owns and hosts the system and gains complete control over the helpdesk software, and the company itself is solely responsible for its functioning and maintenance.
4. Open Source Help Desk
with this, the developers do not require any permissions or user licenses accessing the source code. This model makes it easier to perform alterations.
Importance of Helpdesk Software
In this technological world, getting the customer's things done is a critical factor and it should be done ensuring zero or minimal downtime. If there is a case of system failure, none consider it as a possible case and instead, they complain of it or they completely stop using it. So, choosing a trusted helpdesk is most important.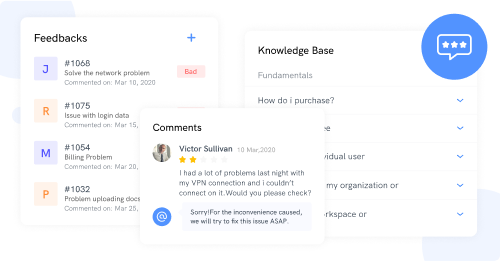 Integrating efficient helpdesk software positively impacts multiple facets such as enhanced customer satisfaction, increased productivity, improved business customer service, and more.
Benefits of Using Helpdesk Software
Let us know how efficiently a helpdesk can solve customer issues/challenges.
1. Faster Ticket Resolutions
A robust helpdesk ticketing system automates the routine processing of incoming and outgoing helpdesk cases and helps to focus on addressing and closing the tickets. Whenever an incoming ticket arrives, it enters into the system, is routed to the proper support rep, provided with the case details with the customer name, the product they are using, the ticket's priority, and more.
2. Reduced Ticket Backlog
Since there is no scope of workload to a single team with the helpdesk concept, the team can move and resolve more tickets in less time and thereby can reduce the ticket backlog. By this, customers no longer have to wait for a response from the support team and the support team no longer will deal with stress or undergo pressure.
3. Personalized Support
Integrating with a stronger help desk in your place like Agile CRM, your entire team is capable of providing one-to-one support or assistance to the client with support issues. This is enabled because the tickets are automated and reps can save time, where they can utilize the same time to talk to the clients and provide optimized assistance.
4. Continual Performance Improvement
An efficient helpdesk ticketing system provides the metrics and analytics around your team's performance. Often, these metrics can be viewed on a central dashboard that lets you gain valuable insights at an instance. Also, you can track the tickets (opened and closed), identify the average time to resolve the ticket, etc. This lets you boost the performance of the team.
5. Increased Growth
As we know that happy customers obviously stay longer by being partnered with us, the recurring revenue will remain stable and reliable. Your business and you will begin developing when you deliver top-class customer support, and this, in turn, helps you to generate more leads and close more deals with the customers.
A strong customer support presence is important for substantial revenue growth and a strong helpdesk ticketing system will help you to achieve stronger customer relationships.
Conclusion
To deliver world-class customer support, you need top-notch helpdesk software, which provides an efficient way of solving customer issues. A few reports stated that organizations maintain strong helpdesk support and superior customer engagement retaining their customer on an average of 89%, compared to 33% for the enterprises running with a weak helpdesk ticketing system. This, in turn, states that choosing the right/suitable helpdesk customer support either makes or breaks your company in terms of productivity, growth rate, customer satisfaction, converting a one-time visiting customer to recurring clients. Since top-class helpdesk management encompasses a lot of customer-related functions, it is also important to select the rightful and dedicated executive.