As we know, many organizations are aware of helpdesk software. There are a few who have a basic idea of a knowledge-base software. But, it is a fact that implementation of a knowledge-base software provides immense business value and opportunities.
Knowledge-base software serves in a different way depending on the type of the organization and its services. For example, some organizations use a knowledge-base software as a Service model (SaaS).
What is a Knowledge Base?
A knowledge-base is described as a self-serve customer service library, which includes information about a specific product, service, or topic. Though it seems as a simple enough concept, businesses can enhance their knowledge-base and increase productivity. The way of implementation may differ depending on the, but, in general, it looks somewhat like a ticketing or case management system.
When a user has a query, they will be routed to this system and are provided with answers using multiple channels such as emails, live chat and more. This is a reactive process. Coming to the case of reactive customer service, it is a time-consuming process and might become repetitive. Because, for this, you need skilful representatives to provide support to these services and should ensure an optimal customer experience.
For example, suppose you are offering services on electronic gadgets. In that case, your support representatives should be aware of some technical terms and capable of answering the questions asked by the customers, where a few of them are, providing the configuration details of the gadget, how to troubleshoot a gadget when it went into a problem and more.
This is the point where the customer service organizations come to know the necessity of the knowledge basis. Scaling out the customer initiatives enables you to be proactive in creating satisfied customers, and it also saves the valuable time of the customer representatives.
Importance of Knowledge Base Software
A knowledge-base software allows you to create self-service customer support content around a few recurring topics, issues, and themes. For example, considering the electronic gadgets example, why not create an article to explain the troubleshooting process? Why don't you send an article on the same back to the user? In fact, users can search for it and get the solution instantly and also this will saves your organization's time.
This means a knowledge base is not a repository of information to help the customers in the form of a form, some text, or a graphical representation. In addition, it includes the things like a user form, how to-solutions, video tutorials, a frequently answered question (FAQ) section and more.
To say in technical terms, a knowledge base sometimes also falls under some broader use cases. But in most cases, we just think of it as an online knowledge base that helps clear the customer queries. At its core, no matter the purpose, a knowledge base is the one that helps users to discover answers and success in their endeavours.
Creating a Knowledge Base
1. Start with a Good Structure and Design
The foremost thing you have to start with is developing a user-friendly structure in the knowledge base format. Most of these usually start with a regular format with a home page consisting of support-based content.
Let us take the example of Canva, the design software that allows you to create designs, logos, presentations and more. The design followed by Canva is much simpler and user-friendly. In addition, the user can directly select the respective section that he needs to get started with as designed in the template. He/she can tap on 'Getting Started' if they are new to the software. In the same way, they will tap on ""Have a problem?"" if they need to get a solution to their query. In this particular way, we can create a simple design that the user is most comfortable and familiar with.
Also, discoverability is the most important factor to be considered in the case of the knowledge base. If any of your users get frustrated with their problem, they might don't have the time to reach the support representative and get their problem solved. In that case, for sure, the user will likely prefer to reach the type of Frequently Answered Questions.
2. Determine Your Writing Process
After confirming the navigation and discoverability, it's time to start optimizing your solution in terms of a successful knowledge base Content, either in the form of an article or a blog. You can also attract the readers with a strong and clear headline, punchlines, suitable and appropriate examples, helpful instructions to follow and more.
So, you can come up with content following the general guidelines for most of the knowledge base articles such as:
(1) Writing a compelling and descriptive title
(2) Describe your content accordingly
(3) Include some useful resource or referral links
(4) Add most FAQs
Importantly, the same writing principles to the otter blogs or articles as well.
3. Attach Useful Infographics
Many researchers and reports always say that the human mind can recognize the infographic representation faster compared to the text. So, considering that, it is recommended to add some helpful visuals like flowcharts that most of your customers who have dealt with the same issues.
4. Integrate Chatbots
If, in case, your organization is much affordable to implement the concept of chatbots, go for it. Because a chatbot will grab the user's attention and make them most likely to connect with, this, in turn, helps in clearing the user queries and generating more new customers.
How Knowledge Base Software Solves Customer Queries?
1. Provides an Immediate Solution
In addition to maintaining the knowledge base software effectively, it is also important to follow the current market trends. For suppose, if you are getting the same question again and again in your mind, it is better to portray it as a query on the knowledge base page. This will obviously help the customers to find their solution without reaching the support team and can reduce their effort and time.
2. Know Your Target Audience
Your marketing team is not only the team that benefit your customer personas. When developing a knowledge base, refer to your customer information and queries. Based on the research and trends, you can figure out the knowledge base topics and proceed with the content creation.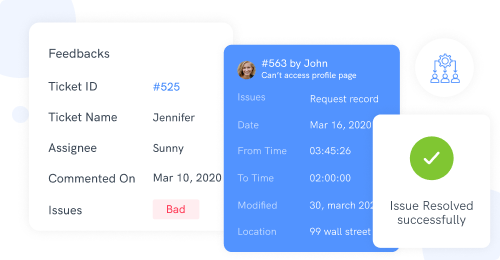 You should put your high-level thoughts in order to convey the message that comes to your mind. Conversationally craft the style and tone, like where the audience speaks to you. Because if the audience does not understand the solution they reach to support, your time and effort get wasted.
3. Keep Your Knowledge Base on the Band
Your knowledge base is another platform that portrays your branding. Unable to keep your knowledge base consistent with your brand value, voice, colour and design provide a negative experience and impact on the audience, especially the ones who are strongly associated with your offerings to learn more.
Creating a style guide and following all your knowledge base software pages helps you overcome any challenges, either content, Infographics, Video tutorials, and more.
4. Consider Accessibility
Your website is the only available digital space for you to represent your thoughts and ideas, following accessibility standards. Add relevant images, screenshots and more stuff. Add a table of contents with hyperlinks to navigate through concepts easily. Ultimately, confirm your knowledge base software is more user-friendly.
5. Update Your Knowledge Base Regularly
Assign a dedicated team to follow up every action item to be performed when a product or service is launched in your organization because it is most important to provide the information in terms of solutions whenever a new product, service or application is launched.
It helps you consistently make your customer count stable and helps the customers get more information about the product or service they have registered with.
6. Share Your Knowledge Base Everywhere
A significant knowledge base is not only the one that can be accessed only from your website. But also, it should also be used to promote marketing content, educate other teams and finally convert leads.
For example, as we discussed above, if you are about to release a feature for your gadget, consider linking to a knowledge base explaining about the new feature and compare it to the old one.
Conclusion
Building an efficient knowledge base can help your business to scale out the customer base and support without the need of hiring new customer support representatives. In such a case, it reduces time, effort, cost and improves customer satisfaction, boosts the ROI of your business. It also helps you to be proactive on customer education and empowerment instead of just reacting to support the tickets. This whole process is an organizational win. In fact, there are several ways to plan and build an efficient knowledge base, but it might boil down if we are not able to answer the customer queries effectively and clear their issue at the spot. Hence, always remember to build an intuitive and consistent knowledge base.