What Makes A Good Ticket Management System?
The dream of every business is to scale substantially. But there's an aspect of scaling a business that often comes as a rude awakening - customer relationship management (CRM). As businesses grow, so does the customer base, and when the customer base grows, it leaves businesses with a ton of customer inquiries and complaints asides from closing sales deals. The more your customers, the more you'll have to spend time sifting from call to call trying to resolve complaints, respond to inquiries, and provide customer support. This takes a lot of work, and if care is not taken, it might shift attention from actually pushing for more sales to just managing existing customers. But what does that have to do with the ticket management system? It's due to the intensity that comes with growing a business and its customer base that forces businesses to invest in a customer support team. A ticket management system is the key to efficiently managing customer inquiries, complaints, and support. It helps you strike a balance between actively growing your business and managing your customers' needs effectively.
What is a Ticket Management System?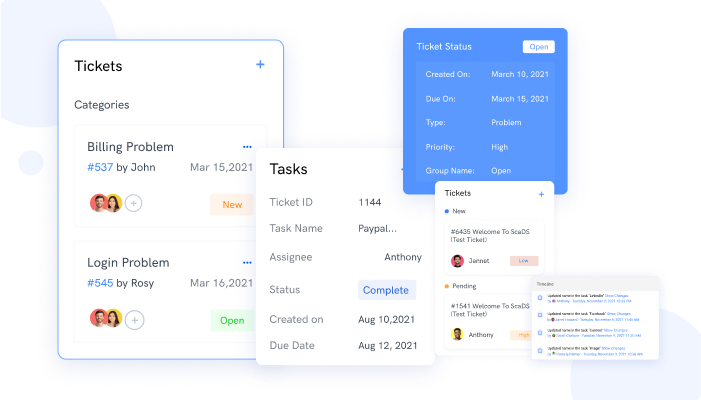 A ticket management system is simply a management software used to create and organize customer support queries or tickets in the best way possible for easy and efficient handling or resolution. With a ticket management system, customer support queries are first created and arranged based on priority, category, and timeframe to resolve such queries. For instance, a business has a ton of customer queries ranging from basic inquiries to complaints. With a ticket management system, such queries are properly arranged by category, priority, and timeframe, which are then resolved easily by the customer support team. Next, the ticket management system issues a unique ticket for every customer query and relays the information to the appropriate customer support personnel. You've probably gotten such a ticket before where it says, "your complaint has been noted and is being resolved." That's the work of a ticket management system.
Features To Look For In A Ticket Management System
Having understood what a ticket management system is, it's essential to know what to look out for in choosing a ticket management system. You need a system that collates data on customer queries as accurately as possible and one that makes the process of creating, categorizing, and resolving tickets easy. Here are a few features to look for in a ticket management system:
Focus on UX (User Experience)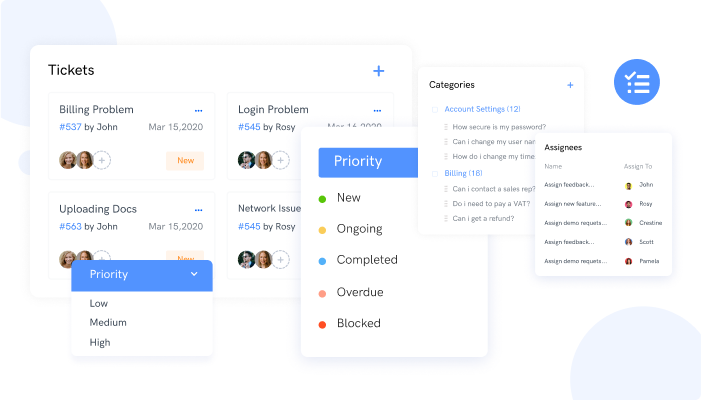 Users are known for demanding immediate attention. If possible, customers would rather have their inquiries or issues resolved in the blink of an eye, but that's not always the case. With the right ticket management system, you can speed up the process of tending to customer support tickets. But there's more. Managing customer support tickets isn't all about quickly resolving them. You have to determine the best channel for engaging your customers concerning their inquiries or complaints. For instance, some customers prefer a live call from customer support to direct chat. To invest in a ticket management system, you must keep the user experience and preference in mind. Invest in a ticket management system; keep the user experience and preference in mind.
Accessibility
A quick way for customers to lose trust in businesses is if the customer support is poor and unresponsive. Customers need someone who's readily available to assist them, not a team that'll have them waiting or getting redirected endlessly. Unresponsive customer support is way worse than having an issue to resolve. Why? It's much easier to figure out a solution or get a replacement than placing your hopes on unresponsive customer support who's supposed to assist you. Hence, when opting for a ticket management system, it's important to look at its ease of usage and accessibility. Your customer support team and the users should find the ticket management system easy to use.
Multi-language Support
Not everyone can speak English, so it's only logical to invest in a ticket management system that provides multi-language support. Communication is vital towards problem-solving, and the best way to communicate is in a language you perfectly understand.
Customization
To get the best out of a ticket management system, it's best to invest in one that allows you to customize its interface in a way that suits you and will enable you to function effortlessly. Rigid ticket management systems often leave customer support teams unable to work smoothly and adapt to situations.
Automating Workflow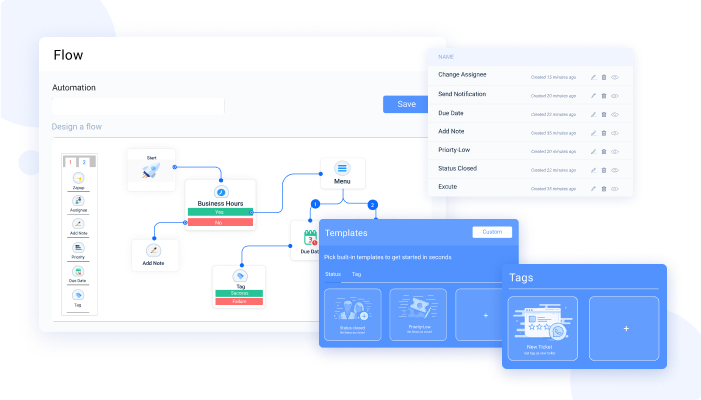 A ticket management system could either be manual or automated. Depending on the system, certain tickets that can be resolved with ease should be automated to allow the customer support team to focus on more difficult tickets.
Flowing Knowledge Base
User data is important in growing a business. They offer insights into user preferences, determining what products or services a business could recommend and promote for maximum profit in sales. Similarly, user data is important in running a ticket management system to determine best how to approach user queries. A ticket management system that is adaptive to user data helps automate certain ticket resolutions and ease the burden on customer support.
Reporting Features
As much as businesses would love to project their products and services as 100% perfect, there will always be cases of glitches that will discomfort users. When such errors occur, users need to be assured that they can easily report issues and have them resolved as quickly as possible. This is an important feature that must be embedded in a ticket management system - for ease of reporting and documenting errors.
Grow Team Spirit
The perfect ticket management system isn't the one that's automated but allows for ease of workflow and customer support growth. A ticket management system should enable customer support personnel to resolve customer queries efficiently.