A knowledge-base is an online repository of information about a product, service, department, or topic that can be accessed at any time. It is a collection of published material that contains frequently asked questions, how-to tutorials, and troubleshooting instructions. It's intended to make it simple for people to find solutions to their problems without needing to seek assistance.
The cornerstone of every support team's self-service approach should be a well-written and accessible knowledge base 70% of customers prefer to seek answers on their own by using a company's website. Your knowledge base's data can come from anywhere. Contributors who are well-versed in the appropriate disciplines, on the other hand, typically add to and grow the knowledge base. The material can range from an explanation of how a product works to the ins and outs of your HR or legal departments. FAQs, manuals, troubleshooting instructions, runbooks, and other information your team may desire or need may all be found in the knowledge base.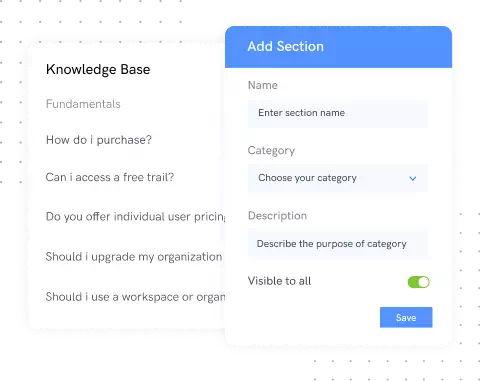 When it comes to offering exceptional customer care while scaling your customer support programme, a good knowledge base is an ideal answer. At the same time, it can assist your staff in performing their jobs more successfully by helping them to concentrate on their responsibilities and the most critical aspects of their jobs.
Artificial intelligence that can interact with and respond to user input is used to structure many knowledge bases. Others are simple encyclopaedias with indexes. There are other knowledge bases that are machine-readable and store content in system-readable formats. Automated deductive reasoning is used to come up with solutions. When a user types in a query, software assists in narrowing down the options.
Importance of Knowledge Base
People anticipate and demand simple access to reliable information in today's connected environment. And they are often unwilling to make a phone call in order to do so. Alternatively, you may send an email. Alternatively, you can submit a service request. They want an immediate response to their question. That's why you'll require a broad, in-depth knowledge base.
Much of customer service consists of fundamental information transfer: the consumer has a knowledge gap that is stopping them from reaching a goal, and the customer service team fills that gap. Consider the following scenario:
What is the procedure for changing my password? What will it cost me to use this? What's the deal with my file not uploading?
Questions like these can be answered in a variety of ways, including changing the design of your product or service, better labelling, and upfront training. However, there will always be people who require further assistance.
Knowledge bases are used by businesses for a variety of reasons. And they're finding new applications almost every day. Of course, how you use a knowledge base is determined by what your company does and who it serves. Here are a few examples of how knowledge bases have shown to be beneficial to various teams.
IT: It makes troubleshooting, training/onboarding, and general how-to and support query easier. HR: Excellent for anything from onboarding and training to disseminating business policies and pay schedules. Legal: Assists with contract approvals, policies, trademarks, and registrations, among other things.
Components that Make Up a Knowledge Base
1. Frequently Asked Questions (FAQ)
Topics that don't require a lot of detail or technical support are explained on FAQ pages. They address issues that can be stated in one or two paragraphs.
2. How-to Tutorials
Because of their shortness and conciseness, most issues cannot be answered with FAQs. This is when how-to tutorials come in handy. How-to tutorials are often short guides that describe a single step or activity in great detail. Essentially, they assist new users in learning the fundamentals of your software.
3. Community Section
The community is usually an important aspect of any software when it comes to documentation, debugging problems, and so on. Designers, engineers, and programmers, particularly in the open-source community, rely heavily on one other's help to fix faults with their code or design. A good knowledge base creates a separate space for members of the community to interact and assist one another.
4. News and Updates Section
Most knowledge bases now have a section dedicated to news and updates. Community announcements, product updates, new version releases, known platform issues, and so on can all be found in this section. If your business provides a software-as-a-service (SaaS), you're definitely releasing updates on a frequent basis. Some businesses, such as Asana, want to segment their news and updates based on their target audience.
5. Reference Documentation
These documents are aimed at a more technical readership, such as programmers. If your programme offers an API that developers or customers may use to extend their application or create custom integrations with their existing software, they're highly beneficial. Reference documentation, on the other hand, is not limited to a software's API. They may also contain data on command-line interfaces (CLIs), drivers and specifications, file formats, and other topics.
Knowledge Base Software
Knowledge base software is a tool for creating, storing, organising, managing and sharing self-service content with a group of people. Though most knowledge base works in the same way, there are a few alternative settings available. Knowledge base can be created for an internal (e.g., corporate personnel) or external (e.g., customers) audience or both.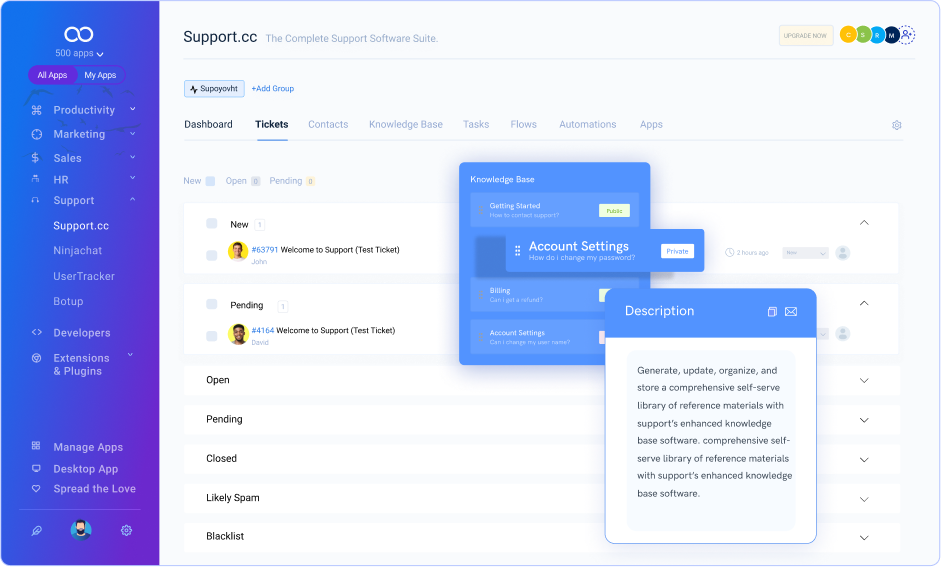 To access information, most internal knowledge base requires login credentials, and the content is confidential. External knowledge base system allows you to construct a publicly accessible knowledge base. Many knowledge base tools, but not all, allow you to produce both private and public material.
Conclusion
Customers, employees, and almost everyone else nowadays demands and expects easy access to information. That information is stored up in your company's files, databases, and minds. By turning it into a knowledge base, you can improve customer service, increase productivity, collaborate more effectively, and spend less time addressing the same questions. You can provide a better client experience, one that is tailored to the information-rich world in which we all live.