How To Solve Customer Complaints Online?
Solve your customer's queries easily with our customer support software, which help business' for better and long-lasting customer relationship efficiently.
Without the approval of your customers, your business can't survive. While most companies will assume that word of mouth communication has been faced off, this might not be the case. People have turned to the internet, finding alternative ways of airing their grievances. Your customers are aware of the multiple channels they have to address their complaints. Besides interacting with your support team using live chats, SMS, and other digital platforms, they can also turn to social media pages.
The worst could happen if you don't know how to handle complaints from your clients. First, you should realize that your customers will always complain no matter how good your products/services are. You can meet everybody's expectations. Therefore, you must learn a thing or two about solving your customers' complaints. Ideally, this is the best way to be sure that you're not only meeting your clients' expectations but are also working toward improving your brand.
Benefits of Handling Customer Complaints
While you may want to avoid dealing with complaints, the truth is that they can be helpful to your business in many ways. Here's how:
Customer Satisfaction Enhancement
Some of your customers may be unimpressed with your products/services, and they could choose not to air their grievances. However, the few who aren't happy with what you offer will take it to social media and other communication platforms to express how unhappy they are. You help to appease these clients and convert them into loyal customers by addressing their issues. The good news is that you create a lasting impression if your resolution efforts are posted online.
Product/Service Upgrade
You can also consider your customers' complaints from a positive perspective. They are complaining about what you offer, and this could be an excellent opportunity for you to upgrade. In other words, your clients' insights tip you on what should be done to make your products/services more enticing.
Enhance Customer Communication
You may likely miss a lot if your company doesn't communicate more often with your customers. The feedback you get from your customers allows you to gauge how well you communicate with them. Most customers value how you communicate, as this speaks volumes, whether you value them or not. Transparency matters a lot here. If they feel like you're not addressing their issues accordingly, they may opt to rely on your competitors.
Improved Brand Image
Another benefit of addressing complaints is that it helps to boost your company's image. Your clients will be open about how you helped them solve their issues quickly. In addition, they might share your overall customer service experience online, which means you will be vetted based on the quality of your customer support services. Consequently, it's crucial that you provide exceptional support services because this will go a long way in enhancing your brand's image.
Recommended Ways to Deal With Customer Complaints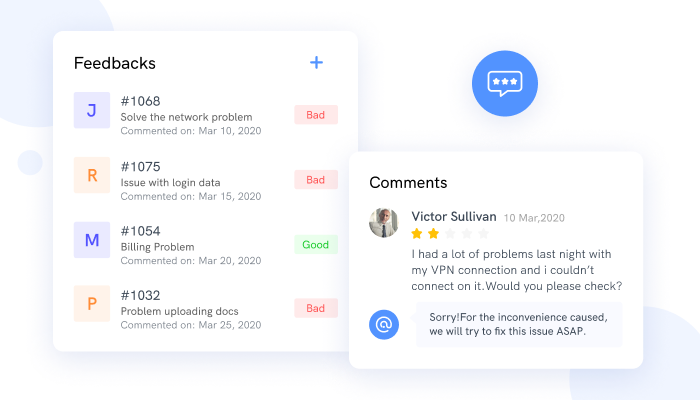 Purchase a Help Desk Software
Now that you may be dealing with different types of issues in your organization, you must use a help desk tool. Help desk software is specifically designed to automate most of your customer service ticketing system. For instance, you can automate the ticketing process and delegate tasks easily. This can boost your teams' productivity since they have more time for other meaningful activities.
Support.cc is a great tool that you should consider using. With the help of this software, you can resolve your customer complaints much faster. The last thing you need is to deal with delayed or forgotten customer tickets constantly. Support.cc ensures this doesn't happen because it will send you reminders and notifications to attend to your customer complaints. Moreover, the tool allows you to create a self-service library. This is where your customers can run to in case they have complaints that have been addressed before. You can also upload instructions and manuals on how to use your products to the self-service library.
Put Your Emotions Aside
You don't have to be emotional about disgruntled customers. They have a right to air their complaints. Don't allow your emotions to get the best of you, especially when dealing with a customer who erupts in a rage. Instead, stay calm and listen to the customer as they address their issues. This allows you to take on a friendly approach to their complaints.
Don't Deny the Complaint
It's not good to quickly judge that your customer is wrong. So, try to avoid challenging the issue they are putting across. Instead of trying to stop them, allow them to address their issues before you can interrupt. It's strongly recommended that you thank them for pointing out the problem they might be facing. You never know; maybe they are pointing you to an issue you had not thought of.
Thank Your Customer
Well, you've heard of the phrase, "kill them with kindness." This works best in situations where you are forced to deal with an unhappy customer. Just be kind toward them. It works! Genuinely inform your customer that you are thankful for their comments and that you will address them. Your goal should be to establish exactly what the problem is. Doing so guarantees that your customer doesn't feel like they are misunderstood.
Offer Support
Offering your customers the assistance they need doesn't mean that you should solve their problems right away. In some cases, offering support can even mean listening to your clients and nothing more. Providing them with a listening ear creates a good impression. When using Support.cc, you can use this opportunity to segment your customers based on their specific complaints. This tool makes it easier for you to follow up on these complaints. How you organize your complaints using the tool guarantees that no customer complaints go unaddressed.
Move On
Last but not least, you should move on and support the next customer. Dwelling on one customer only leads to inefficiency. You will be creating a huge backlog since customers will continue piling up their tickets. To avoid this from happening, once you are done helping one customer, move on to the next one.