How Does A Virtual Service Desk Operate?
The Virtual Service Desk (VSD) is an innovative, cost-effective way to provide customer service. Learn more about what a VSD can do for your company.
A virtual support system is the digital transformation of the typical service desk of a company or an organization. Still, this automation does not include conversational artificial intelligence elements like chatbots and is manned by humans themselves.
It acts as a central communication point for the customers and employees, giving them a place where they can access official communication wherever they want. It receives the requests and complaints of customers online and deploys an IT technician from their support workforce to access the end user's system and provide the relevant support.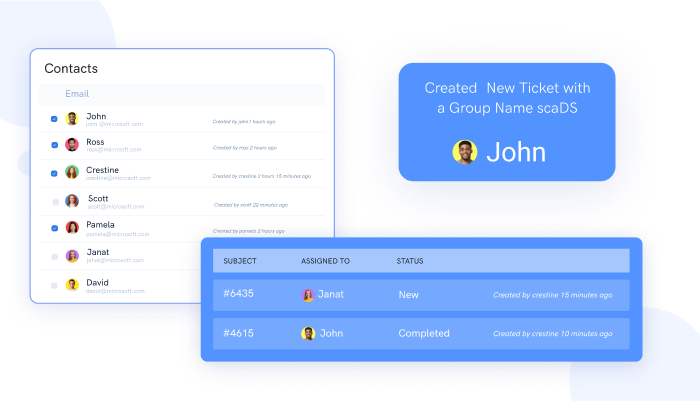 They manage incidents, establish communication with customers, and fulfill service requests without coordinating logistics. The workforce can work from home, in the company, or simply outsource. It leads to more efficiency and consistency.
A singular point of contact is selected in a virtual service desk, such as an ITSM software (cloud-based like Support.cc, which offers ticketing system, advanced-reports, managing tasks, and many other features) or an IT self-service portal. Users are required to submit their requests in the form of tickets which are then forwarded to the IT agents handling the tickets and providing the needed support.
Make it easy for people to contact you.
Start with FREE account today! Sign Up FREE for 10 users
The Fundamentals On Which Virtual Service Desks Operate
The Goals and Metrics
Before a virtual service desk is set up, some clear and precise goals are defined for the organization. These goals are usually the type that the staff can act upon and measure their progress. The owner or the one leading the virtual setup conveys the goals to the workforce agents, and self-service portals also provide reviews for them. The agents review and report the progress as they work. Some examples of clearly defined goals are levels of customer satisfaction, frequency or rates at which the problems are handled, reaction times, etc.
Approaching the Goal
To progress towards the chosen goal, proper tools and techniques are utilized. A proper software such as Support.cc helps ensure progression to success because it provides the relevant tools needed. Some of the tools it provides include help desk support such as ticket-management, feedback, and knowledge-base in one place, along with automation and integrations. By making use of these techniques and tools, the organization sets up a successful service desk with good response time and maximum visibility for its team members.
Planning and Preparation
For the virtual service desk to work even better, some strategic planning is done beforehand. For example, the support organization can brainstorm and anticipate their questions or requests to prepare for their solutions beforehand. These can include frequently asked questions, and answers to these repetitive questions can be given automatically. This helps save time and prevent the IT agents from getting caught up in them, wasting their efficiency in handling tickets and dropping the response time.
Research and Data Analytics
Customer base is an important aspect to consider when setting up a virtual service desk, whether it is self-service or not. For the virtual service desk to work efficiently, it needs to be molded according to the needs and wants of the customer base. The customers are usually of two types; the ones that are employees of a business and are tech-savvy, or the ones that are simple users with no real knowledge about technology.
For the customers who do not know their way around technology that well, a proper support system must be set up where they can easily reach out to the IT agents and communicate their needs and requests. They need employee service portals and Support.cc offers incredible functionality in this regard.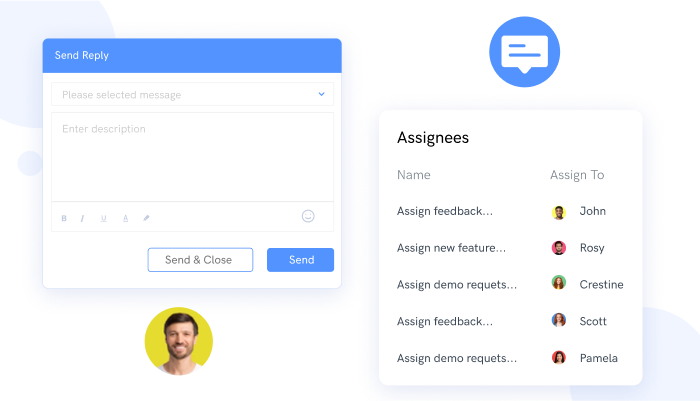 For tech-savvy customers, a virtual service desk with the self-service option is better. When the knowledge-base is provided, and chatbots or artificially intelligent assistants are present, they can easily find the service they need. This helps the workforce manage helpdesk tickets with ease.
Choose the right workforce
The staff positions in the workforce of virtual service desks are filled with skilled and efficient workers who know how to manage the job. In addition, operating a virtual service desk needs reliable agents who can keep the service going 24/7 and handle tickets and requests effectively despite troubles.
The hiring process may become lengthy by using self-service portals or service management software, but it pays off in the end. Virtual service desk agents can be from different corners of the world as long as they are skilled and qualified to work in their respective positions.
Automation
The workplace in the organization which sets up a virtual service desk needs to have its processes automated. This is done to make sure the agents and staff are all working under the same principle, thus creating harmony, progressing the company to a common goal. Workflow automation even makes the process of getting the staff ready to work easier and shortens the time.