A Walkthrough into the Omnichannel Customer Experience
Customers are offered an omnichannel experience by a variety of channels that seamlessly connect, allowing them to pick up where they left off on one channel and continue on another.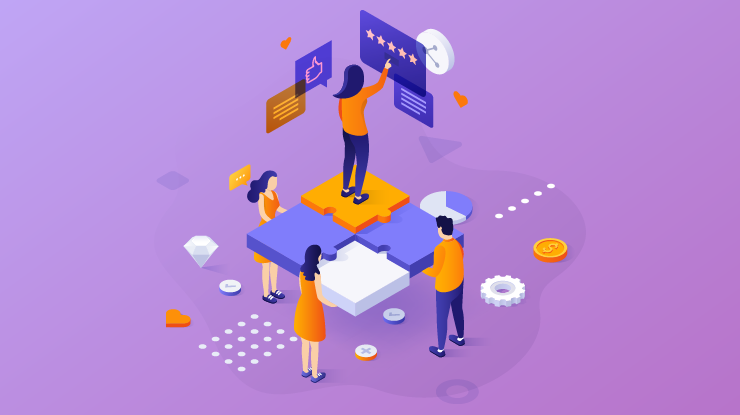 An Omnichannel customer experience is fast becoming the future of customer interactions, especially in the digital space. Customers can easily interact with your business through many digital channels at once. In fact, customers who relate with your business through these multiple channels are more likely to convert and become repeat customers. Some multichannel customers can interact with your business on social media, company websites, and physical stores.
Now consider a scenario whereby you can connect all these interaction touchpoints to create an Omnichannel customer experience. This will bring all interactions to a place, provide a better experience for your customers, and improve customer interaction with your organization. Ultimately, you will have a higher customer retention rate and will experience an increase in sales. So, let us take a look at what an Omnichannel experience is and how to create one!
What is Omnichannel Customer Experience?
An Omnichannel customer experience is a process of interacting with customers across multiple channels, treating each touchpoint as a part of a frictionless whole. It can also be defined as means whereby a customer can interact with your business across multiple channels as part of one seamless customer journey. Touchpoints like marketing, sales, social media, and customer service are synched so customers can move from one channel to the other to complete their purchase.
An Omnichannel customer experience consists of several individual customer touchpoints over various channels that seamlessly connect, allowing customers to pick up where they left off on one channel and continue the adventure on another. Let us take this as an example, you run a sneaker store and run a PPC ad on Google.
A customer enters a query about sneakers on Google, and your ad pops up. Captivated by your product copy, the customer clicks on the ad and is now on your landing page, where he fell more in love with the sneakers. The landing page led him to your online store to find his size; unfortunately, his preferred color is not in stock. Your chatbot activated and interacted with him. Finally, he was able to speak with customer support, who told him of an impending shipment that has the size of his sneakers and color. He was able to place an order, and your business closed the deal. When the shipment arrives, the store agent reserves the sneaker and packages it for delivery. Within a few hours, the sneaker is in the hands of a satisfied customer.
From the example above, the customer had five different touchpoints with your company: Google PPC ad, landing page, website/store, chat widget, and delivery man. These touchpoints were connected with the next to give him a seamless journey through the sales funnel, from awareness to purchase. That is an example of a perfect Omnichannel customer experience.
Why is Omnichannel Customer Experience Significant?
The digital space is ever-evolving, and single-channel interactions with customers are no more. As the digital space grows, so also is the demand for convenience by consumers. Daily, customers seek convenient ways to interact with businesses and would prefer completing the whole purchase process without leaving the comfort of their homes.
An Omnichannel customer experience meets the demands of the modern customer. It allows you to reach the customer in a contextually relevant way at every point in their journey, regardless of the touchpoint they access your business from.
Omnichannel customer experience offers customers a convenient way of doing business, and their feedback would also drive more traffic to your website. You will be able to engage your customers more, and the quality of your customer interaction will improve significantly. One other way of providing the best customer experience is by handling customer complaints and resolving them within a short span of time.
A survey carried out by the Harvard Business Review shows that an Omnichannel customer spends more than single-channel customers. On average, they spend about 4% in-store and about 10% online. In other words, customers you make from the Omnichannel experience are more valuable than others.
Benefits of Omnichannel Customer Experience
Taking up an Omnichannel approach for your customers has several benefits for both your customers and your business. Let us consider a few:
As earlier stated, the requirement of modern customers is more demanding as they expect a seamless experience with your business. Using a chain of interconnected channels, customers can interact with you from anywhere and at any time. Their journey can be initiated and completed whenever convenient for them while maintaining the relevance they command in your brand.
Higher Customer Retention:
Customers who use the Omnichannel experience to interact with your business have a higher retention rate than customers who do not. A review by ClickZ shows that the purchasing frequency of Omnichannel customers can be as high as 250 per cent higher than single-channel users. Customers don't like being frustrated; immediately they find a system that conveniently suits them, they will stick with it. Also, Omnichannel customers spend more than single-channel users.
Businesses cater to several personalities of customers who have different preferences. Each customer has a way of doing business; some are dogmatically orthodox by preferring to walk-in stores, while others have a particular affinity for social media outlets, and some trust emails more. Having a variety of channels offers a wide range of options for your customers. So, you cover most of the preferences customers have in relating with businesses through Omnichannel experience; hence you will attract more customers.
This point is a bit interconnected with the previous one. Having a variety of channels will allow you to collate data from each channel; you will have a wealth of data in no time. This wealth of data can be used to gain a deeper understanding of your customers and provide invaluable insights into the customer journey. You will be able to earmark where customers are encountering issues and improve wherever possible.
Omnichannel vs. Multichannel
The difference between multichannel and omnichannel customer support experience is the level of connectivity between the different contact points. In both, your customers can interact with your business online and offline; however, the channels are not interconnected in multichannel.
Businesses can have a multichannel customer experience but not an Omnichannel experience. Consider our previous example; the channels Google PPC ad, website, landing page, etc. are there, which is excellent, but what if there is no direct link between the ad and the store. So the customer has to go and search for your business and the shoes before they can place the order.
The customer can still interact with your business from each point, but since they are not connected, there is a possibility you will lose the deal. The customer can become frustrated and abandon the sale or will buy from another store. While in Omnichannel customer experience, you will indeed close the deal; so far, the customer is interested, they will follow through the channels and get converted. Hence, the Omnichannel experience offers a fluid customer journey that doubles as a customer retainment strategy for your business.
Tips for Building an Omnichannel Customer Experience
To get started with Omnichannel customer experience for your business, here are some tips you should take note of.
Understand Your Audience:
Having a good understanding of who your audience is and what they like is not only crucial for their Omnichannel experience, it is critical for the overall marketing process. In Omnichannel customer experience, you have to know that it has to deliver what your customer wants, when they want it and how they want it. So, before starting your Omnichannel experience, the first thing you should do is in-depth research about your customers to know the kind of people who make up your audience. You have to strike a balance between your online and offline customers. Newer generations, Gen Z prefer using online channels to interact with brands, while older generations like Gen X and baby boomers prefer to shop from brick-and-mortar stores. You should evaluate the kind of service you render and carve out a niche audience that wants the same thing. Hence you have a starting point of who to target with your Omnichannel customer experience.
Map Out Your Customer's Journey:
Once you know who your audience is, it is time to walk through their purchase journey. First off, you should identify the channel through which they will interact with your brand and follow it when they purchase your product. This map will highlight where you need to put links for your Omnichannel experience and where it needs to be enhanced. Furthermore, mapping out a customer journey will help you highlight the bottlenecks in the customer journey, where customers get stuck, where they can get frustrated, and many more. So, mapping your customer journey will help you spot opportunities for an Omnichannel experience and identify what resources you need to implement it.
Make Your Contents Responsive for Different Screens:
The success of your Omnichannel experience is as good as the ease with which customers use the channels. If your content is not optimized for several screen sizes, customers might leave when they hit a snag. In fact, the whole purpose of the Omnichannel experience is defeated if your content cannot be easily assessed by customers using various devices. Excellent customer experience is the bedrock of Omnichannel experience, so if your customers have trouble switching between channels, they leave and would not likely return. Therefore, make your content responsive and optimized for your customer across various devices to avoid disrupting your online journey.
Implement Support Services:
As your customers move between the channels, you must provide them with an Omnichannel support strategy to run with. For example, customers should communicate directly with an agent on each channel they are interacting with. You can use Support to keep your customers happy through live chats and video chats. Also, it would help if you synched the existing phone and email channels to integrate with your current phone system, such as with Support.cc.
If you want your customers to enjoy a seamless experience, it depends on your service-desk software to run your Omnichannel experience. Much digital software promises a secure platform for an Omnichannel customer experience; however, you should use tested and trusted software.
Support.cc is a powerful Helpdesk Software designed to provide a faster and better experience for your customers. It automates the Omnichannel customer experience and will help you increase customer retention and sales. Your customers would enjoy a fluid movement between your contact points with automated triggers responding to every need at all stages of their journey. Furthermore, the software quickly generates a report for you with just a few clicks so you can have a holistic view of your customer activities.
Conclusion
Omnichannel customer experience was once only available to e-commerce giants like Amazon. But technology has advanced, and it is now readily available to brands worldwide, irrespective of the store size.
Implementing Omnichannel customer experience would give you a competitive advantage and deliver the integrated and engaging experience your customers expect support.cc.
Discover Why Support.cc Stands Out
#1
Manage all your support tickets in one place
#2
Provide multi-channel support via email, chat, call, knowledge base and social media
#3
Create automation rules for faster resolutions and routing
#4
Get a 360-degree view of customer data with CRM integrations
#5
Enable self-support for your customers through brandable knowledge base
#6
Organize tickets and follow-up on them using built-in task management
#7
Integrate with built-in NinjaChat (live-chat software) and BotUp (AI Chatbot)
#8
Generate customer service reports to identify areas of improvement
#9
Unbelievable pricing - the lowest you will ever find
#10
Everything your business needs - 50 apps, 24/5 support and 99.95% uptime
Join the SaaS Revolution
All-in-One Suite of 50 apps

Unbelievable pricing - $14.99/user

24/5 Chat, Phone and Email Support