Help Desk Vs Service Desk: The Difference
Although the help desk and customer service desks provide distinct services, there are many murky areas where they overlap. Understanding the services and how valuable they are to your business operations is critical.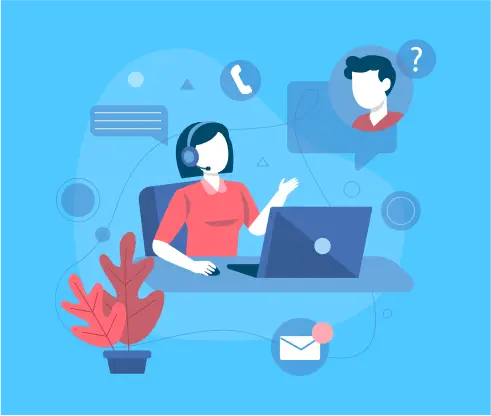 Most times, users confuse the service desk and help desk. It is not their fault since there are lots of similar terminologies to keep track of in IT. The services offered by the help desk and customer service desks are distinct but have many grey areas where they overlap. It is very important to understand the services and how beneficial each is to your business operations. These services cover the needs of both customers and employees.
Help Desk
"A help desk can mean many things depending on the nature of your business. But it all goes back to the core principle of helping people and serving a place where they can go to get help."- Chris Grosspietsh.
Merriam-Webster dictionary defines a help desk as "a group of people who provide help and information, usually for electronic or computer problems." The focus of a help desk is to fix electronic problems. In organizations, help desk skills offer a single point of contact for you to get assistance.
Help desks in IT are for tactical purposes, and they solve immediate technical issues and occurrences. Help desks are not customer-centric; the goal is to provide resolutions for requests as quickly and efficiently as possible.
A help desk serves as the place of contact where both customers and employees with queries, grievances, and other issues. It enables organizations to answer the concerns and requests of clients in an effective, prompt manner. They handle the communication aspect of users, but they also make sure that changes to services are taken care of.
However, a ticketing tool helps you manage where your team members work together to manage, organize, respond and report on customer requests. Helpdesk software like support.cc allows you to answer customers' questions quickly. It gathers all your customer conversations from multiple channels to one single dashboard. Also, good helpdesk software will give you automation capabilities to reduce redundant tasks while making it easier for you to build better relationships with your customers.
IT help desk services can be distinct from a customer service desk. some of the features of help desk services are
The help desk serves as a single point of contact for messaged service providers (MSP) IT support team. Hence, users know what to do and where to go to resolve issues.

There is a tracking solution system for all incoming issues and incidents.

The help desk automatically tracks tickets and routing, also takes note of email notifications, and keeps your team informed at all times

At a basic level, they offer service request management capabilities.

They can integrate with other IT service management features like knowledge and configuration management; however, this feature might be limited.

They have areas that external speciality groups support

They can transfer the ownership of incidents when issues escalate since they provide support only at levels one and two.
Service Desk
A service desk is a communication centre where IT service providers provide help to customers. It assists customers with incident resolution or service request management. It makes and handles departmental knowledge. It is available to customers who want self-service and who want to resolve issues quickly and independently. It also provides a system of measurement of the team's effectiveness. In short, the service desk provides customer service through departmental knowledge.
It is the single point of contact between the service provider and the users. Enterprises use service desk systems to apply effective workflows for internal and customer-facing support departments.
It would help if you had service desk software to track your customer's requests with sticky notes and email. You can easily perform premium customer service by knowing what the issue is, where it is from and what kind of system is in place to resolve it. With customer service software, you can access tickets anywhere, improve customer communication, increase workflow efficiency, and build user experience and confidence.
The use of service desks by businesses might be more or less, but the fact is that the customer service desk is robust, service-focused, and a customer-focused way to deliver help to customers from IT.
Some of the features of the customer service desk include
They provide users with basic self-service options

You can fully integrate with other ITSM processes

The service desk acts as a single point of contact for all IT areas, which include business processes and applications'

With the service desk, you can check the compliance to service level agreement

The service desk provides self-service capabilities for the incident while maintaining an integrated service catalogue

You can integrate and communicate with the communication management database with a service desk tool
Difference Between Help Desk and Service Desk
There is a thin line between the service desk and help desk; if you are still confused about the difference between each, we are here to help. We've tried to make it more clear-cut by highlighting the differences between the two.
A service desk is an evolution of a help desk, and the help desk is a subset of the service desk. It would be best if you considered the help desk as an add-on to preexisting IT action.

The service desk serves a broader function set than the help desk. Service desks are cross-organizational, and strategic and take wider business requirements and context into account. In contrast, a help desk is limited to resolving technical problems rapidly. The response of the helpdesk is spontaneous and instantaneous.

Another difference between the service desk and the help desk is help desk provides help with fast solutions. In contrast, a service desk centres on delivering a service to end-users that focus on total customer service.

A service desk IT support offers the delivery of service throughout the entire service-based ecosystem, and they are considered modern IT service support while the services provided by the help desk are limited depending on the specific IT needs of the organization,
How Help Desk and Service Desk can Help Your Business?
Using help desks and customer service desks can provide insights into customer experiences and optimize the performance of the customer team. It ensures that they deliver the best service. However, as a business, you do not necessarily need both services.
If you have a small organization that does not need a broader service spectrum, a help desk can meet all your tactical needs. It provides your business with immediate IT support to resolve important issues. Installing an effective help desk support results in a more effective business practice that will help the growth of your business.
For businesses, a service desk is an essential tool that focuses on corporate strategy and emphasizes complete IT functionality. Each level of the IT process is analyzed on the customer service software to manage specific tasks, needs, and issues. With this option, you can embed help desk options within a service desk to ensure instant and comprehensive IT support that covers all your business operation needs.
Your IT protocols and practices determine your needs. Using expert IT software like Support.cc would enable you access to premium IT support and take advantage of the expert advice of IT professionals in customer support.
Characteristics of a Good Help Desk Software
The difference between both help desk and customer service desk is severely debated by organizations, by the services each provides. However, knowing good helpdesk software is a good way to start the customer-centric aspect of your business. Some of the characteristics of a good helpdesk include:
It serves as a strong ticketing system. To serve your people well, you need the technology that propels them to success. Support.cc provides interactive records that enable your support team to monitor progress in solving customer requests. It allows many agents to liaise on complex issues and provide a contextual view of every customer's service experience.

A suitable help desk tool ensures that your team can track, manage, prioritize, organize, respond to and resolve any ticketing issue, irrespective of where the conversation starts.

Support.cc is an effective issue tracker, making it a key tool for your IT help desk. It efficiently records issues, and bugs customers experience with any of your products and complaints from services. Making it easy for support agents, engineers and managers to track a problem until it has been successfully resolved while also providing your customers or users with consistent updates.

The software should be self-service. Support.cc possesses help desk skills that empower your customers to find answers on their own via a knowledge base. Before your team reaches out, the software provides customer services.

A helpdesk support should be able to provide a plentiful supply of valuable data on your customer. This is where support.cc comes in; the software comes with an easy-to-use analytical tool. It gives your managers deep insights into everything from team performance to customer satisfaction. When shared across the business, you will know what causes the customer's pain and what products need to be developed.

For every customer interaction, the tool should have customer feedback help desk skills. Support.cc can build a feedback process by automatically allowing your support team to reach out to customers. This is initiated once an issue has been resolved to evaluate how well they have done. However, some software can use AI to analyze customer data to predict customer satisfaction before a customer survey.

Support.cc enables you to automate and integrate your work environment. This makes it easy for you to automate things like assigning an agent to a conversation based on expertise, closing tickets at specific times and populating tickets with predefined responses. The software integrates your help desk system with your digital tools like Slack to make collaboration easier.

The software should allow remote assessment. Support.cc is a cloud-based software that allows your employee to work from anywhere at any time. You do not need to build, support, or maintain your own data centre. Since data are stored on removed servers, support.cc gives your organization flexibility in how and where to use the service. This allows for easy navigation in crisis when teams have to transition to a remote work environment.

Finally, it should be able to scale up and down based on the demands of your customer. This is a major advantage of using software with help desk skills over a help desk team. The software should be configurable to allow you to change quickly to go where your customers go. It should support any workflow and should be powerful enough to handle most complex business processes at any pace.
Conclusion
"Proactive methods, such as trend analysis, preventive actions and major problem reviews are considered an effective way to decrease the number of support requests. Unfortunately, IT service providers often focus most of their resources on reactive activities and ignore the proactive methods despite the benefits." – Donna Scott
For businesses, an effective help desk lays the foundation for a great support internal and external experience. The decision to use a help desk or a service desk depends on the scope of your business. Therefore, you should evaluate your business needs and arm yourself with the appropriate tool to increase customer service. Any tool you decide to use will deliver a helpful experience that drives customer satisfaction and loyalty.
Support.cc offers a combo plan at just $14.99, in which you can enjoy the Helpdesk Software and 30 other relevant software for your business. Start now at Support.cc.
Discover Why Support.cc Stands Out
#1
Manage all your support tickets in one place
#2
Provide multi-channel support via email, chat, call, knowledge base and social media
#3
Create automation rules for faster resolutions and routing
#4
Get a 360-degree view of customer data with CRM integrations
#5
Enable self-support for your customers through brandable knowledge base
#6
Organize tickets and follow-up on them using built-in task management
#7
Integrate with built-in NinjaChat (live-chat software) and BotUp (AI Chatbot)
#8
Generate customer service reports to identify areas of improvement
#9
Unbelievable pricing - the lowest you will ever find
#10
Everything your business needs - 50 apps, 24/5 support and 99.95% uptime
Join the SaaS Revolution
All-in-One Suite of 50 apps

Unbelievable pricing - $14.99/user

24/5 Chat, Phone and Email Support