What is Customer Satisfaction? (And How to Accomplish it)
Customer satisfaction is a metric that indicates how happy or satisfied customers are with a company's services, goods, and capabilities.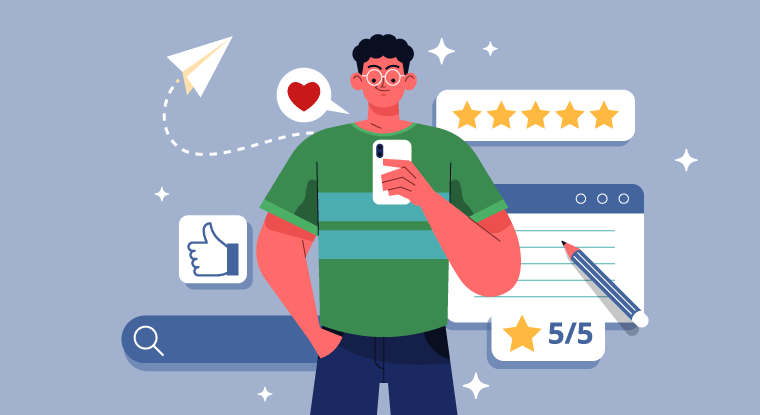 Increasing client happiness is an aim shared by all companies, small or big. Customers who are satisfied frequently become loyal, repeat customers, and significant assets for a business. Hence, companies need to focus on making their customers happy.
8% of businesses claim to provide excellent customer service. However, only 8% of consumers concur with that evaluation. This implies that companies do not know how to ensure customer satisfaction. A reason for this could be a shaky hold on the definition of customer satisfaction.
Defining Customer Satisfaction
Customer satisfaction is a metric that measures how satisfied or happy consumers are with a company's services, products, and capabilities. Customer satisfaction data, such as surveys and ratings, can assist a firm in determining how to enhance or adjust its products and services.
What are the Benefits of Customer Satisfaction?
Here are a few ways customer satisfaction can help your company
When your clients are happy, they believe in your brand and become loyal to it. These loyal clients provide companies with repeat business and lead to a rise in income.
Satisfied consumers are more inclined to stick around during a crisis because they care about the brand and want to see it prosper. This has been noticed in several situations, such as McDonald's, where there have been reports of caterpillars in their dishes. Consumers believed in the brand and their understanding of any flaws or crises that may occur.
Customer happiness and higher income are inextricably linked. Satisfied consumers remain loyal to your brand, connect with it, buy frequently, and promote it to colleagues, friends, and family. Conduct online customer surveys to identify which areas negatively influence customer satisfaction and need improvement to the customer service software. This may aid in increasing customer satisfaction and revenue.
Customers who are pleased with your products and services are your most powerful advocates. Their favorable word-of-mouth gives your business legitimacy and appeal and aids in acquiring new clients. This saves businesses a lot of money that they would have spent on marketing and promotional initiatives to get new customers.
The Different Types of Customer Satisfaction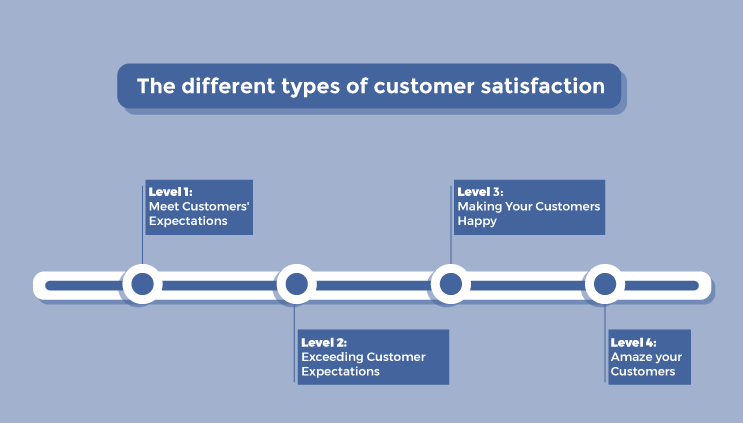 Your entire business is dependent on your clients. To survive the market, the capacity to satisfy a consumer's expectations is the most fundamental necessity you require.
There are different levels to how much you can satisfy a customer. These levels are as follows:
Level 1: Meet Customers' Expectations
At this level, you can be certain that your consumers are satisfied and may not hold a grudge against you.
Level 2: Exceeding Customer Expectations
At this level, customer satisfaction goes beyond simply purchasing your products. You can reach this level with cheerful customer service that delivers impromptu solutions, followed by frequent feedback sessions.
Level 3: Making Your Customers Happy
At this level, your customer is overjoyed. It is human nature to fall for things that pamper and pay attention to them. The same idea applies to consumers. You can put a smile on their face with love, respect, commitment, and the quality of products your brand offers.
Level 4: Amaze your Customers
At this pinnacle of customer pleasure, you must step up your game and wow your consumers more than you have ever done before. Some basic yet effective strategies include releasing a redesigned version of a product. Freebies also work well to attract consumers.
How to Measure Customer Satisfaction?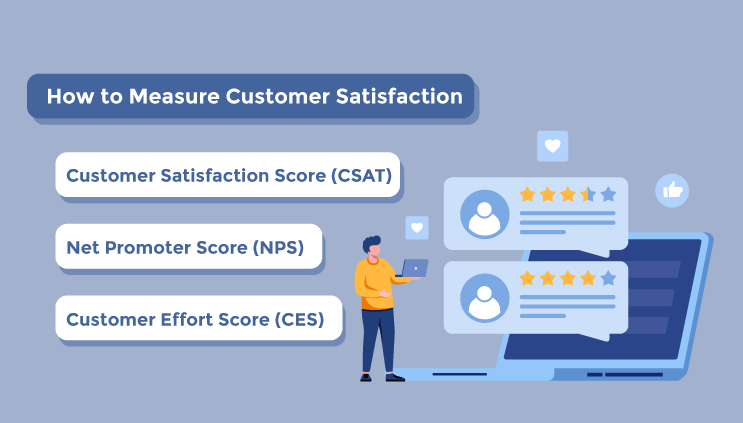 There are three scales against which customer satisfaction can be measured
Customer Satisfaction Score (CSAT)
Customer satisfaction, or CSAT, is a tried-and-true metric. It is a customer satisfaction survey that asks the customer variants of the same simple question which asks you to rate your interaction with the customer support representative of the company.
The scale normally goes from extremely unsatisfactory to unsatisfactory, neutral to satisfactory, and satisfactory to very satisfactory. The more favorable responses you receive, the higher your score.
The CSAT is particularly beneficial for tracking short-term consumer acceptance changes before and after a change or new endeavor. If the score significantly changes, you may know what did or didn't go over well.
The Net Promoter Score was created to account for the CSAT's lack of predictive capacity for customer loyalty. The question requires you to rate how likely you are to recommend the services or products of the company to your friends and family, on a scale from one to ten.
This divides responders into three categories. 9-10: Extremely likely (promoters) 7-8: On the fence 0-6: Not likely (detractors)
Subtract the percentage of detractors from the percentage of promoters to calculate your NPS. The better your score, the higher your customer satisfaction.
The question is simple and easy to answer. However, dissatisfied consumers respond more frequently than delighted customers. This may appear frightening, but it is an opportunity to focus on areas that need development and leave a positive impression on an unhappy consumer.
Customer Effort Score (CES)
The Customer Effort Score differs from the previous two methodologies to measure customer satisfaction. The question asked here revolves around how hard you found it to resolve the problem faced by the customer or provide a service to them.
The scale typically ranges from 1 (it was extremely straightforward and uncomplicated to solve my problem) to 5 (it was a headache). A low score is considered good.
Like the other indicators, the CES has limited usefulness when used alone. It considers a key component of consumer loyalty but does not cover the entire picture.
How to Improve Customer Satisfaction?
Follow these steps to enhance customer satisfaction:
Listen to your consumers to better grasp their demands. Also, understand what your consumers desire. You can use surveys to assess customer happiness and understand what product improvements your customers want.
Take Action on Consumer Feedback
Now that you have determined what your customers want, it is time to put their suggestions into action. For example, if a customer complains that your onboarding events are ineffective, you should work with your team to improve them.
Improve your Product or Service
You can always strive to enhance your product or service based on customer feedback. For example, if a client demands functionality that you are unable to provide at this time, keep them informed of the development. This helps you to keep your client satisfaction levels high.
Follow up with Your Customers
Follow up with the customer to let them know about the situation. Keeping your consumers informed demonstrates that your company values client input.
Summing it Up
The degrees of customer satisfaction outlined above demonstrate that the customer is the foundation of the entire organization. A pleased and satisfied client can promote your brand, leading to the drastic transformation from a business to an industry leader. On the other hand, an unhappy customer might bring your company down.
You don't need to come up with any ""out of the box"" ideas to drive this transition. You can simply pay close attention to their inquiries. Take their ideas and integrate them into your system over time. This can demonstrate to your consumers that their suggestions are valued and thus increase customer satisfaction.
Support.cc by 500apps is a supplier of customer helpdesk solutions for small and medium-sized enterprises. They offer cloud-based software that automates the full customer support process, from ticketing to issue resolution. In addition, the Helpdesk Software contains automation to increase productivity and help with working from home.
All in all, you can build the future of your business and ensure growth with the aid of Support.cc and other integrated applications by 500apps.
Discover Why Support.cc Stands Out
#1
Manage all your support tickets in one place
#2
Provide multi-channel support via email, chat, call, knowledge base and social media
#3
Create automation rules for faster resolutions and routing
#4
Get a 360-degree view of customer data with CRM integrations
#5
Enable self-support for your customers through brandable knowledge base
#6
Organize tickets and follow-up on them using built-in task management
#7
Integrate with built-in NinjaChat (live-chat software) and BotUp (AI Chatbot)
#8
Generate customer service reports to identify areas of improvement
#9
Unbelievable pricing - the lowest you will ever find
#10
Everything your business needs - 50 apps, 24/5 support and 99.95% uptime
Join the SaaS Revolution
All-in-One Suite of 50 apps

Unbelievable pricing - $14.99/user

24/5 Chat, Phone and Email Support