Why Do You Need a Help Desk Software for Small Business?
A help desk software is the key to every business's success because it allows your organization to improve customer satisfaction by employing a strategic plan. A good service desk allows your company to communicate with the customers more effectively and efficiently.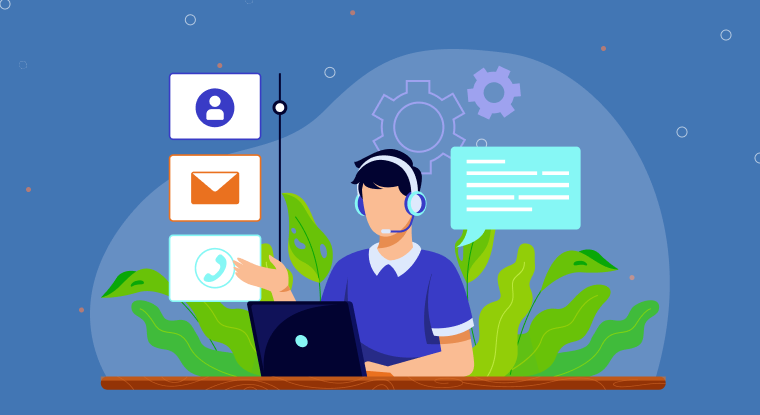 We recommend you rely on a trusted company that offers all the required features in service desk software to improve your team's productivity by keeping costs low and reducing work hours. A service desk serves as an interface between your IT team and the customers, and good help desk software enables you to achieve your end goal without any trouble.
Introduction to Help Desk Software
A service desk system is a single point of contact between the service provider and IT users for daily activities. A helpdesk software is a ticket management system that helps you manage various incidents and services besides user communication. The support ticketing tool is called the service desk or help desk. It is a system that keeps track of user incident tickets. It allows your team to attend to the incidents and reassign the tasks to the appropriate departments to work on specific areas requiring improvement.
A good help desk software for small business automates menial tasks and assists you in providing superior customer support. It streamlines all the issues and relationships onto one platform so that you can work with ease. Only when you resolve your customers' queries quickly will you succeed in business. Hence, it is always essential to invest in valuable help desk software for small business to improve the business workflow through automated ticket management and manage customer support through task management and advanced reports.
Benefits of Help Desk Software
A help desk software for small business always works in your favor to enhance customer support. Here are a few benefits of using helpdesk support software for your business: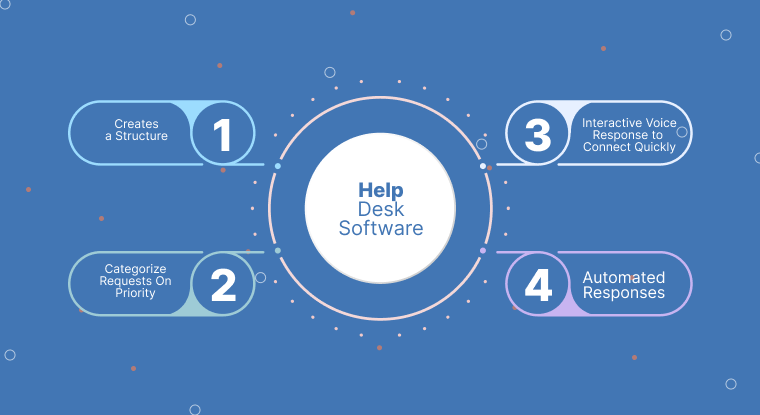 1. Creates a Structure
The key to improving your organization's efficiency is restructuring the IT service desk. With the right software, you can organize the help desks into multiple tiers. Tier zero can be a self-service portal. The self-service portal allows the customers to solve their problems as much as possible. This portal can consist of relevant information, possible solutions, and service catalogs to help the customers view them with ease and solve them. Whereas tier one, two, or three can include technicians with the right expertise and skills. Help desk software for small business helps you analyze the level of the incident tickets and manage them accordingly. It also allows the IT teams to set up a channel for inter-level communication and escalations.
2. Categorize Requests On Priority
A widely used feature for this process is ticket management. It helps you categorize tickets and set priorities. Using such tools, you can quickly assign them to suitable agents and keep track of the activity for a better understanding. Most service desks focus on the higher priority tasks and forget the trivial ones, which leads to delays in response, higher turnaround time, and breaches of the service level agreement. However, a help desk software for small business helps you make use of the support bots for quicker responses and set up tickets with a due date under the status of SLA.
3. Interactive Voice Response to Connect Quickly
An effective help desk software for small business should offer you telephony to associate the calls with tickets and allow the users to connect with your organization without having to stay on hold. Interactive voice responses (IVRs) help link the caller to the right person, avoiding the need to wait for a response. It ultimately results in customer satisfaction while improving your response time. The telephony feature should also offer you a call-recording and voicemail option to ensure that you can replay the message and that the customers get to leave a voicemail message in the ticketing system.
4. Automated Responses
Every help desk software for small business that offers automated responses is an achievement. It automatically responds to the customers with canned and relevant responses to avoid any customer dissatisfaction. It not only saves you from manually calling them back with an update, but also ensures that the customers do not feel taken for granted. Automation ensures that your customers are well-fed with answers to all their queries right away. Help desk software for small business also allows you to create flows to address the negative feedback and work on it by automatically de-escalating the issues raised.
Here's How a Help Desk Software Improves Your Business
Help desk software for small business provides you with an efficient way of managing and responding to customer requests on time. It allows the customers to try solving the problem themselves or place a log issue in the helpdesk ticketing system. With a centralized dashboard, where all tasks are performed from one place, it becomes easier to keep track of the progress, view the status of each ticket, and categorize them at different priority levels.
A good help desk software for small business provides you with real-time customer insights with detailed statistics and reporting. The integrated knowledge base offered by help desk software helps your customers receive an instant response. It improves customer experience and satisfaction and saves a considerable amount of time consumed in responding to them. You get to rapidly deal with the customers' requests by connecting with them on a deeper level, mitigating any delayed responses.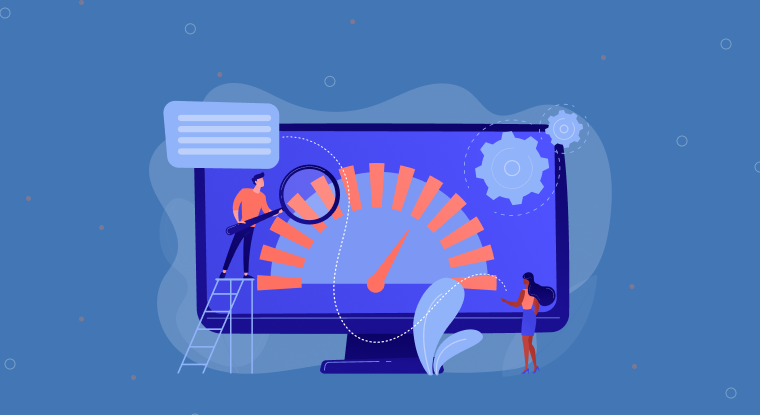 Therefore, investing your time and money in good help desk software for small business helps you streamline the customer support responses, improve the overall performance with real-time feedback, and stay in control of the incident tickets with the customer support software. It enhances the engagement with end-users, reduces the business impacts due to customer dissatisfaction, and helps you immediately resolve the tickets with a lot of ease.
Summing It Up
As companies have evolved on a very large scale, using help desk software for small business saves the organization from depending on a specific technology. Service desks allow your organization to connect with business partners to focus on making the lives of your customers and team much simpler and more efficient. The help desk software for small business is the key to a successful business as it improves customer satisfaction while managing IT costs.
If you are looking for robust help desk software for small business for your business, we recommend getting Support.cc by 500apps. It offers all the necessary features, from task management and ticket management to sharing knowledge base and live chats. Using this software, you can have a real-time conversation with your customers and provide them with instant IVRs to avoid any delayed responses. With their advanced reporting features, you can stay up-to-date with the progress to make rational decisions and perform required changes to improve engagement and communication with the customers.
To find more information about the advanced features offered by Support.cc, visit the 500apps website today!"
Discover Why Support.cc Stands Out
#1
Manage all your support tickets in one place
#2
Provide multi-channel support via email, chat, call, knowledge base and social media
#3
Create automation rules for faster resolutions and routing
#4
Get a 360-degree view of customer data with CRM integrations
#5
Enable self-support for your customers through brandable knowledge base
#6
Organize tickets and follow-up on them using built-in task management
#7
Integrate with built-in NinjaChat (live-chat software) and BotUp (AI Chatbot)
#8
Generate customer service reports to identify areas of improvement
#9
Unbelievable pricing - the lowest you will ever find
#10
Everything your business needs - 50 apps, 24/5 support and 99.95% uptime
Join the SaaS Revolution
All-in-One Suite of 50 apps

Unbelievable pricing - $14.99/user

24/5 Chat, Phone and Email Support