Top 10 Customer Service Software Solutions for Your Business
In order to improve customer care experiences, customer support software is a multi-channel tool that enables you to interact with consumers, manage and track tickets, and troubleshoot client demands.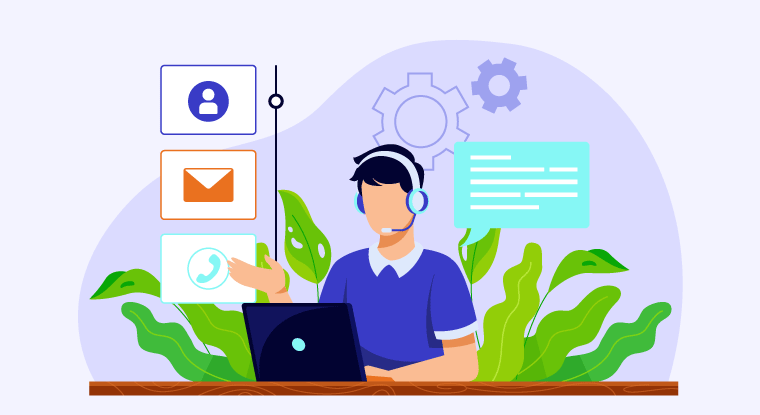 Customer service standards are evolving. Consumers often say that they'd want fewer rear and more open communication. Therefore, it is essential to make sure the teams are ready for these new demands, which may bring new problems. Manufacturers frequently implement new tools to help meet the client's changing needs. The problem is that if your definition of support is merely resolving customer issues via email and keeping a log of those interactions, it will be difficult to achieve high customer satisfaction. As a result, we've put together a list of the top ten customer service software programs available today.
What is Customer Service Software?
Customer support software is a multi-channel application that helps you engage with customers, manage and keep track of tickets, and troubleshoot customer requests to improve customer care experiences.
A customer support system can be integrated with external technologies like social media and group chat to manage several communication channels like email, chat, and self-service. In addition, companies often use customer care software to allow several customer service workers to work on the same tool faster and more efficiently.
What are the Benefits of Customer Service Software for Businesses?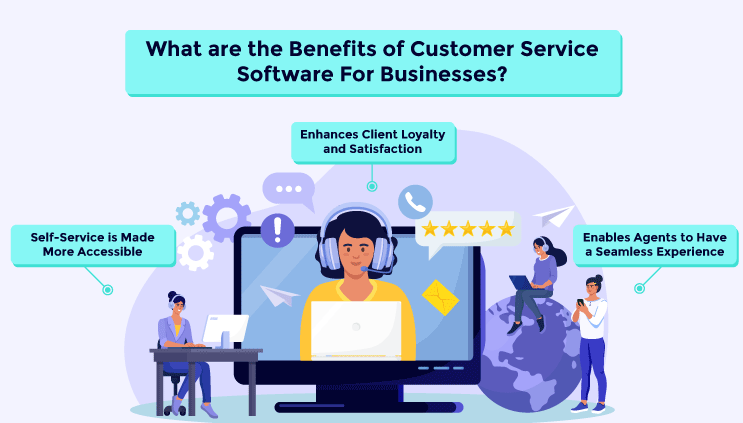 Self-Service is Made More Accessible
When a consumer has a problem, 63 percent of them always or almost always begin by searching the company's web resources. The software saves your agents time and gives customers the information to get the answers they need from your customer service platform, improving the self-service experience for your customers.
Enhances Customer Loyalty and Satisfaction
It's easier to give excellent customer service if service representatives have the necessary knowledge and tools at their disposal. To retain consumers, you need to provide them with superior service.
One of the most critical factors in customer satisfaction is the speed of the initial response. However, customer service agents want customer service apps to help them respond to and handle issues more quickly, given many service channels and the growing desire for personalization.
Furthermore, the more customers are devoted to a brand, the more money they spend, as studies show that 52% of customers go out of their way to buy from that brand. In addition, your consumers will be more satisfied and loyal due to better service provided by customer service software, which will help your business expand.
Enables Agents to Have a Seamless Experience
When agents need client information, it's easier for them to get it with customer service tools. Improved internal collaboration through shared inboxes and increased efficiency through streamlined processes are both made possible by these tools. The end effect is a more prepared and motivated customer service team. This results in increased output, which saves the company time and resources. Companies can grow and scale according to their customers' needs with the help of these tools.
How to Choose Good Customer Service Software for Your Business?
Choosing a Customer Relationship Management (CRM) system might be daunting. How can you choose the perfect one with so many tools and features? After reading this post, you'll be ready to start your CRM search and know which one to choose.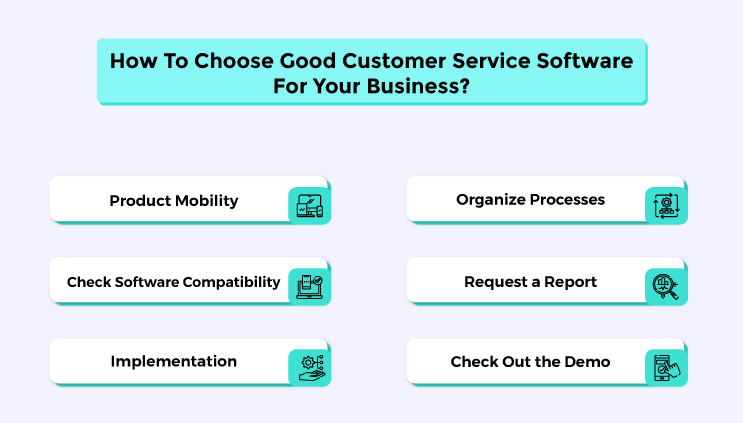 Today, mobility is crucial. Your sales crew will use phones, tablets, and laptops to access your new CRM system. Therefore, it is essential to find a tool that works on web-enabled devices. Most salespeople are early adopters of technology, so you'll want a regularly updated platform.
Check Software Compatibility
As more programs link through APIs, compatibility with numerous systems is not a big concern. However, you should still make sure the CRM system you choose can interact with other applications. You should also be able to use a third-party platform to streamline data management if you need help linking your systems through APIs.
Changing or introducing new software requires an implementation period. In some circumstances, you may need a deployment consultant or staff member. Training and testing can work out system issues and develop best practices in either case. Even without external installation fees, there are still costs connected with teaching your workforce and uploading data. Implementation can be expensive and time-consuming. For this reason, it is imperative to choose software that can minimize this impact.
CRM systems support several business processes. Everyone's methods vary. This is what sets you apart from the competition. Your CRM must be adaptable to your procedures and grow with your business while adapting to changing operations.
While CRM functionality is terrific, reporting can help you beat the competition. Customized reports illustrate your wins, losses, and improvement opportunities. Conversely, your data may suggest that your processes are ineffective. Ensuring your sales crew isn't hesitant to enter correct client data helps determine your firm's right items, services, pricing, and delivery.
It is important to get access to a product demo and try it. This is your chance to test the system for your business's needs. People request product demos but merely glance at them before concluding they'll function. Therefore, you should take extra time to test the software and avoid regrets in the future.
What are the Top 10 Customer Service Software Solutions for Your Business?
1. Support.cc
Support.cc by 500apps is an excellent software for customer service support. You can manage and address inquiries from emails, phone calls, live chat, Tweets, and WhatsApp, all from a single dashboard. In addition, you can keep track of your important customer service indicators with an automated SLA procedure.
One-System Support.cc is the only system your agents will require to keep your customers satisfied with your SLAs. Furthermore, the software reduces agent fatigue using basic automation with hyper-personalization. You can also integrate Support.cc with CRMs to measure customer satisfaction and better engage your customers.
2. Multi-Channel Chat Support with MobileMonkey
Even before a prospect has interacted with a chatbot, it aims to improve the customer's CX (Customer Experience) by taking proactive measures to keep them engaged over time.
Using OmniChat by MobileMonkey, you can observe all of the conversations taking place in real-time on your website's live chat and Messenger chat for Facebook and Instagram, as well as SMS text messages and other frequent consumer touchpoints in a single unified inbox. Moreover, it's completely free to use.
3. Shared Inbox for Help Scout
Using Help Scout's shared inbox technology, teams can collaborate on requests in real-time, allowing for a smoother customer care experience. Two-click inserting of commonly asked questions into an email is made possible by features like saved replies and collision detection, which ensures that no two persons are responding to a request simultaneously.
Help Scout's sidebar displays information about the customers you're now replying to. You can also add context to your customer engagements by looking at previous talks with the customer or by integrating with third-party programs like HubSpot, Salesforce, and Jira. The cost per user is set at $20 per month.
4. Hubspot's Service Hub - A Help Desk Application
Your customer service software relies heavily on helpdesk software. HubSpot Service Hub provides a shared inbox to communicate with customers at a much more manageable scale. Messages are automatically routed to the appropriate channels, and productivity is boosted by solid automation.
There are corporate options available for larger teams, although the product was developed for small-to medium-sized organizations. It's completely free.
5. Olark
You can customize your Olark chat box to fit your brand and encourage clients to engage with you based on predetermined workflows. For example, you can employ personalized avatars to keep your chat as human as possible and localize the language for different individuals.
Olark provides chat automation to help customers quickly and provides transcripts of chats. In addition, it offers real-time chat metrics and can be integrated with other software, such as HubSpot. With the help of these connectors, you can get the most out of your chat conversations regardless of what other software you use. The monthly fee is $17.
6. For Reporting Bugs, Use JIRA
Jira accepts reports on bugs and feature requests and organizes them. Whenever there is a change, agents and developers can remark on the report and be kept up-to-date. It's a win-win situation for your company when it comes to customer service and goods. It costs $10 for a monthly subscription.
7. Hootsuite - Social Media Management
When it comes to social media management, there are many options, including Hootsuite. It provides a great dashboard that can be customized for your company and shared across teams to allow everyone to see what's going on. To keep up with what customers are saying, there is an option to filter for different keywords, hashtags, and regions. The monthly fee is $29 for the service.
8. HelpJuice's Online Knowledge Base
When it comes to creating content, HelpJuice has a user-friendly design that is straightforward and intuitive. You can customize the look and feel of your knowledge base with a wide range of settings and features. In addition, multiple authors can collaborate on a single piece thanks to the system's collaborative workflow, which allows for greater productivity. Finally, you may set different access levels for other users to ensure that everyone has the appropriate level of authority.
HelpJuice also excels in the area of analytics. You can put the metrics that matter most to you at the top of the dashboards. Due to its powerful analytics, your team will be able to discover what is working and what needs to be improved. HelpJuice has a lot going for it, from the simplicity of use to the stunning visuals. The monthly fee is $189.
9. The Zoom Video Conferencing Software
We believe Zoom's true power lies in its ability to hold webinars and seamlessly onboard new customers, even though many think it is a meeting tool. With Zoom, clients don't have to do anything to join meetings.
In addition to the ease of use, you have the option to save recordings. You can use these recordings to include participants who could not attend the live event. Using Zoom Rooms, you can set up a separate video conferencing area if you'd like to go further. Interestingly, it is a free software.
10. Feedback from Customers - Nicereply
Nicereply is an excellent tools to get feedback from clients. In addition, branding and question customization are available so that you may tailor the survey to your company's needs. Distributing your surveys at predetermined intervals can also be automated.
You can better understand your client's demands and needs using customer satisfaction surveys. These scores are critical to determining how well your team performs and where they shine. With Nicereply, you can get the most out of your customer feedback with comprehensive statistics. The monthly fee is $39 per user.
Summing it Up
Correct CRM software is vital to your company's success. Therefore, you want to be sure you pick the right system for you. Unfortunately, finding the right CRM for your organization can be time-consuming and difficult. As you begin your CRM study, it is essential to keep the points discussed in the article in mind. To help your business expand, you must select the most excellent CRM software available for its specific needs.
500apps' Support.cc is a Helpdesk Software that allows you to establish a comprehensive customer support environment by talking with your customers in real-time. Improved automation to promote productivity, aid for working from home, and comprehensive ticket tracking to improve the customer experience are among the few features of this software that make it one of the best on the market!
Discover Why Support.cc Stands Out
#1
Manage all your support tickets in one place
#2
Provide multi-channel support via email, chat, call, knowledge base and social media
#3
Create automation rules for faster resolutions and routing
#4
Get a 360-degree view of customer data with CRM integrations
#5
Enable self-support for your customers through brandable knowledge base
#6
Organize tickets and follow-up on them using built-in task management
#7
Integrate with built-in NinjaChat (live-chat software) and BotUp (AI Chatbot)
#8
Generate customer service reports to identify areas of improvement
#9
Unbelievable pricing - the lowest you will ever find
#10
Everything your business needs - 50 apps, 24/5 support and 99.95% uptime
Join the SaaS Revolution
All-in-One Suite of 50 apps

Unbelievable pricing - $14.99/user

24/5 Chat, Phone and Email Support