The Benefits of Using a Customer Service Chatbot: How It Can Help Your Business
Chatbots quickly answer customers' questions. Chatbots save a team's time by swiftly answering client queries so they may focus on other duties.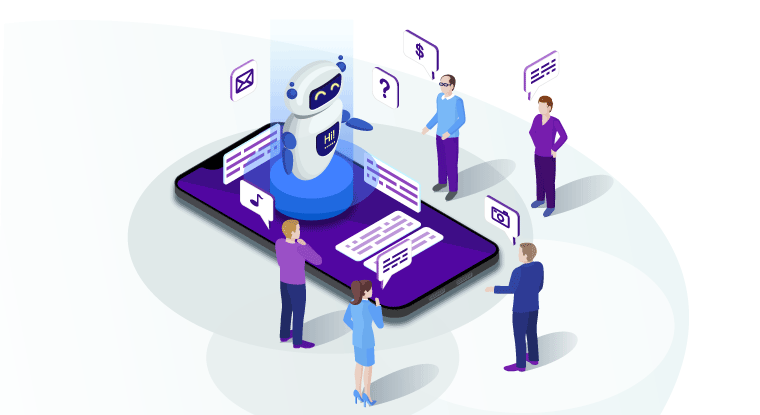 Customer service chatbots have redefined customer engagement by using artificial intelligence (AI). The chatbots allow organizations to efficiently support the customers and their needs via automated messages, visual search, immediate response systems, etc.
With the movement of customers to online platforms, more businesses have radically transformed their customer experience by adding messaging channels to provide fast resolutions and a support system. Chatbots are one of the best initiatives to provide 24x7 customer support and automatically resolve queries without human intervention.
What is a Customer Service Chatbot?
The chatbot customer service uses machine learning, artificial intelligence (AI), pre-defined conversation flows, and natural language understanding (NLU) to answer customer questions by mimicking human speech. Business organizations incorporate chatbots into their service models to automate routine tasks and answer customer queries.
Chatbots use resources like knowledge-based articles and FAQs to answer customer questions and resolve their issues. The bots can recognize and answer multiple forms of a common question and get trained to give immediate responses using the preferred voice or tone.
Chatbots help business organizations to enhance customer experiences, thus building better relationships and achieving faster growth in sales and revenue.
How Do Customer Service Chatbots Work?
Chatbots are designed to interact with human beings and identify the user intent before responding to the queries. They work via the adoption of three classification models.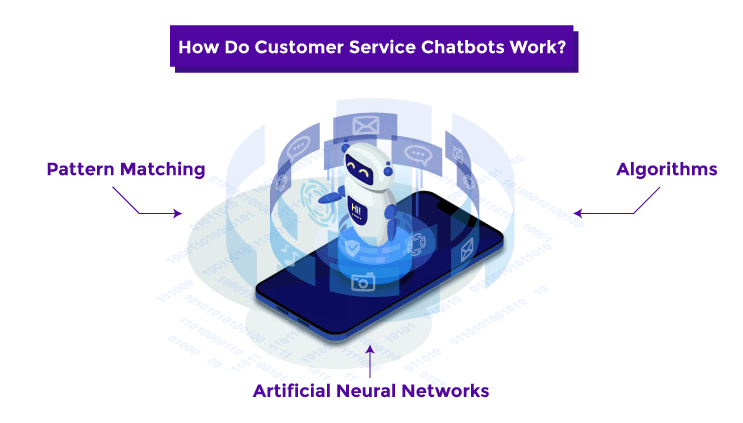 Chatbots use pattern matching to classify a text via Artificial Intelligence Markup Language (AIML), a standard structured model, and provide a suitable response to the customers. The AIML model helps a customer service chatbot respond to anything that matches its pattern. However, the chatbots cannot react to a query beyond related pattern systems.
Unique patterns available in databases can provide suitable responses for each question. This requirement results in a hierarchy creation with multiple combinations of pattern systems
Algorithms help the chatbots by reducing the classifiers and creating a manageable structure for an advanced working level. Customer service chatbots use algorithms to respond to complex queries unrelated to familiar patterns.
Artificial Neural Networks
Neural networks calculate the output from the input via weighed connections computed from repeated iterations during data training and management.
Each sentence gets broken down into individual words that act as an input under a neural network. The connections get calculated by various iterations through the training data to improvise and be accurate each time. This way, the chatbots use artificial neural networks to ensure they are giving accurate and relevant responses to customer queries.
What Are the Benefits of Using a Customer Service Chatbot?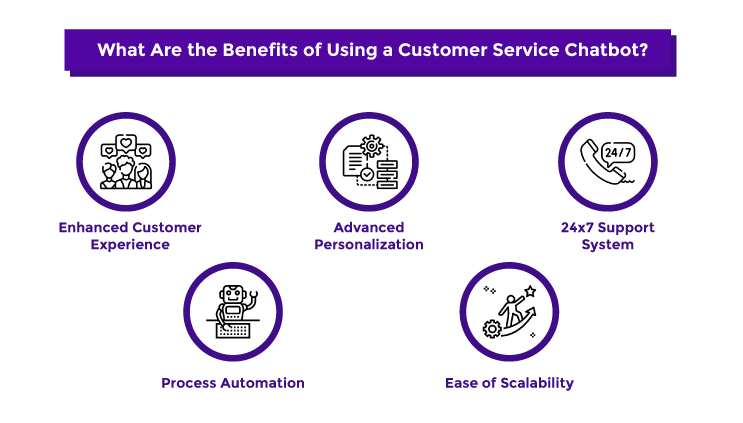 Chatbots have become an indispensable part of the customer service systems of various business organizations. Every customer demands faster, better, and more personalized interactions for their queries. Customer service chatbots get programmed to react to queries within a short period.
Here is a breakdown of the benefits of using a customer service chatbot.
1. Enhanced Customer Experience
A human operator may find it challenging to respond to customer queries in a short time. However, customer service chatbots can respond to any question within a short period while appealing to the customers' emotions. The bots can also learn and improve conversations by analyzing the users' input. Chatbots ensure that the conversation with each user happens smoothly and helps ensure customer loyalty and retention.
2. Advanced Personalization
Chatbots can extract information from the customers at a faster pace and customize the content accordingly. These bots help in advanced personalization from the beginning of their interactions with each customer. It allows them to make recommendations to each user based on their likes and dislikes.
3. 24x7 Support System
Customer service chatbots provide instant support that keeps the customers satisfied. The bots enhance the user experience by responding to multiple queries around the clock, regardless of the time. The chatbots provide a homogeneous experience compared to human support executives, who may give heterogeneous services depending on the mood and situation.
4. Process Automation
The chatbots ensure that the amount of human expertise required for various tasks reduces, allowing the organization to allocate its resources to carry out further complex and business-critical activities. This way, the deployment of customer service chatbots helps improve service and staff efficiency within an organization.
5. Ease of Scalability
Every customer-centric business requires an option to scale its support team. There are times when a website may witness a spike in traffic which leads to the challenge of handling the rush of multiple queries. A chatbot's presence ensures that all queries are addressed in real-time without the need for the customers to wait for a support executive to help solve the issues.
The bots also help improve business productivity without incurring additional charges or resources. Studies suggest that chatbots save 30% of customer service costs by dealing with multiple queries in a single stance.
How Can You Implement a Customer Service Chatbot into Your Business?
Chatbots have paved a new way for business organizations to communicate with their customers. Every business has different requirements. For this reason, they need an effective chatbot to meet customer expectations.
Here is how you can implement a customer service chatbot into your business.
Define The Business Goals
You must outline your business objectives or purposes before implementing a chatbot for responding to your clients or customers. It is important to visualize the best-case scenario for your audience and the actions you want the chatbots to take to benefit your business.
Understand The Target Use Case
You must segment your audience to figure out who a chatbot interacts with and how it can enrich your brand relations with the customers. You can identify use cases like support, general visit, or sales to help shape the chatbot design, scope, and execution.
Choose The Correct Platform
The best way to decide on a platform for your chatbot implementation is to analyze what your customers use. You must also look at your business needs and sync them with the customer needs to build an effective messaging solution via chatbots. You can also try using a ready-to-use platform to save the effort and time required for building everything from scratch.
Artificial intelligence (AI), machine learning, natural language understanding (NLU), etc. are integral to chatbots to ensure enhanced customer interaction and outcomes, as they allow developers to implement effective chatbot strategies for automating repetitive tasks, engaging with the customers on a personal level, and enabling positive user experience.
Create A Customer Journey Map
Customer journey mapping is the most crucial step in implementing a chatbot strategy for your business. The mapping process will make you understand how to ensure a better overall experience that results in increased loyalty and higher customer satisfaction.
Summing It Up
Effective customer service chatbots improve the customer metrics of businesses. Chatbots are the best way to respond to customers and get their queries answered within seconds. Customer service chatbots save a team's time by resolving customer questions quickly and allowing the team members to concentrate on other complex tasks. The bots offer 24x7 support to the customers and learn continuously to improvise their answers for future conversations.
Support.cc is an efficient Helpdesk Software that helps manage and solve queries via calls, emails, live chats, etc., from a unified dashboard. The software provides relevant information to customers and inspects the key service metrics with automated workflows, thus enhancing user experience.
Discover Why Support.cc Stands Out
#1
Manage all your support tickets in one place
#2
Provide multi-channel support via email, chat, call, knowledge base and social media
#3
Create automation rules for faster resolutions and routing
#4
Get a 360-degree view of customer data with CRM integrations
#5
Enable self-support for your customers through brandable knowledge base
#6
Organize tickets and follow-up on them using built-in task management
#7
Integrate with built-in NinjaChat (live-chat software) and BotUp (AI Chatbot)
#8
Generate customer service reports to identify areas of improvement
#9
Unbelievable pricing - the lowest you will ever find
#10
Everything your business needs - 50 apps, 24/5 support and 99.95% uptime
Join the SaaS Revolution
All-in-One Suite of 50 apps

Unbelievable pricing - $14.99/user

24/5 Chat, Phone and Email Support