5 Impressive Ways to Provide Chatbot Customer Service
Chatbots have been around for a long time, but the technology has been getting more advanced and more sophisticated. Chatbots can be used to solve customer queries, but also to provide general advice or even to sell products.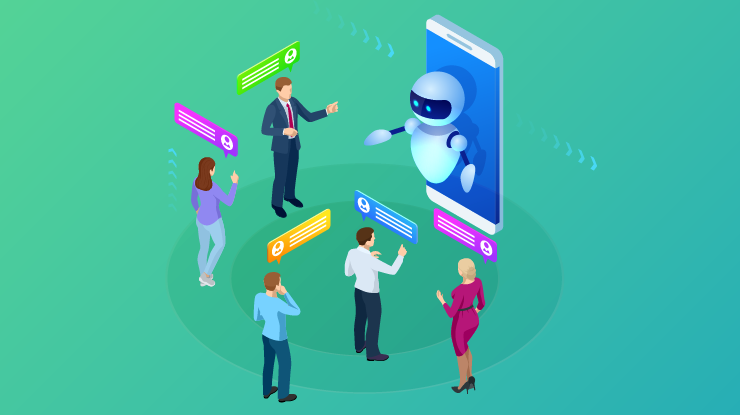 Chatbots are tools or series of programs powered by artificial intelligence. They are also rules and instructions which generate a virtual interaction with users via a chat interface. Chatbot customer support service is developed to interact with customers and users like a human being on another end. According to Rester Pasion, a chatbot is an artificial intelligence (AI) software that can simulate a conversation (or a chat) with a user in natural language through messaging applications. A chatbot is often described as one of the most advanced interactions between humans and machines.
Having explained what chatbot customer support is and how it can be deployed in a business environment, it is essential to familiarize us with how it provides customer support in a business organization. After that, for the sake of this article, we shall run a quick explanation of customer support and its functions in an organization.
In addition, support bots are tools and software used by customer support to interact with customers, resolve queries and complaints, and a host of other customer service functions. Therefore, the support chatbot is a tool in customer support software or customer service software.
For customer support software such as Support.cc, the chatbot tools are integrated into it to make the customer service delivery more accessible and faster. That's why the customer service software developed by 500apps is regarded as the best compared with other customer support software.
Why Chatbot is Important in Customer-Driven Business?
1. 24/7 Customer Support
For large business organizations with their customers scattered across the globe with different time zones, it is essential to be considerate of these customers who might need to resolve a complaint or reach out to the customer service at any time, not to worry, the chatbot support is always available and working round the clock.
Also, Customers may need to get in touch with the customer support of an organization at any time. You can encounter problems or be stuck while using a product or service in the middle of the night, but do not panic. The chatbot customer support software has been designed to help resolve the issues or forward them to the appropriate quarters immediately.
Irrespective of when the customer sends their request, the customer service software is always available to process it. The chatbot support can work round the clock, and they are powered by artificial intelligence and machine languages that do not rest or sleep. Whatever time you need the chatbot support of the customer service in an organization, the customer service software is always available.
2. Better Communication
Business organizations that communicate with their customers in a personalized and informed manner create lifelong partnerships. To provide this spotless customer service, you need a tool or software that you can always access to pool out information and records about an individual customer, especially their preferences, to build a personalized experience for them; the customer support software is designed for this chatbot support task.
Also, the customer support software gives you detailed information regarding the same complaints or detailed information on previous complaints. It queries these complaints alongside their solutions launched by the same customer, allowing you to communicate with them in a familiar tone. The customer service software can adopt continuity from the last communication to provide chatbot support.
3. Cost and Expenses Saving
The use of chatbot customer support instead of customer support personnel helps the business organization to save costs. According to Commbox, "Using chatbot support in your business process is a shortcut to saving more than 30% in customer service operations", this shows that with the use of customer support software, you can save costs that would be expended on paying salaries and other logistics involved in running the manpower.
The use of chatbot support alongside customer service software saves the business organization from unnecessary expenses such as training of customer service representatives, annual leave bonus, and other miscellaneous spending.
4. Getting Rid of Language Barrier
The use of bots and livechat service helps to get rid of the language barrier and facilitate inter-ethnic and inter-racial communication. Customer support software such as Support.cc runs on Natural Language Processing (NLP) which enables it to understand several languages and give accurate responses using the same language.
Also, customer service software allows the chatbot support to answer frequently asked questions and make the answers and suggestions available in a different language where customers can access them. This way, you do not have to place a call through to the customer service; the solutions to frequently asked questions or frequently encountered problems are already on the company's webpage in several languages. With this multilingual feature of the chatbot support, the problem of the language barrier is bridged.
5. Speedy Support and Response
Customer service software is being developed to provide automated responses to customers in real-time. With the use of human resources, there are several customers to attend to; the customer service is overwhelmed, which leads to mistakes and inefficiency. Albeit with chatbot support, every customer gets an accurate response without wasting time, and this chatbot support allows for smooth interaction with the customers to resolve their queries. It is now essential that every brand should understand the importance of customer service.
According to Bernard Marr, " Today, organizations are becoming more comfortable with the idea of integrating chatbots and intelligent assistants into their processes, and confident that it will lead to improvements in efficiency and customer satisfaction."
Sometimes, the queries and requests might be ambiguous for the customer service software or support chatbot to process or give timely feedback to the customer; in this situation, a powerful customer service software such as Support.cc redirects the customer's query to the support service for a better solution as quick as possible.
Customer support in an organization is referred to as those units or departments saddled with receiving and tackling customer complaints. The work of customer support is not limited to resolving customer complaints alone; they consist of those policies, plans, and activities that govern how your organization interacts with your customers. The main work of customer support is to ensure customer satisfaction and providing the best customer service will have a high impact on business sales.
How Chatbot Customer Support Helps Your Brand?
1. Building a Good Relationship With Customers
In every organization, it is the duty and role of customer support to build excellent and long-lasting relationships with potential customers and the existing ones. Building great relationships with the customer would involve customer support to reach out to the new customers and familiarise them with the products, services, terms and conditions of an organization using excellent communication skills. Customer support should deal with any customer service issues to show the customers that they are essential and valuable to the organization. This is another way of building a good relationship and cementing an already existing relationship.
2. Resolve Customer Concerns and Complaints
Another core function of customer support is to provide solutions to customer complaints and answers to their concerns relating to the use of products or services rendered by your organization.
Sometimes, the customer complaints or concerns could be personal issues; it is the responsibility of the customer support to walk the customers through the journey and sympathize with them. It could be the listening ear that the customer support offers that will comfort the customer.
3. Develop the Frequently Asked Questions (FAQ) and Provide Accurate Answers to Them
The customer service representative is the first point of contact with the customers; all questions daily pass through them; they are therefore in the proper position to create a resource page with frequently asked questions and make it accessible to all. With customer support software, these questions are automatically recorded and collated together to form the FAQ.
Sometimes, the FAQ section is enough to answer the customer's questions and resolve their complaints; they do not need to contact customer support. For customers who like to resolve complaints and errors independently, the Frequently asked question section can serve as their guide.
4. Monitor and Track Customer Behavior
For every successful business organization, customer satisfaction is paramount and at their heart. To retain your customers and ensure they are satisfied with the product and services rendered, customer support needs to keep track of the customer behaviors to serve them better.
Also, customer support is responsible for monitoring the key performance indicators (KPI) on customer behavior towards your organization; this allows you to know which customers is doubting the products and services rendered to them and devise ways to gain their confidence to continue the patronage.
Customer behaviour is critical; sometimes, the tone with which a customer speaks to the customer support is enough to deduce whether the customer is satisfied with the company's operation or not.
5. Company Scribe and Content Creator
This is one of the top-rated functions of customer services in 2021. Not all customers use the face-to-face or voice-to-voice method of communication, and these customers prefer to read and digest what they have read. Good writing entails personalizing the problems and getting close to reality as words will allow you to. The ability to convey nuance and make the writing sound like face-to-face interaction would make it easy for the customer to solve the problem encountered.
Sometimes, the "Frequently asked questions" section is always made available on the website, notice board, or pamphlets for customers to check and resolve complaints independently. Furthermore, not all problems or complaints require customer support; with a well-written, detailed explanation and step-by-step instructions, customers can solve a problem they encounter while using a product or service by going through the frequently asked questions section. Also, the deaf or dumb can not engage in a phone call; you either show them how to go about it or put it into writing for them; you, therefore, need customer support that has good writing skills.
Having explained customer support functions in an organization, it is essential to know that all these functions and roles can be carried out with ease and without error using ticketing system.
Conclusion
Every business organization should ensure that customer satisfaction is at the forefront of their agenda; they are the factor that keeps the business running due to continuous patronage.
To serve them better, the customer service software and customer support software can be deployed, also, amongst these Helpdesk Software, Support.cc, developed by project 500apps in New York, is the best with advanced tools and functionalities such as chatbot customer support service, multilingual features and a host of others.
Discover Why Support.cc Stands Out
#1
Manage all your support tickets in one place
#2
Provide multi-channel support via email, chat, call, knowledge base and social media
#3
Create automation rules for faster resolutions and routing
#4
Get a 360-degree view of customer data with CRM integrations
#5
Enable self-support for your customers through brandable knowledge base
#6
Organize tickets and follow-up on them using built-in task management
#7
Integrate with built-in NinjaChat (live-chat software) and BotUp (AI Chatbot)
#8
Generate customer service reports to identify areas of improvement
#9
Unbelievable pricing - the lowest you will ever find
#10
Everything your business needs - 50 apps, 24/5 support and 99.95% uptime
Join the SaaS Revolution
All-in-One Suite of 50 apps

Unbelievable pricing - $14.99/user

24/5 Chat, Phone and Email Support