Tools That Made to Top 5 Help Desk Software List
In this article you will see what are all the key features your help desk software must have. Also, the best help desk software list.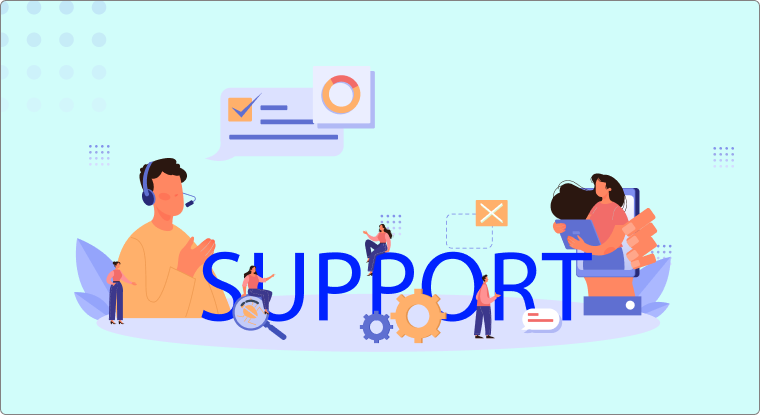 But first, let us understand what help desk software is and what are the features to look for from the selected help desk software list.
Customer service representatives can manage user requests and other difficulties related to customer care using help desk software, which is a computer program. It is what makes customer service ticketing system productive and innovative.
Key Features to Look for in Your Top Help Desk Software List
1. Customer Experience
You need a solution that enables you to provide top-notch assistance if you want to. Unfortunately, not every help desk is designed to impress your clients. Many businesses refer to clients as ticket numbers or need them to create individual logins in order to access your responses or make changes to their requests.
From the support side of the table, these systems might be fine. However, it won't matter how excellent your support ticketing software is if employing them results in an experience that makes your clients feel uncared for or burdens them with additional labor at a time when they are already frustrated.
2. User Interface
Make sure any help desk will be simple for your employees to utilize before committing. New tools always require some getting used to, and switching over the entire team isn't an easy choice, but some will work better for your team than others.
3. Security
Security is crucial since your help desk houses a lot of sensitive client data and has a large team of users who can access it. To grant just those who require access to certain regions, find a tool with role-based permissions.
A help desk with two-factor authentication will stop unwanted access in addition to encouraging strong passwords for every team member as additional security when checking in.
4. Customer Support
Even while it's simple to assume that any firm selling help desk software would care a great deal about offering first-rate customer support, that's sadly not always the case.
Send in a few support inquiries before choosing a tool to observe what kind of responses you get and how quickly you hear back. If you're unable to do that, read some product reviews online. Customers will frequently note a company's poor customer service in product reviews.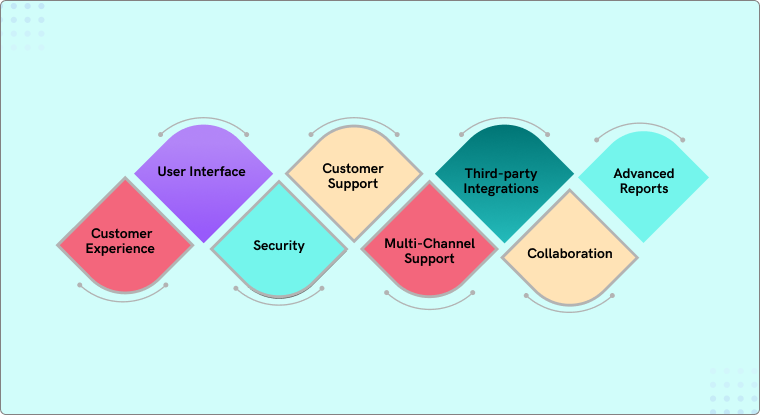 5. Multi-Channel Support
It should go without saying that the help desk you select should provide your team with the helpdesk support software necessary to support your preferred channels.
Look for a tool with a shared inbox if you typically offer email support. If live chat is your primary service, look for software that has a live chat feature.
Along with considering the types of support you currently provide, it's important to think about the types of support you could and should provide in the future.
6. Third-party Integrations
To increase the number of functions available to your staff, many help desks integrate with additional third-party products. If your preferred help desk lacks a certain feature you require, it may be worthwhile to check to see if an integration is available that can add that functionality.
Checking whether the solutions you're thinking about have integrations for third-party tools you know you'll need, like your billing system or your CRM, is also important.
7. Collaboration
Regardless of the size of your support team—two or 200—your help desk is essential to their effective communication. After all, a chat with a customer can last for several shifts or days, or it might require the input of several different team members with various specialties.
8. Advanced Reports
Metrics and reports are crucial for monitoring the performance and effectiveness of a support team, as anyone can attest to. You must be able to fully comprehend the caliber of your support.
The right tool will give you the metrics you require to identify your team's busiest periods, typical first response and resolution times, the number of customers who use your knowledge base articles, team members' CSAT ratings, and more. The finest solutions will also make it simple to obtain and comprehend these indicators.
Top 5 Help Desk Software List
Support.cc
An all-inclusive helpdesk tool like Support.cc can help you establish a reputation for offering top-notch customer service. It also makes managing your problems and relationships easier. All of your contacts' information is centrally stored by this software, making it simple to keep track of, manage, maintain, and update as necessary.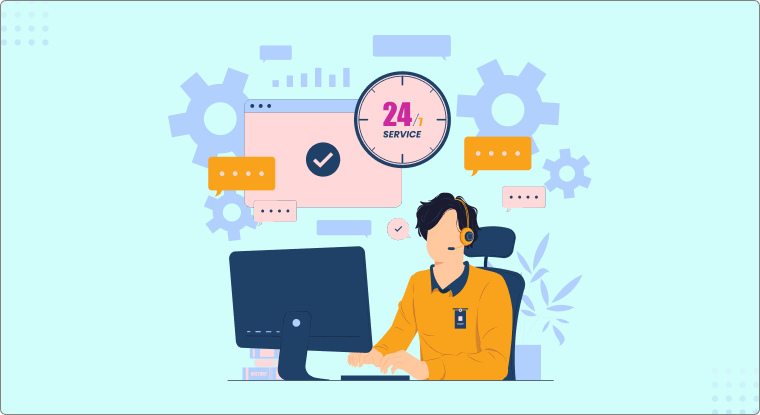 It's key features include:-
Ticket Management
Improve ticket management and sorting to better handle and manage customer support requests.

Bots and Live Chat
Utilize our integration with live chat to provide immediate help and ticketing (Ninjachat). Manage all customer support requests and responses to their questions.

Advanced Reports
Analyzing data and coming up with process improvement ideas will help you gain important insights into your customer service efforts. To increase customer satisfaction, track and handle customer support concerns.

Workflow Management
Create a schedule for repeating tasks, then concentrate on the top priority on your agenda.

Task Management
Set priorities for your daily activities, assign them to team members, share files with clients or other team members, keep an eye on the status of your project, and record the time spent on each activity.

Price
Through honest pricing, Support.cc , the top 5 of the help desk software list stands apart from other helpdesk software platforms. That is single pricing for all 50 apps. Monthly Plan: $14.99/ user / month Yearly Plan: $9.99/ user/ month
Freshdesk
Larger teams benefit from using Freshdesk, a multipurpose help desk, especially those working in contact centers. When you sign up, you gain access to resources for managing support requests, including a shared inbox, a knowledge base tool, and chat functionality. Additionally, you are given a set number of incoming minutes to use for customer phone calls (the amount of time varies based on the specific plan you choose).
Price: Offers Free plan. Plans with monthly fees beginning at $15 per agent
Jira
Although Jira Service Desk is frequently used by engineering teams, many support teams also use it because it's a convenient way for them to submit and monitor defects.
To ensure projects operate successfully, users can design unique workflows and forms. They can also give tasks a status to keep everyone updated. Reports can help support agents understand the general workload and the projects they are working on, adding more context to problem tracking and requests.
Price: Offers free plan. Plans with monthly fees begin at $7.50 per user.
Zendesk
The name Zendesk is familiar to almost everyone in customer service. A shared mailbox, a knowledge base, and live chat tools are all part of their multi-channel helpdesk software.
Along with those, they also provide some more sophisticated AI-based chatbot and autoresponder solutions (though those are only included on their higher-cost plans).
Price: Starts at $19 per agent each month.
Zoho Desk
Although you may be familiar with Zoho as a tool for managing client relationships, they also offer a support service for customer interactions.
Many of the standard suspects are present in Zoho Desk, including a knowledge base tool and a shared inbox. Additionally, they provide more sophisticated services such as AI-assisted responses and sophisticated automation for tasks like chat sorting and labeling.
Price: Offers a Free plan. Plans with monthly fees begin at $14 per agent.
The Final Say
A new helpdesk ticketing system represents a significant investment in your customer support team, your clients, and ultimately your business. Although having a huge feature list is nice, you should choose with a bigger picture in mind. Consider your options carefully because choosing a solution that works for your team (and your clients) will cost you money.
Visit 500apps now and see for yourself why Support.cc tops your help desk software list.
Discover Why Support.cc Stands Out
#1
Manage all your support tickets in one place
#2
Provide multi-channel support via email, chat, call, knowledge base and social media
#3
Create automation rules for faster resolutions and routing
#4
Get a 360-degree view of customer data with CRM integrations
#5
Enable self-support for your customers through brandable knowledge base
#6
Organize tickets and follow-up on them using built-in task management
#7
Integrate with built-in NinjaChat (live-chat software) and BotUp (AI Chatbot)
#8
Generate customer service reports to identify areas of improvement
#9
Unbelievable pricing - the lowest you will ever find
#10
Everything your business needs - 50 apps, 24/5 support and 99.95% uptime
Join the SaaS Revolution
All-in-One Suite of 50 apps

Unbelievable pricing - $14.99/user

24/5 Chat, Phone and Email Support