10 Ways Technology will Impact the Future of Customer Service
Customer service has always been a component of companies, small or large. In order to offer the right customer service at the right time in a more personalised manner, the technology plays a key role.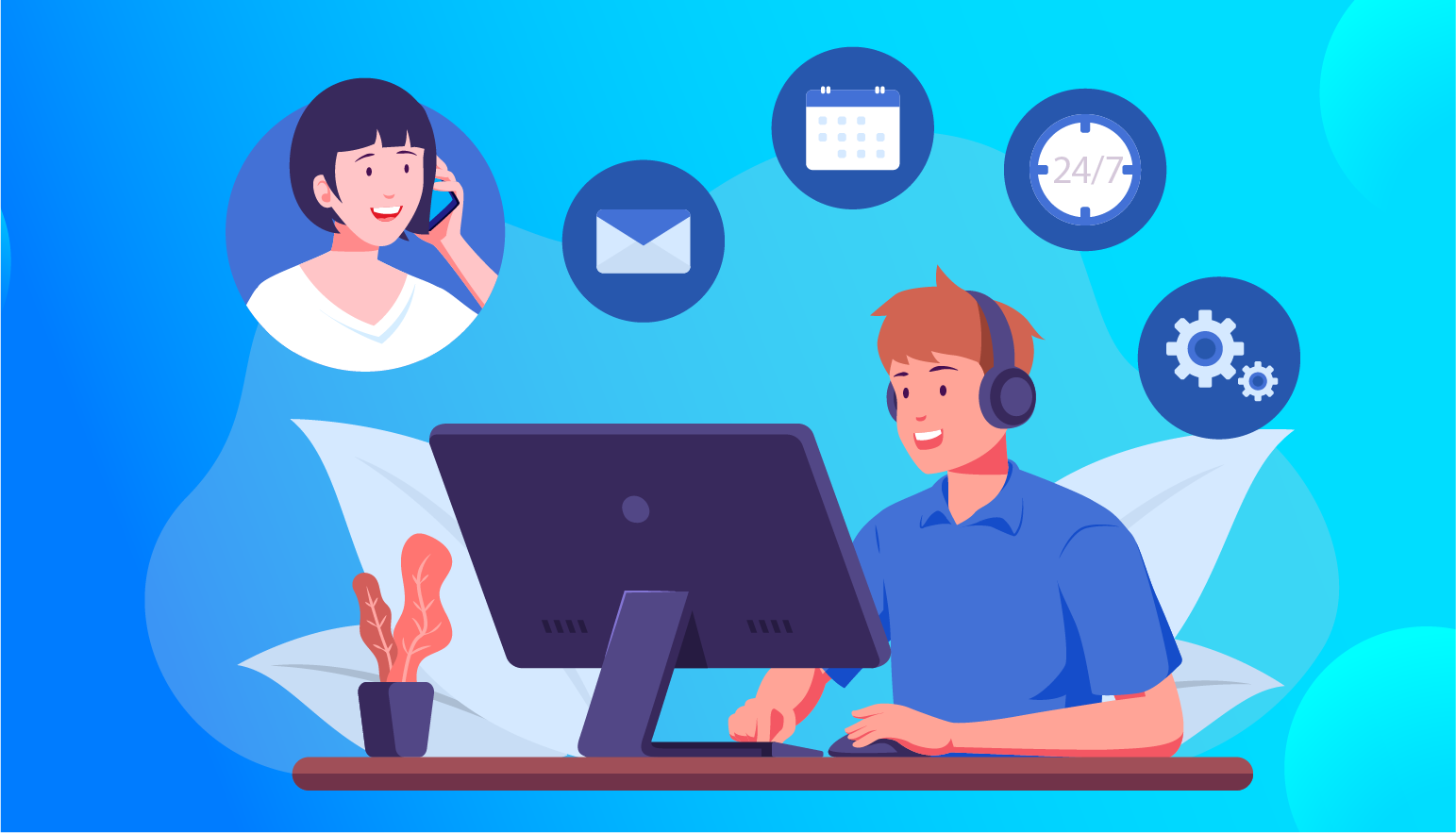 Technology dictates spectacular changes in all areas of business processes, and customer service is not excluded. In the process of service delivery, customer services will be specifically reoriented by the advent of technology. Originally, the digital growth of businesses was seen as a threat to street stores since more people now shop online. However, technology is here to stay, and as more businesses identify with it, new ways to enhance customer experiences are being discovered.
The impact of technology on helpdesk support software promises exciting prospects. New developments like ticketing system, Bots and LiveChat, website recording software, video, self-service, etc., give an assurance of better ways to improve the day-to-day interactions of customers with businesses.
Unfortunately, great promises come at a cost. The introduction of new technology to replace conventional ways of interacting with customers is a steep learning curve. Businesses have to migrate, perhaps overnight, to a new way of doing things. Since it is an ever-progressive process, businesses have to migrate as soon as possible not to be left behind.
Femme Forte said in his tweet, "Great customer service is rare. Strive to offer customers a good experience, it will help you build a strong brand, gain a competitive advantage and benefit from repeat business from loyal customers. Customer service is the face of the organization."
Also, new technologies are costly to implement, so businesses are worried about how much the significant capital outlay will produce in ROI. In the greater scheme of things, sacrificing to adapt to the latest technological trends in customer services will be a selfless move. The technology promises great rewards that would provide services that transcend its cost of implementation.
With helpdesk ticketing software, businesses can empower their team and learn new ways to understand their customers. In all, it might seem expensive right now, but your business will enjoy a lasting benefit that will translate into unprecedented ways of engaging customers.
Lastly, employees are reluctant to accept new technologies, as they believe that technology is here to take their jobs. This assertion is false. Although technology can replace several humans in the business process, it can not function entirely independently. Replaced employees will always be needed in new dimensions of the business. Technology is not here to take your employees' jobs, and it is here to keep them on their toes.
How Will Technology Impact the Future of Customer Service?
Since we have now briefly considered the pros and cons of the technological wave on business processes, here are some ways technology will shape customer service in the future.
1. Video Conferencing
Technology will bring businesses and customers together more than ever before. Virtual communications without eye contact will be seen as archaic as more businesses tap into the realm of video conferencing. Businesses and customers seeing eye-to-eye will greatly improve relationships and facilitates openness.
Currently, several customers dim video convenience as an inconvenience. However, the business relationship of the future would surpass the scope of virtual calls and text messaging. More trust will be required, and customers would easily trust someone they are seeing. Therefore, in the future, video conferencing will be the go-to service in customer services.
Furthermore, since the world is digital and still going more digital, video conferencing solves the problem of physical presence. Customers can have a physical examination—albeit virtual—of any product, they buy from wherever they are. So, they need not travel down from their location to examine the product. With video conferencing, it will be easier for customers to know what product they are expecting, which will reduce returns.
2. All-Round Customer Service
With every passing moment, customers are more reluctant to appear in your places of business to make complaints, place orders or give feedback. A customer can easily visit your social media customer service platform and pass across any information he wants remotely. In addition, customers can engage with your business through various digital mediums like third-party review sites, e-commerce platforms and many more.
The law of Economics says, Human needs are insatiable; hence, customers would demand more in the future. More digital presences, more customer services, instant response and many more. As a business, to cope with this plethora of incessant yearnings, you need omnichannel support. This is a platform that syncs your communication channels together so your team can work seamlessly.
Help desk software can help you engage your customer wherever they are so far, and they are engaging your business. So, your customers need not log in to several social media platforms to make requests or post complaints. In the future, a trans social media integration platform will redefine the face of customer service and offer a one-stop place for all customer relationships.
3. Instant Messaging
The era of email is fast fading out. Just like video conferencing, customers would prefer instant feedback and would want you to be always online. Therefore, instant messaging is the future. Consider Facebook Messenger. It sends notifications immediately, a message drops and shows the online presence of each user. That is a glimpse of what the future holds for customer service through instant messaging.
As the world and its digital era progress, more businesses would recognize more with instant messaging software against traditional bulk email dispatching. Customers would want more real-time conversation, and instant messaging offers the best answer.
The world's digital space is ever dynamic, so you need to ramp up your communication strategies. Stay ahead of your customers' needs and integrate instant messaging to share important documents and foster responsive communication with your customers. Do not wait for the future to catch your pants down; catch the future unawares; that's the best quality of a salesman.
4. Global Presence
As more jobs are being migrated to the remote phase, so are the customer needs. A 21st-century customer would like to see the goods he likes, authenticates their quality, make an order and get it delivered without leaving the comfort of his sofa. You can call it lazy, but it is just a question of convenience. With digital growth, businesses set up an e-commerce presence to showcase their products and subsequently deliver without contacting the buyer.
This ease of business is supported by all customer service channels you can think of. Therefore, physical appearance would be seen as a bizarre decision in the future of customer service. Customers will be able to get their service from any place they are on the surface of the earth.
5. Chatbots
A seldom human-to-human interaction will further influence the future of customer interaction with businesses. Since more customers will initiate service processes online, it will get to a time when humans cannot keep up with the intensity and round-the-clock requests. Hence there is a need for AI and chatbot customer service.
Chatbots (RPA) is a conversational user interface whereby robots perform redundant tasks through existing knowledge. However, in a short while, the go-to technology would be AI. AI presents a more interactive solution to customer services. Artificial intelligence robot studies human interaction over time so that they can simulate it in future. Conveniently, AI can answer customer requests and gauge emotions as well as a human can.
Less employee-to-customer interaction will be available in the future, as AI can handle high volumes of interaction without breaking a sweat.
6. Self-Service
The introduction of supermarkets gave an inkling of what self-service means. Customer enters and satisfies their wants with little interaction with employees. However, the customer would need human interaction while playing. Technology provides a more robust approach to customer self-service. Customers can conveniently complete a transaction from walking through the aisle to paying for goods to the delivery without human interaction.
This would allow convenience, and customers would be guaranteed quality service even when any staff member is unavailable. Also, most vendors clients interact with are big, and their employees cannot handle the business transaction with their countless customers. Self-service offers a cheaper and more efficient option.
With helpdesk software, businesses can automate customer service tickets quickly to serve their customers better. Also, you can create, design and manage content such as FAQs, manuals and instructions for years to come.
7. Personalized Customer Service
The success of a business depends not only on the quality of service but also on how special you can make your customer feel. Technological growth has provided several sentiment analysis tools that make it easier to identify each customer's strengths, weaknesses, and inclinations. This will help you train your employees on how best to serve your customers in the new world.
Furthermore, customer service personalization will create a seamless onboarding process for new reps. Each customer service representative will be trained on the latest software, and they will be more technologically savvy.
Finally, as an employer, training your staff in new technological advancements relative to your business will help you tailor them to your needs. With more training, your employees consistently become specialized assets for your business.
8. Analytics for Making Customer Service Decisions
Irrespective of the software you follow in the fast-growing digital economy, you would be able to use analytics t influence market decisions. As more businesses use service technology, the success of each process is analyzed for future processes.
For example, Support.cc generates a report for you with a few clicks to understand how our support team performs. This gives you a holistic overview of their activities.
9. General Acceptance of Social Media Tools
Social media now empower customers to praise or criticize a brand almost immediately. This might look flimsy, but it holds a lot of weight on how the future of customer service will be. More first-time customers would go through the list of reviews of a business on social media before making that buy decision.
It is becoming a generally accepted norm for customers to make decisions based on social media feedback. Within a short while, a business can be the trending topic on social media for a service rendered. With the catalytic rate of information exchange on social media, more users can easily see an uploaded video about a brand and instantly decide on future interaction with the brand. Therefore, as a business owner, you should monitor your customers on social media platforms and maintain a reputable social media brand online.
10. Less Manual Task for Humans
As earlier stated, the growth of technology cannot replace humans totally, but it offers a less hands-free approach to completing tasks. New technology will open new dimensions of excellent customer service delivery. Redundant tasks can be taken out of human hands to be replaced by more supervisory roles.
Each employee would acquire specialized knowledge to provide adequate support while the digital wheels spin away from the stress. Furthermore, several customer problems would be solved digital, leaving fewer problems for the support staff to handle. Therefore, they will have more time to face other important tasks and seek self-development.
Conclusion
Among the best help desks, exceeding customer expectations is what sets them apart and makes them stand out among their competitors.
The current state of technology hews out the future landscape of customer service. Listed above are some ways the future will be structured, and as a business owner, you should be prepared. I believe you have come to terms with the solemn fact that the future of all businesses is digital. Therefore you need to be strategically positioned for the future.
Support.cc is your all-in-one Helpdesk Software where you can handle your knowledge-base, telephony and feedback all in one place. Also, you can set triggers to manage SLAs, status and priorities. Above all, you can integrate the software with popular CRMs, other help desks, email providers and telephone software.
Discover Why Support.cc Stands Out
#1
Manage all your support tickets in one place
#2
Provide multi-channel support via email, chat, call, knowledge base and social media
#3
Create automation rules for faster resolutions and routing
#4
Get a 360-degree view of customer data with CRM integrations
#5
Enable self-support for your customers through brandable knowledge base
#6
Organize tickets and follow-up on them using built-in task management
#7
Integrate with built-in NinjaChat (live-chat software) and BotUp (AI Chatbot)
#8
Generate customer service reports to identify areas of improvement
#9
Unbelievable pricing - the lowest you will ever find
#10
Everything your business needs - 50 apps, 24/5 support and 99.95% uptime
Join the SaaS Revolution
All-in-One Suite of 50 apps

Unbelievable pricing - $14.99/user

24/5 Chat, Phone and Email Support