7 Best Ways to Provide Social Media Customer Service
Businesses can meet their customers where they are and answer their questions in real time through social media customer service.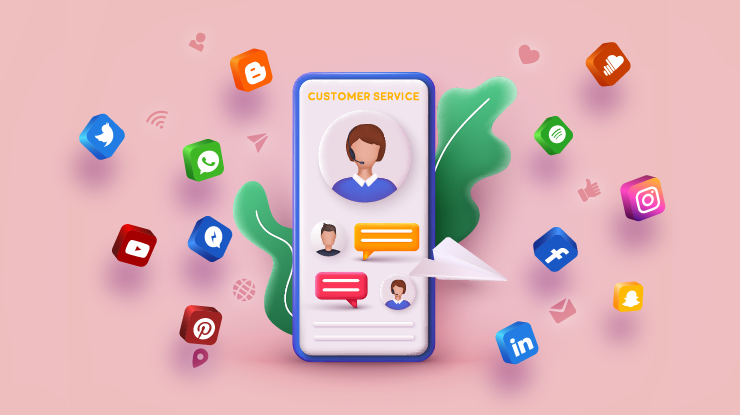 Companies used several methods, including phone calls as customer service, to support customers in the olden days. However, phone calls trump the postal service as the fastest and most effective customer service channel. The evolution of the internet ushers in the email, and it fast became the favourite for rapid customer service. The growth of the internet and the fact that we got used to email contributed to the quick acceptance of social media interactions. Overall, social media has redefined the face of customer support.
Don't try to tell the customer what he wants. If you want to be smart, be smart in the shower. Then get out, go to work and serve the customer! - Eugene Buckley, CEO of Sikorsky Aircraft
The instant feedback mechanism contributed heavily to the favouritism social media is currently enjoying. Just a tick—which appears milliseconds after sending a message—shows that your message has been sent. Even some social media platforms add additional ticks and styles of notifications to show that your message has been delivered, read, or the receiver is typing. So easy.
For added convenience and efficiency, social media platforms can incorporate a link to a QR code in their instant messaging feature, allowing users to quickly access information or promotions related to their conversation.
In addition, social media allows for the easy and quick transfer of media between two parties. So, customers can upload a video or photos of products they want to complain about or provide feedback about quickly from anywhere. Also, companies can send to-do videos from anywhere to attend to customer issues and complaints.
Most importantly, almost everyone is on social media. It is rare to find a person who doesn't have a social media account. It is a familiar environment where customers go for fun, business, career, and all activities. In the world out there, it is an implicit rule for businesses that 'If you are not on social media, you are wrong.'
Since social media is fast becoming our way of life, it is only logical for businesses to use these platforms to attend to customer issues.
What is Social Media Customer Service?
Social media customer service is offering support to customers using social media platforms. It is the use of social tools to resolve customer questions or concerns.
Excellent customer service is the number one job in any company! It is the personality of the company and the reason customers come back. Without customers, there is no company! - Connie Edler
Social media customer service is fast becoming a critical contact channel between businesses and customers. Companies can quickly meet their customers where they are, and customers are guaranteed that their request is not only delivered but would be attended to as soon as possible.
Social media customer service provides a new outlet for complementing the traditional call-based helpdesk support software. The two channels are used by organizations to complement each other and provide a seamless customer service experience.
Companies can efficiently address issues, offer guidance, send videos, share data and analysis, issue refunds, and many more with social media.
As a business, you can improve your social media customer support by having a dedicated social media support team. You can also initiate training programs, use appropriate software, and automate workflows to resolve customer issues.
How to Provide Social Media Customer Service?
Since your business is online, setting up a social media support system should be the bare minimum. Here are ways to provide the best social media support and get great feedback from your customers.
1. Set Up Brand Monitoring
So far, your business is online; you are the topic of conversation somewhere online. Customers talk about brands without tagging them in the conversations more frequently than when the brand is tagged. You are constantly being talked about; hence it is best practice to get into these conversations.
The first step would be setting up a brand monitoring system within your customer's favourite social media platforms to have an active social support system. The role of the team would be roaming social media platforms to follow any mention of your brand in discussions.
Customize the brand monitoring tools with streams to identify and list posts and comments with specific words. This helps you quickly narrow down to the most relevant content.
Monitoring social media can conveniently be done by using social media tools. You can easily set up a stream for any mention of your business name with positive or negative words. You can set up a stream for content with your brand name and a question mark for questions. In all, having several streams help you place your customer concerns in segments to prioritize urgent issues.
2. Get Questions Answered Quickly
Identifying conversations about your brand is just the first step; you need to address issues as quickly as possible. Especially matters that can have severe detrimental implications on your brand's image. Social media allows for instant messaging, so late answers can be as wrong as not answering at all. Hence, as a business, you should nip the issues in the bud as soon as you can.
Doing this can require you to have an organized system with dedicated social customer care team members. Also, you can segment the team's responsibilities across several social media platforms, highlighting the procedure for how each issue is investigated and addressed.
Also, the customer issues can be unified and specific messages can be assigned to specific team members for proper attention. Assigning cases to team members would increase the team's efficiency and increase your speed of resolving issues.
Above all, some social media platforms like Facebook show how quickly you respond to messages. Responding too long would discourage future interactions with your brand by customers and vice versa.
3. Have a Dedicated Support Channel
Having a social media support channel would significantly improve your customer experience. A support channel is different from a support team, as a channel shows a guideline while the team attends to issues.
It would be best if you had a dedicated social media support channel, which tells your customer what to do when they need to make complaints or ask questions.
On your social media pages, direct customers who need assistance to your support profile. You can set up a FAQ section to answer relative questions, chatbots customer service or a link to your direct message tab and email.
Each customer has different support channel preferences. Having a support channel will help customers choose from the various options available.
Doing this will reduce the inconveniences customers experience while making a query or tracking them. Also, customers will be able to evaluate past responses related to their questions. Above all, using a dedicated social media support channel will help you place your social media content marketing efforts and customer services in segments.
Tracking all your customer interactions might be complex if you own an MSE or large business. Hence you can use our Support.cc integrated platform to have total control over all social media interactions. Also, you can set up chatbots to handle human-imitated conversations with your customers for common service requests using Botup.
4. Know When to Take an Issue Private
Having a generic and public response to a question or issue can go a long way. However, not every issue raised by the customer can be resolved the same way. Some issues need to be settled in private conversations, partly because sensitive information can be required and partially because you cannot solve all the problems with only 280 characters. Also, if the back-and-forth in the public conversation is becoming too long, it would be best to be taken private.
The customer service team must be well-skilled to know when to migrate a public conversation to a private space. The team member handling the conversation can quickly draft a direct message concerning the issue and send it to the customer or call to rectify the complaints.
Once the issue has been resolved in the private space, your team member should return to the public space to send a 'thanks for reaching out' comment on the issue. This will give a tacit understanding to subsequent customers that the problems have been rectified.
Migrating a conversation to private space is not only an ethic of professionalism; it helps you get a lot more done.
5. Track and Manage Your Customer Support Volume
As an organization, having a rough estimate of the customer support volume required would help you strategize on how large your customer support team should be and what software to use.
Social media is always buzzing with information, and much of this is 'noise' — mentions that do not require a response. Therefore, it is reasonable for a business to sift through this plethora of conversations to know what volume would need immediate response and what volume is noise. Once you can firmly grasp the extent of the discussions about your organization, you would quantify the magnitude of team needs and the software to use.
Support.cc can track social media inquiries and turn them into support tickets. This gives you an all-in-one-place handle over the interactions, and you can respond to customers from the customer support software to whatever social media platform they use.
Tracking your customer interaction will provide you with invaluable insights. You will be able to monitor their history, and what conversations they've previously had. Have they complained about this issue before? Have they tried to reach out on other platforms? And so on.
6. Manage Customer Expectations
Customers always have a level of response they expect from each brand and do not expect the same measure of customer service from all companies. The trick is to know what they expect and how to manage it.
Some customers do not expect customer service because the service they enjoy is free or almost. However, if your customers are paying for products or services, they expect a level of customer service. The higher the price, the higher the customer service expectation.
As a business, you should consider the best way to meet your customers' expectations.
Set your customers' expectations.
Look at the size of your service team.
Consider the volume of customer support required.
State the time it might take for you to respond to each question.
Also, do let your customers know of any resources that can help them get a response faster.
7. Be Decisive and Proactive
You and your team need to make decisions from a few signals in customer tastes and expectations. If customers regularly ask questions about an issue, that is a sign that you need to provide a self-service resource to attend to this issue. This will help you mitigate future similar questions and also satisfy customers even when your customer support team is unavailable.
Also, you can provide services that let them know more about your products for your customers. For example, you can have a blog for steady information, how-to videos and so on. The focus is on getting your customers to know more about your product; you stay longer in their minds when they do.
Keeping a wealthy online resource centre will provide customer services for clients. It would reduce support requests coming in. if people have simple questions, you can easily refer them to your online resource centre for more information.
Honourable mention
Quantifying and reporting on your customer support effort is essential. Knowing how well you are doing in the social media customer support space will help you gauge your performance and identify shortcomings.
Conclusion
Get the best out of your social media customer support today with the tips above. The focus is pleasing your customers, and using these tips assures that.
Manage every customer inquiry on a single platform with support.cc. Save time. Never miss a message. Improve customer satisfaction. Check out our Helpdesk Software, and you'll be grateful you did.
Discover Why Support.cc Stands Out
#1
Manage all your support tickets in one place
#2
Provide multi-channel support via email, chat, call, knowledge base and social media
#3
Create automation rules for faster resolutions and routing
#4
Get a 360-degree view of customer data with CRM integrations
#5
Enable self-support for your customers through brandable knowledge base
#6
Organize tickets and follow-up on them using built-in task management
#7
Integrate with built-in NinjaChat (live-chat software) and BotUp (AI Chatbot)
#8
Generate customer service reports to identify areas of improvement
#9
Unbelievable pricing - the lowest you will ever find
#10
Everything your business needs - 50 apps, 24/5 support and 99.95% uptime
Join the SaaS Revolution
All-in-One Suite of 50 apps

Unbelievable pricing - $14.99/user

24/5 Chat, Phone and Email Support