Choosing the Perfect Service Desk Software for Your Business
A Service Desk is a type of software that assists your company in efficiently managing its database and resources for getting information to execute respective jobs better.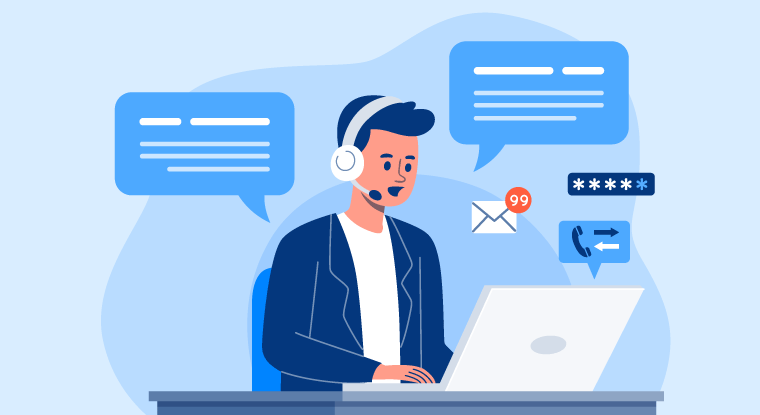 Employees, customers, suppliers, and business partners interact with service desks like administration. Switching to service desk software allows companies to achieve more accuracy and speed in resolving customer complaints.
What is a Service Desk Software?
Service Desk software keeps track of unresolved issues and problems using ticketing systems. Several service desks improve the underlying ticketing system, including machine learning, analytics software, knowledge centers, etc. Service desk platforms and communication channels are based on emails, live chats, video and audio conversations, and social media. Service desk employees are frequently overworked and pressed for time.
A service desk is a customer care center where clients can get assistance from service providers. Service desks create and manage departmental knowledge, provide self-service for customers who want to resolve incidents quickly and independently and provide metrics on the team and the tool's effectiveness. Service desks are a reliable, customer-centric, and service-focused method of assisting clients.
The introduction of chatbots in recent years has reduced the workload of service desk employees and boosted their productivity. Customers that interact with a chatbot believe they are conversing with a human operator. These advanced software services can take over your support platform's live-chat capacity. The chatbot solves the problem by answering general questions, providing further resources, or initiating an automated process. The use of machine learning and other artificial intelligence technologies is the key facilitator of innovation in the service desk field. From efficient communication management to faster break-fixing, these service desk systems have a range of applications.
What are the Advantages of Using a Service Desk for Your Business?
Over time, service desk software has become a valuable commodity for many businesses. It has grown into a versatile technology capable of multitasking effectively. Organizations use this technology to streamline communications and develop workflows. Service desk software can be valuable for a variety of reasons.
Five Benefits of Using a Service Desk for Your Business are Listed Below: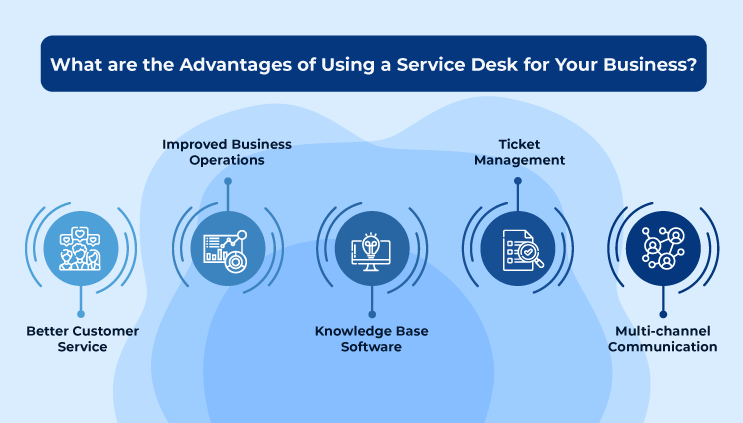 Better Customer Service
The goal of service desk software is to make the user's tasks easy. Customers always request immediate solutions to their problems. You can keep track of customer tickets and keep them updated using a service desk software. Customers can also contact the support team quickly, resulting in faster responses.
Improved Business Operations
A service desk program can help your company manage and handle various tasks right away. Integrating one part of a business with another is one method by which the software automates the process. With its intuitive features, good service desk software can help improve any business operation by streamlining the overall workflow.
Ticket Management
A ticket management system is a part of service desk software that provides a quick and easy way to manage customer inquiries, requests, or issues. The ticketing system is used for multiple purposes, ranging from day-to-day operations to customer service. This software can help with immediate actions to consumer concerns regarding a company's product, further enhancing the customer experience.
Multi-channel Communication
Different clients prefer various modes of communication. Some people like to call the number directly, whereas others prefer to send an email. Operators doing everything manually; can be exhausting. The service desk software integrates all of these channels, greatly assisting the support crew. It ensures that neither question is unanswered.
Knowledge Base Software
Customer service operations benefit most from knowledge base software. It makes it easier to respond to consumer questions quickly and efficiently by putting all the information they require in one location. People expect and want easy access to reliable information. Customer support representatives can rapidly deliver correct, informative replies using knowledge base software.
How do You Choose the Perfect Service Desk for Your Business?
Various business owners do not know how to choose a service desk software. The ideal software allows employees to save time and resolves client issues quickly. Some service desks handle external customer requests, while others handle internal customer inquiries from team employees. Discussing with your support team and figuring out what elements they want can outline the service desk software suitable for you. Listed below are five features to look for a perfect Service Desk for your business.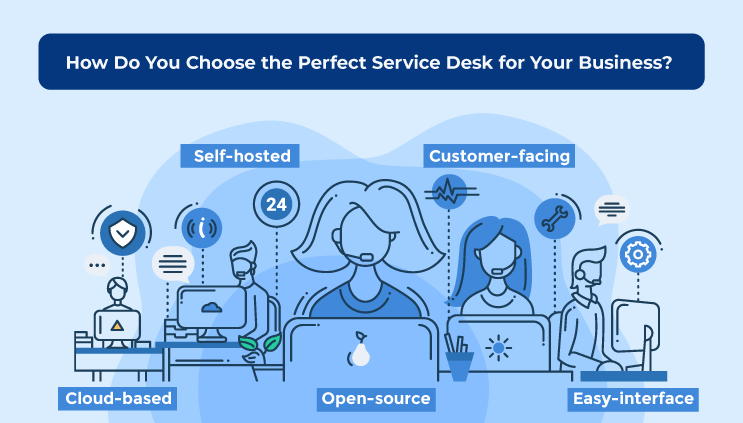 A cloud-based service desk, also known as a web-based service desk, is proprietary software hosted online via a provider's website. There are monthly or annual memberships rather than a one-time purchase. The software provider handles the maintenance, security, and data backup.
Self-hosted support desks mean you can install the software on the servers. All you have to do is install the program on your server, and the service provider takes care of its maintenance. Employees can submit tickets to your team directly, making it easy to coordinate requests.
Open-source service desk software gives developers direct access to a program's source code, allowing them to customize the software in any way they see suitable. An open-source support desk's source code is always available to developers for modifications.
Customer support teams utilize client-facing service desk software to manage incoming customer contacts. The core of an excellent service culture is your customer service strategy. The features of these programs vary, but most include a shared mailbox and collaboration, productivity, and reporting tools.
The easy-to-use, clutter-free interface helps managers, employees, and clients easily navigate the application. It even lets you view repeat buyers or loyal brand supporters as indicators of outstanding customer service.
Summing it Up
A support desk must respond quickly, including being accessible 24/7. Therefore, customer support representatives can connect with consumers and address their problems using service desk software at any time. Customers can transmit their questions to a single point of contact, and a ticketing system tracks and organizes concerns for speedier resolution. It could also include a function that compiles and organizes responses to questions into a knowledge base, such as inquiries or reference articles. A database of informative articles and a chat interface that enables customer service staff to associate with clients in real-time are a few features of the software.
Support.cc by 500apps is a Helpdesk Software that manages and tracks service requests from start to end by resolving client difficulties. This advanced service desk software assists in resolving customer inquiries and efficiently managing service requests. Support.cc makes your customer service stand out and effectively streamlines customer service responses and follow-up. This software boosts efficiency by automatically sharing knowledge based on real-time feedback, improving performance.
Discover Why Support.cc Stands Out
#1
Manage all your support tickets in one place
#2
Provide multi-channel support via email, chat, call, knowledge base and social media
#3
Create automation rules for faster resolutions and routing
#4
Get a 360-degree view of customer data with CRM integrations
#5
Enable self-support for your customers through brandable knowledge base
#6
Organize tickets and follow-up on them using built-in task management
#7
Integrate with built-in NinjaChat (live-chat software) and BotUp (AI Chatbot)
#8
Generate customer service reports to identify areas of improvement
#9
Unbelievable pricing - the lowest you will ever find
#10
Everything your business needs - 50 apps, 24/5 support and 99.95% uptime
Join the SaaS Revolution
All-in-One Suite of 50 apps

Unbelievable pricing - $14.99/user

24/5 Chat, Phone and Email Support