4 Key Benefits of a Helpdesk Software
Originally, the helpdesk support software generates a document known as the ticket that captures the interactions associated with a support case.
Help desk software is a technology that provides centralized information and support services, such as helping customer service teams intake, manage, organize, automate, respond to, and handle a company's internal or external queries. It is a one-stop point of contact that includes a ticketing system, an inbox, a reporting dashboard, and an assignment system for reps.
Acting as a dedicated tool for customer satisfaction, the helpdesk support software helps resolve customer grievances faster and automates the complaint resolution process with the ticket-management system.
Different Features of a Good Helpdesk software System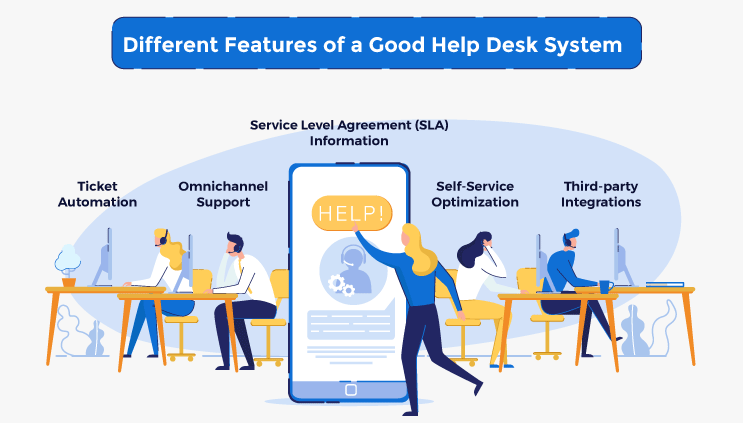 Apart from including support tickets, you need to understand how to make full use of the features of the help desk as well. There are various essential features that a good help desk system must possess to achieve an impeccable process for managing and solving various user concerns.
Robust automation capabilities are a mandate in today's world, regardless of the industry you are a part of. Automation helps to perform various tasks, streamline your support operations, and boost the effectiveness of your customer support team.
With good helpdesk, you can perform repetitive and routine tasks such as recurring customer questions and administrative tasks like issuing daily reports and filling out forms. Additionally, automation assists in converting emails to tickets, routing them to the right agents, and notifying managers.
Assisting end-users through multiple channels, the customer service involves highlighting convenience at all times and fortifying relationships with customers. Serving as the link between different departments while responding to your end user's queries, a good help desk system facilitates customers to send their concerns through different channels such as emails, calls, SMS, or even social media. Moreover, such a system helps you improve your existing end-user support platforms to accommodate customers better the next time.
Service Level Agreement (SLA) Information
When your support team looks at a ticket for the first time, they are faced with a situation to determine the urgency of the ticket and prioritize its solving compared to others. This process tends to be cumbersome and prone to human error. Help desk systems with SLA information help prioritize tickets easily and avoid any potential SLA violations. Furthermore, your managers can route different SLAs to their respective workflows and ensure that each SLA type gets the appropriate customer service.
Self-Service Optimization
Most businesses cannot enable 24/7 availability for their user support services due to a lack of workforce or the nature of the offered services. However, helpdesk support software can support a self-service option or portal that allows customers to find answers to their inquiries or concerns even if support agents are not available round-the-clock. This portal may operate as chatbots, community forums, FAQs, easy ticket submission options, or a well-organized knowledge base.
Helpdesk support software facilitates the integration of features with third-party tools to expand the set of features available to your team. Integrations help provide access to specific features that a user requests, which may not be available on the help desk app. Moreover, this feature allows you to leverage necessary tools such as billing systems and CRMS.
How to Use a Help Desk?
The helpdesk support software initially creates a document, called the ticket, that records the interactions on a support case. The ticket gets shared between the representative and the customer in one continuous thread that shares their conversation. After the ticket has been generated, the support team can resolve the issue and notify any updates to alert the customer via the ticket. Once the issue gets resolved, either side can close the ticket.
Benefits of Helpdesk Software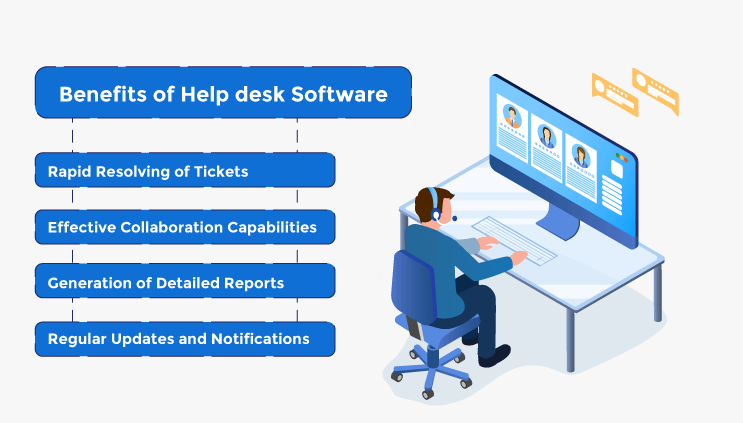 1. Rapid Resolving of Tickets
Help desk tools help you assign support tickets to the right team members. The system facilitates complete accountability of work and ensures a greater sense of ownership for agents over their work. The respective agents with the concerned expertise can resolve the respective issue in the shortest turnaround time.
2. Effective Collaboration Capabilities
Customer issues can be resolved faster with a well-organized system that involves chats, screen recordings, and social networking services. With internal collaboration features, the customer service agents can easily interact from their dashboard, tag members of other departments, and seek their expertise whenever needed. Help desks that bank on collaboration signifies that customer convenience is the utmost priority.
3. Generation of Detailed Reports
One of the major benefits of help desk services is the generation of comprehensive reports such as custom reports and ticket response reports. This proves to be beneficial in retracing messages and communication channels and briefly organizing all types of concerns sent by customers. The analyses act as valuable references and feedback for improving your services and maximizing manpower for client support operations.
4. Regular Updates and Notifications
Customers facing issues need to get their queries answered and their issues resolved. They have a tendency to bombard your support team with endless calls or emails if they don't receive timely updates. With an efficient help desk system, you can provide regular alerts and notifications so that customers do not panic and get support for their concerns.
Why Use Support.cc?
Support.cc by 500 apps is a Helpdesk Software that offers multiple channel support to manage and resolve queries from emails and calls, provide access to information for your customers, and an automated SLA workflow to check your customer service metrics. Using Support.cc, you can delight your customers and track happiness from your CRM. Powered by various features such as an advanced report, task-management, workflow-management, live chatbots, and email-integration, Support.cc provides the best customer service experience to your users.
Summing It Up
Offering help desk support is essential for all departments to promote customer service and improve brand loyalty. Supplying the end-users with reliable information and assistance facilitates greater productivity and increased accountability. Powered by automated ticket assignments, instant alert features, internal collaborations, customer feedback surveys, numerous generations of reports, and various other services, your brand can always stay ahead of the competition and have a place in today's marketing world.
Discover Why Support.cc Stands Out
#1
Manage all your support tickets in one place
#2
Provide multi-channel support via email, chat, call, knowledge base and social media
#3
Create automation rules for faster resolutions and routing
#4
Get a 360-degree view of customer data with CRM integrations
#5
Enable self-support for your customers through brandable knowledge base
#6
Organize tickets and follow-up on them using built-in task management
#7
Integrate with built-in NinjaChat (live-chat software) and BotUp (AI Chatbot)
#8
Generate customer service reports to identify areas of improvement
#9
Unbelievable pricing - the lowest you will ever find
#10
Everything your business needs - 50 apps, 24/5 support and 99.95% uptime
Join the SaaS Revolution
All-in-One Suite of 50 apps

Unbelievable pricing - $14.99/user

24/5 Chat, Phone and Email Support