10 Best Ticketing Software Every Business Should Use
Customer service that is second to none may win your clients' hearts and make you recognizable among your target demographic. Learn how ticketing software systems give agents with a variety of assistance and tools that encourage teamwork in order to respond to consumer inquiries.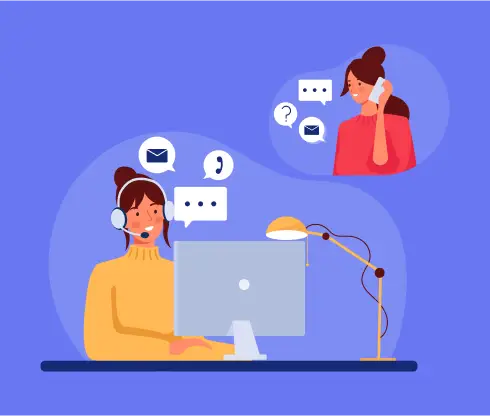 In customer service, a ticketing system is an application that helps organizations handle customers' queries. Ticketing tools like Support.cc have made it easy for customer service agents to resolve and escalate issues. Some applications enable customers to self-serve. Learn more about ticketing software and some of the best tools every business should use.
Once a client requests a ticketing system, the ticketing software will create a ticket – in this case, the issue raised by the customer – and document the issue and the interactions after that. Customer agents have access to this data, so they already know what the problem is and are better placed to resolve it quickly by the time they reach out to the client. If your help desk is well polished, you will be able to turn your customer service team into an effective machine capable of satisfying clients and building a good reputation for your brand. You would not want to offer sluggish service that stresses your employees and frustrates your clients.
Today's customer is more knowledgeable and demanding. They also have options. Thus, businesses must strive to meet the clients' demands and even exceed them to retain them.
According to Forbes, "Getting the right data about a customer's wants, needs and desires is important, but ultimately, delivering a superior experience is about infusing each interaction with relevancy and context in the moment of engagement."
As your business and customer base enlarges, it is increasingly important to have a helpdesk ticketing system to ensure the smooth running of operations. It enables swift and efficient handling of queries, requests, or incident reports emanating from different channels. A ticketing software creates a central point of contact, saving you time by routing all service requests into a single helpdesk and designing workflows that resolve issues according to priority. The system also keeps the data, so customer reps already have an idea about the client's problem in repeated customer cases. With such background data, the agent can quickly and efficiently attend to the client.
Essential Features to Look for in a Ticketing Software Tool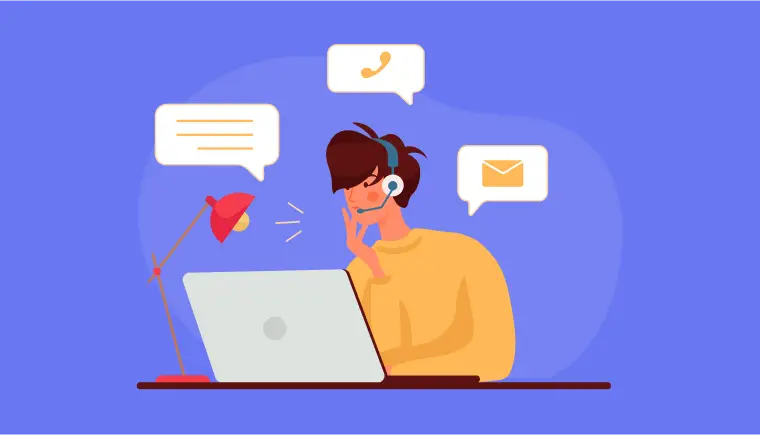 Ticketing software is a boon for any organization, and it serves both clients, as aforementioned, and customer support. If an employee encounters an issue with their system, they will report it via a helpdesk ticketing system. The ticketing software will automatically create a digital record of inquiry and alert the IT professional for assistance.
The goal of the software is to quickly restore normal service operations and alienate significant disruption of services. Numerous ticketing software tools can serve your needs, but there are crucial features to look for during selection. They include:
1. Omnichannel Support
Omnichannel support improves the overall support experience while keeping your IT team organized. Clients should be able to raise their issues and receive feedback through the channel they prefer most. Depending on their preference, it could be email, social media, live chat, walk-in, or the help desk. This is one of the ways to exceed your clients' expectations.
According to research by Gartner, customer service and support leaders must focus on consistently meeting customer expectations to win customer loyalty.
2. Ticket Assignments
This feature automates your team's query distribution and assigns the inquiry to a representative with more expertise on the particular issue. This will improve customer satisfaction and efficiency since the most equipped rep will attend to the problem.
Your employees should be able to create and distribute tickets to the right agent. The software you select should enable users to categorize, prioritize and assign queries to other employees or relevant professionals. The software should create a workflow that organizes inquiries based on type, priority, and department.
3. Workflow Automation
This feature automatically completes easy, regular tasks, thus improving team productivity. The feature can utilize Macros, SLAs, bots, or automation rules to enable the software to resolve simple tasks and leave the complex ones to live agents. The software should be tailored to tag inquiries containing specific keywords or notify agents when their expertise is needed. It should also allow integration into a third-party application used for sales, finance, or human resources to save time searching for problems.
4. Knowledge Base
Customers nowadays prefer to self-serve as it empowers them to resolve problems on their own. A ticketing system such as Support.cc that comes equipped with a knowledge base is a win for any organization in a support helpdesk. This feature enables businesses to provide information on common issues such that clients need not call for assistance. They can resolve simple issues on their own. Customer self-service, when done right, increases the speed at which issues are resolved and customer satisfaction.
According to Forrester, "self-service delivers personalized engagement, increases customer satisfaction and reduces operational costs by deflecting common customer inquiries."
If a customer fails to resolve the issue, the ticketing system should seamlessly transfer them to an agent.
5. Reporting and Analysis
Early detection of problems will enable you to resolve them before they bottleneck your operations. Select a solution that allows you to analyze tickets' progress and review the performance of the agents. This feature lets you comprehend what issues your agents spend more time on, the frequently reported inquiries, and areas that need improvement.
6. Scalability
The needs of your organizations are bound to double over time. Your ticketing software should grow with you. As your business grows, you'll certainly receive hundreds (if not thousands) of inquiries, which will come from a variety of channels, including phone, email, live chat, and social media. You now require a larger support crew to handle the increasing volume of queries. As a result, workloads are likely to increase. Furthermore, your representatives must maintain a professional demeanour, treat each customer as an individual, and be ready to provide prompt, round-the-clock, individualised support.
Best Ticketing Software Tools for Your Business
1. Support.cc by 500apps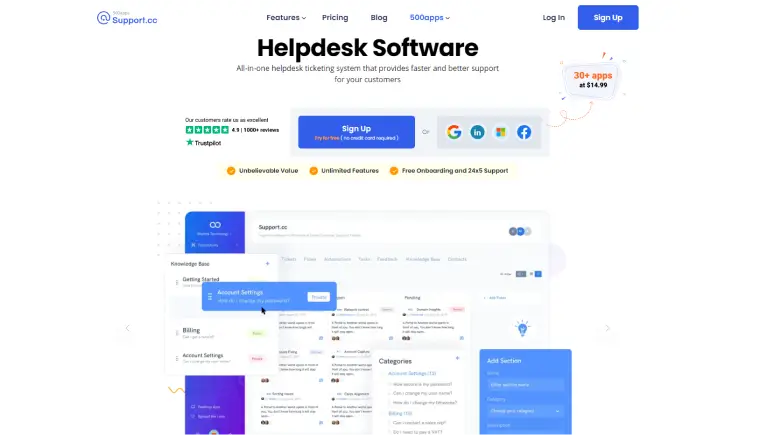 Support.cc comes loaded with many benefits, including ticket management, helpdesk automation, advanced reporting, and knowledge base management. It allows users to view customers' interactions in one dynamic interface, enabling them to process tickets efficiently and seamlessly. It has a tool - Kanban View - that allows users to view new, open, pending, and closed helpdesk tickets.
Support.cc comes with other 30+ apps that cover your marketing, sales, productivity, HR and operations areas of business, where you will be getting the complete suite for $14.99/month per user.
2. HubSpot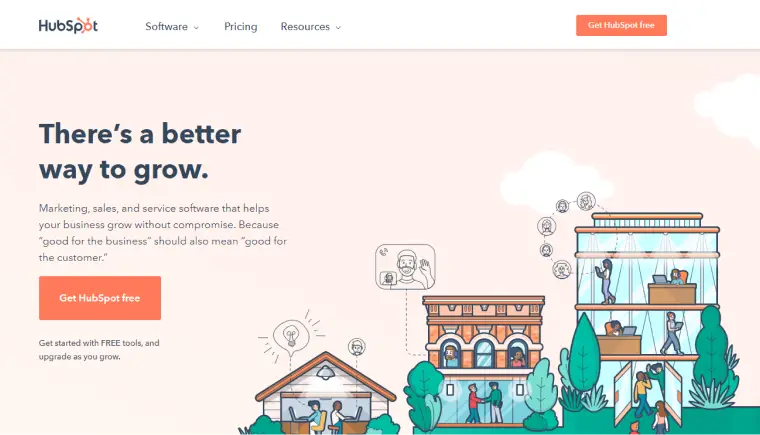 HubSpot provides a one-to-one support experience that will delight clients and improve their general productivity. It enables you to create a knowledge base for internal support or start a company email alias. The knowledge base will ensure service information and guides are always available for your agents.
It has a solo plan worth $49 per month for a single user and a team plan at $99 a month for five. The team plan costs $8 for any other uses. You will get a two-month free subscription if you purchase a yearly subscription.
3. JIRA Service Desk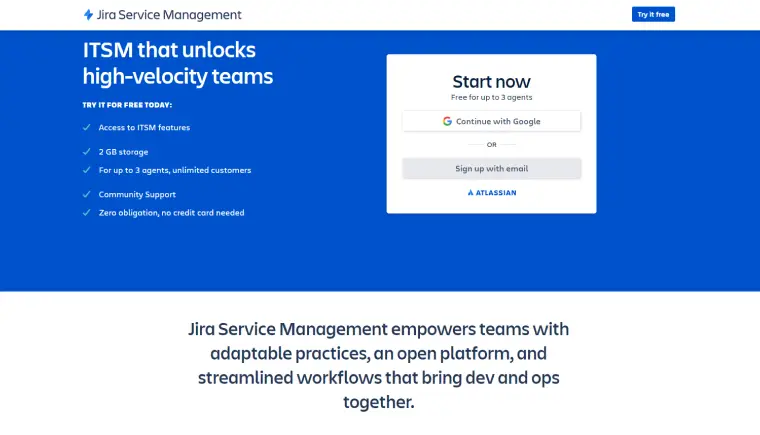 Jira service desk allows your agents to create several projects for organizing and processing inquiries. It will enable you to create a service desk project for each topic and have agents sending their queries using their email if you end up providing support for several products, areas, or departments. It works together with Confluence to help users create a knowledge base for internal documentation. This allows users to self-serve and finds solutions to simple queries, thus allowing your team to solve more complex tasks.
The software is affordable. It has a free account that has a limit of three users. Their paid plan goes for $20 per month for the standard plan and $40 per month for the premium plan. The paid plan allows up to 5,000 users.
4. Freshservice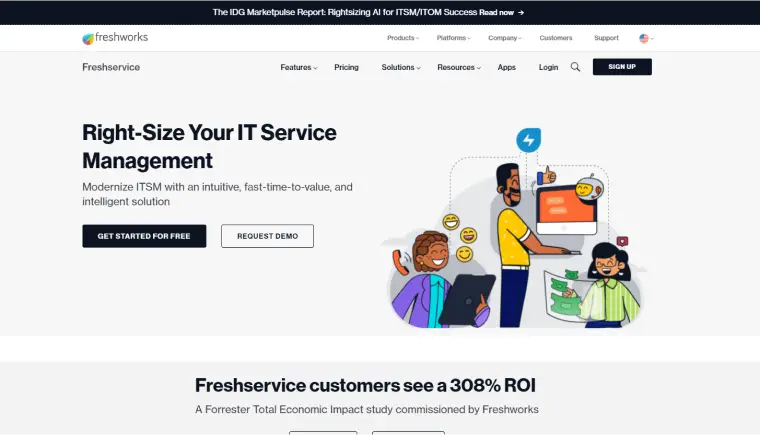 Freshservice is intuitive and user-friendly, especially for mobile applications. It allows users to build a standardized, sustainable approach to query management and allows easy collaboration between agents. The user can isolate queries and find patterns between numerous incidents without disrupting the customer service. The software enables incident management, SLA management, asset management, and knowledge base.
The software dashboard displays an extensive view of team performance and helps you figure out areas that need improvement. It is user-friendly; hence you will not need training for your agents. It gives users a 21-day trial. Their paid plans start at $19 per month per user, $49 for growing teams, $79 for large groups, and $99 for enterprises.
5. Alloy Navigator
Alloy navigator is fresh in the market as it was released in 2019. It allows users to customize asset management solutions to incorporate your help desk, ITIL standards, change management, ticket, and asset incident. It has a mobile application, allows customizable IT processes, and has an online web portal and end-user knowledge base portal.
A paid plan starts at $19 for an explorer package for one to three agents. An express plan allows four or more agents, and it is worth $49 per month. Their enterprise plan is worth $79 per month per agent and comes with more features.
6. Zendesk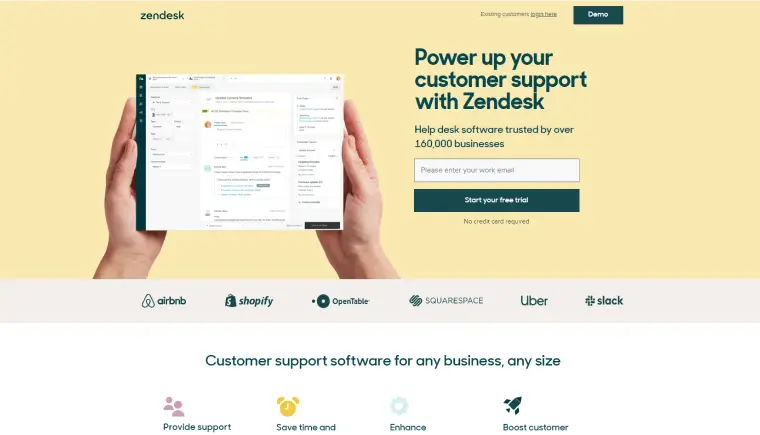 Zendesk is a user-friendly software that is easy to implement and maintain. The software often pushes notifications and integrates new features to enable the product to grow as your brand does. It reports problems, events, service requests, and inquiries from multi-channels. Their functionality can be easily expanded through collaborating the software and your IT helpdesk apps and tools. It enables agents to track essential information so they can address common issues impacting service delivery.
Their plan starts from $5 per month per agent. It has a support plan with the added ability to track and solve customer support queries. The suite plan has all the above features: live chat, messaging, voice and text, and several reporting tools. It allows users to create their packages if they contact sales directly.
7. ServiceDesk Plus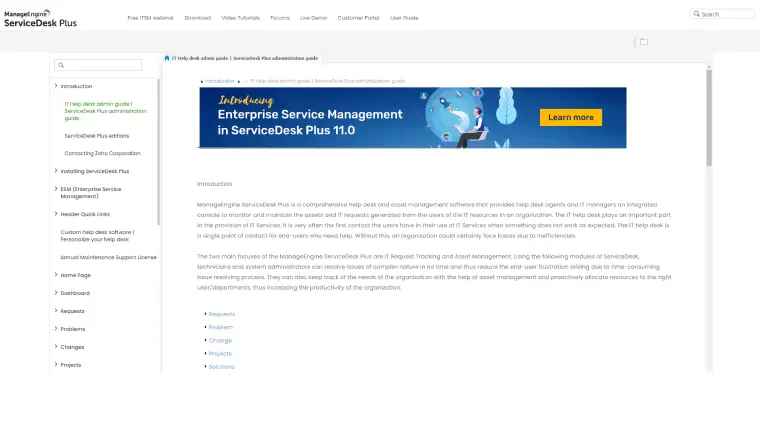 ServiceDesk Plus is a great helpdesk support software that enables users to manage incidents, problems, changes, and assets. Users can create customized reports and real-time dashboards to offer analytics and insight. You can easily manage resources, track progress and manage requests for any agent.
The service catalogue lets users publish their custom service catalogue with a custom SLA. The software has a configuration management database that allows users to track, manage, and visually scrutinize changes.
Paid plans start at $10 per agent per month for the standard plan, $21 for a pro plan, and $50 enterprise plan.
8. Jitbit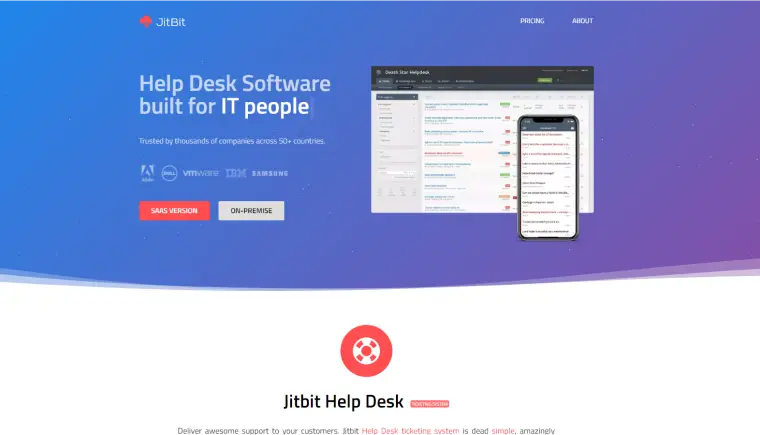 Jitbit can easily be implemented and allows users to manage requests in real-time. In a single view, you can access ticket activity, messages, and attachments. It saves time as users do not have to pin teammates for extra information. It has a mobile application hence allowing managers to respond to inquiries wherever they are. Their plan starts at $29 per month.
9. TOPdesk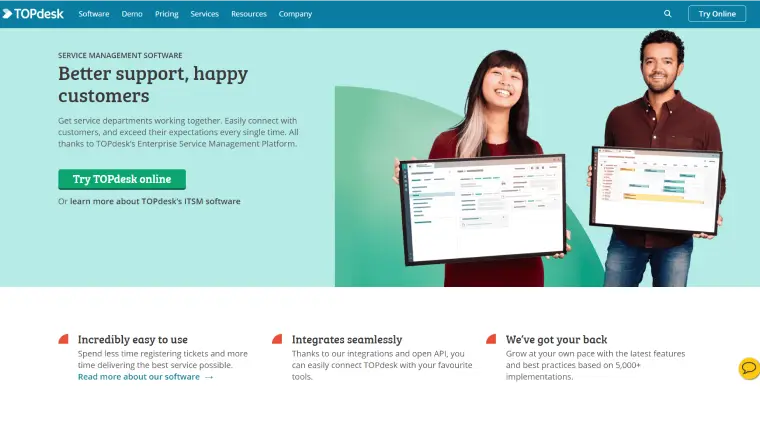 TOPdesk offers users a range of dashboards and reporting, incident and asset management, change and release management, knowledge base, resource, and problem management. It also offers supplier service level management to aid manage service agreements. You can create reports and manage the workload. The software is a feature-rich solution that will easily integrate with ITIL. It has two plans; essential for small organizations and mature for larger teams. Pricing depends on your needs.
10. ProProfs Helpdesk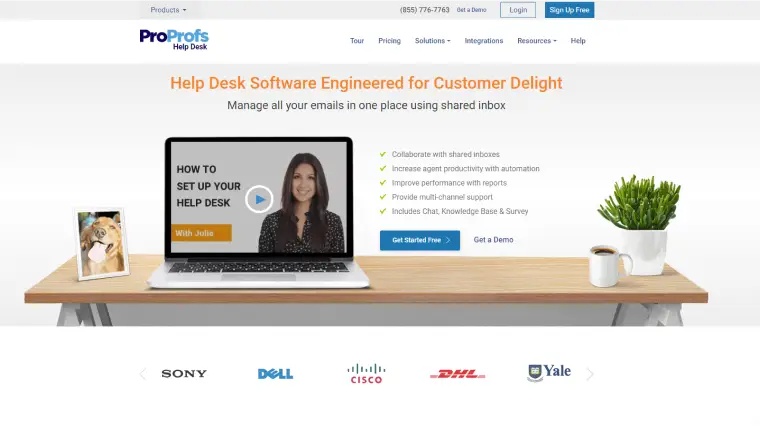 ProProfs allows for even the distribution of support tickets among agents and departments. It will enable agents to share inboxes (sales, support, help, billing, etc.) to work in sync. It is easy to use the user interface and attach support queries, knowledge base and resolve complex inquiries. Managers can closely monitor team productivity, measure their performance, and track ticket progress and handling time.
Their prices start at $10 per agent per month. They also have a free version with essential tools.
Conclusion
A good ticket management system will make it easier for your team to handle customers' queries. Go for a ticketing application that leverages technology to automate tasks. This way, you will meet your client's expectations, and your employees will resolve many issues, leading to clients' satisfaction. It is crucial to select a robust Helpdesk Software that comes with high scalability, omnichannel support, ticket assignments, workflow automation, knowledge base, and advanced reporting, among other benefits.
Discover Why Support.cc Stands Out
#1
Manage all your support tickets in one place
#2
Provide multi-channel support via email, chat, call, knowledge base and social media
#3
Create automation rules for faster resolutions and routing
#4
Get a 360-degree view of customer data with CRM integrations
#5
Enable self-support for your customers through brandable knowledge base
#6
Organize tickets and follow-up on them using built-in task management
#7
Integrate with built-in NinjaChat (live-chat software) and BotUp (AI Chatbot)
#8
Generate customer service reports to identify areas of improvement
#9
Unbelievable pricing - the lowest you will ever find
#10
Everything your business needs - 50 apps, 24/5 support and 99.95% uptime
Join the SaaS Revolution
All-in-One Suite of 50 apps

Unbelievable pricing - $14.99/user

24/5 Chat, Phone and Email Support