How To Get The Most Out Of Your Chatbot Support Experience
Chatbots are software programs that mimic human discussions via text or voice interactions.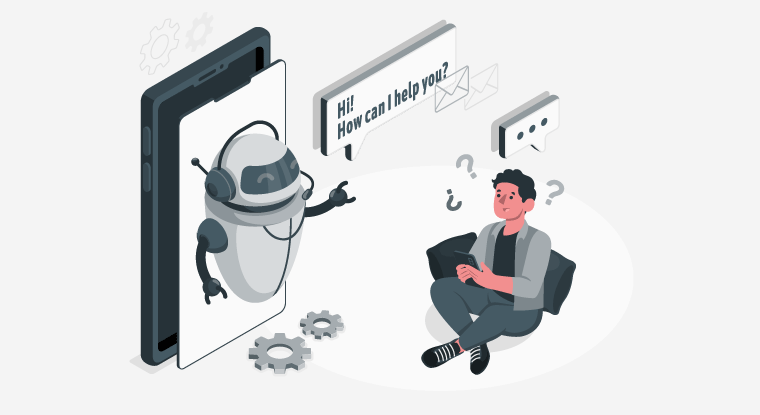 Communication is the vital aspect that connects the company with the customers. Communication has to be effectively established by any business or organization to flourish in the marketing world for spreading the word about their products to the customers. Through communication, companies can build stable relationships, enhance transparency, overcome marketing obstacles, and establish professionalism. One effective way of communicating is by using chatbots for improved customer service.
What is a Chatbot?
Chatbots are computer programs used for simulating human conversations through text or voice interactions. Generally used for answering basic customer questions, chatbots are developed to improve customer interaction when support staff is not available. Especially used by users in business-to-consumer (B2C) and business-to-business (B2B) environments, chatbots can be easily built with less coding and facilitate customer satisfaction.
The Benefits of Chatbot Support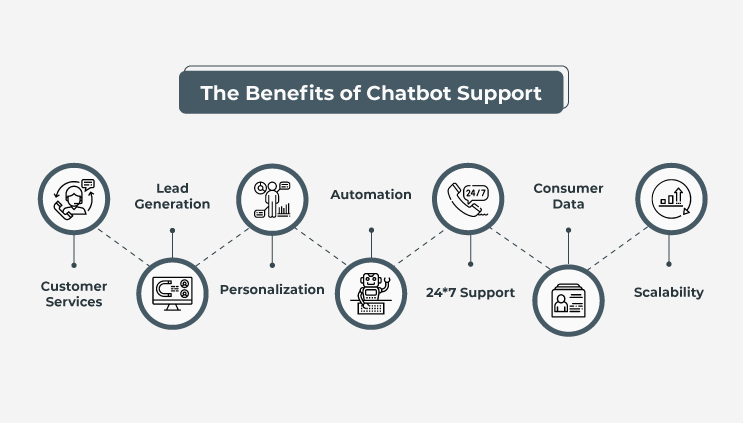 Chatbot support can take businesses to the next level by increasing customer engagement and enhancing customer experience. Unlike human operators and live agents, chatbots can respond within seconds to customer queries. Based on user data, conversational chatbots make interaction a pleasant experience and deliver consistent answers for clearing customer minds and preventing irrelevant information. Smart enough to analyze responses, chatbots can drive conversations to a personal level and enhance brand visibility.
Using data analytics to meet the individual needs of a consumer, chatbots have the capacity to fetch information about clients at a faster pace and tailor the content accordingly. By delivering immediate one-on-one responses, chatbots can also make personal recommendations to the users according to their likes and desires.
Highly effective at engaging customers with personalized messaging throughout their journey, chatbots are used by businesses to generate leads and guide customers in making quick decisions. By asking relevant questions, chatbots can promote better lead qualification and lead nurturing to improve sales conversions by presenting combo offers or discount coupons.
With the chatbot customer service support process being completely automatic, there is less need for manual labor as human expertise can be effectively utilized for complex tasks. This communication system improves both staff and resource efficiency. Moreover, bigger companies and larger organizations make use of an integrated chatbot and live chat software system, which empowers customers with the choice to interact with a bot or connect with a human agent for further clarifications.
Human support or customer service teams cannot be available all the time to clarify queries with customers who seek immediate assistance. Furthermore, the quality of the information provided by human support may vary from time to time based on their mood and situations. However, conversational chatbots can provide valuable information and homogeneous service tirelessly round the clock.
As an excellent tool to track purchasing patterns and analyze consumer behaviors by monitoring consumer data, chatbots can help businesses market their products effectively and expand their reach. With quick surveys and simple questions, chatbots can gain insights into customer needs, which helps to improve products and optimize websites. Moreover, companies can use consumer data to create customer profiles, send push notifications, and suggest relevant content.
Customer-centric businesses rely on their support team to promote their products through easy scalability. In certain situations, such as peak hours or festive seasons where there is a hike in site traffic, chatbots can ensure scalability and productivity without requiring higher manual support and handle various conversations together on a real-time basis.
How To Get The Most Out Of Your Chatbot Support Experience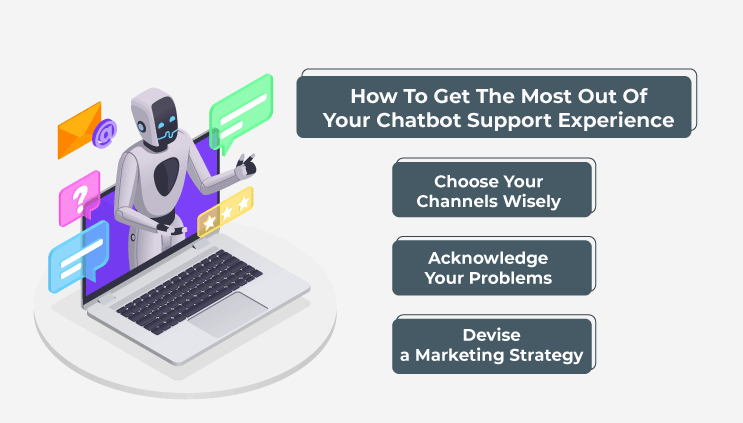 Chatbots are prominent tools that can shift the entire landscape of a company with the provision of effortless, convenient, and personalized support to its valuable customers. Available for chat, messaging, SMS, and even voice, chatbots are truly exceptional.
1. Acknowledge Your Problems
After learning about chatbots and how to use them, you should think about your problems and list everything you wish to address with a chatbot. Some common examples are:
Time-related problems such as spam messages, slow issue resolution time, and slow lead generation processes.
Budget-related problems such as high costs of customer support, employee training, and acquiring new consumers.
Team-related problems include agents resigning, the inability to gather reliable information, and team meetings.
Customer-related problems such as feedback collection, satisfaction issues, and website engagement.
2. Choose Your Channels Wisely
There are various communication channels available, and every framework for a chatbot comes with a different package. The various channels available and the different way to enhance communication is:
If it's a website, chatbots can answer customer questions 24/7, guide customers, streamline the purchasing process, and automate scheduling sales calls.
If it's social media, chatbots enable fan connections, answer FAQs, and personalize your fan page experience.
If it's live chats, chatbots can lower customer service costs, automate answering, promote easy scalability, and improve customer engagement.
3. Devise a Marketing Strategy
Using the power of real-time customer interactions, chatbot support can be used to devise a conversational marketing strategy and move buyers through the sales funnel. Some effective tips are:
Engaging in more leads to enhance the customer experience when visitors start conversations on the website compared to initial form filling processes. Responding to each customer individually and spending valuable time addressing their queries. Developing proactive interactions with quick responses and getting higher open rates. Increase productivity by streamlining your customer onboarding process and creating a better user experience during the purchase journey.
Summing It Up
The use of chatbots has come a long way in the marketing world, and their demand keeps rising in consumer markets. Despite being tech-savvy, chatbots help businesses save time, hold multiple conversations at once, analyze consumer data, measure lead qualifications, expand the consumer base, and ultimately redefine the customer experience.
Support.cc by 500apps is one of the Helpdesk Software available to help you get the most of your chatbot support. The software offers multiple channel support. Therefore, your employees can manage and address inquiries through emails, phone calls, tweets, and live chat. Furthermore, the software can be easily integrated with other chatbots like NinjaChat, a strong AI-Chatbot, that can assist consumers across many messaging applications and live chat. You can integrate this software into your company workflow and ensure high customer satisfaction and customer loyalty, as customers return to purchase from companies that have excellent customer service.
Discover Why Support.cc Stands Out
#1
Manage all your support tickets in one place
#2
Provide multi-channel support via email, chat, call, knowledge base and social media
#3
Create automation rules for faster resolutions and routing
#4
Get a 360-degree view of customer data with CRM integrations
#5
Enable self-support for your customers through brandable knowledge base
#6
Organize tickets and follow-up on them using built-in task management
#7
Integrate with built-in NinjaChat (live-chat software) and BotUp (AI Chatbot)
#8
Generate customer service reports to identify areas of improvement
#9
Unbelievable pricing - the lowest you will ever find
#10
Everything your business needs - 50 apps, 24/5 support and 99.95% uptime
Join the SaaS Revolution
All-in-One Suite of 50 apps

Unbelievable pricing - $14.99/user

24/5 Chat, Phone and Email Support