How To Find The Right Helpdesk Ticketing System For Your Business
A helpdesk ticketing system is software that keeps track of customer complaints so that your support team can address them promptly.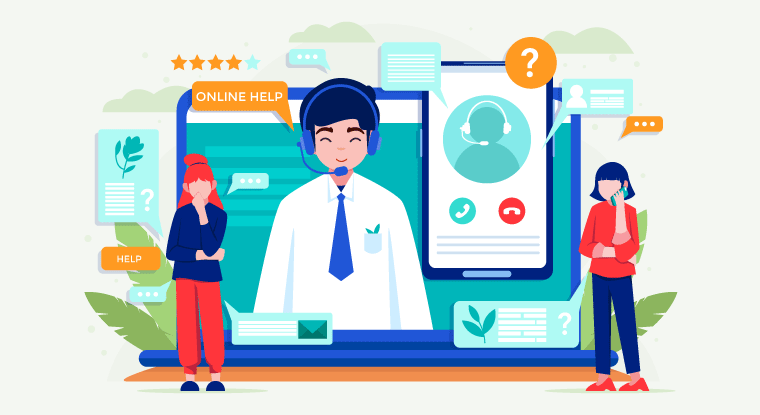 As your company expands, your customer service requirements also increase. While managing each case or customer query separately may seem like a good idea, it can quickly become tough to handle for one individual. An online helpdesk ticketing system queues incoming requests from various channels so the customer care employee can view all information on a central dashboard and provide solutions to the incoming inquiries.
With so many options and features to consider, it is easy to become overwhelmed and sidetracked. A methodical approach to selecting the best system helps keep you on track. This article can help you choose the best help desk solution for your needs.
What Is A Helpdesk Ticketing System?
A helpdesk ticketing system is software that tracks client complaints so that your support team can handle them as soon as possible. It also provides a means for escalating and prioritizing specific requests. As the system produces tickets consistently, regardless of the channel, all requests can be standardized and processed in chronological order.
Do I Need a Helpdesk Ticketing System?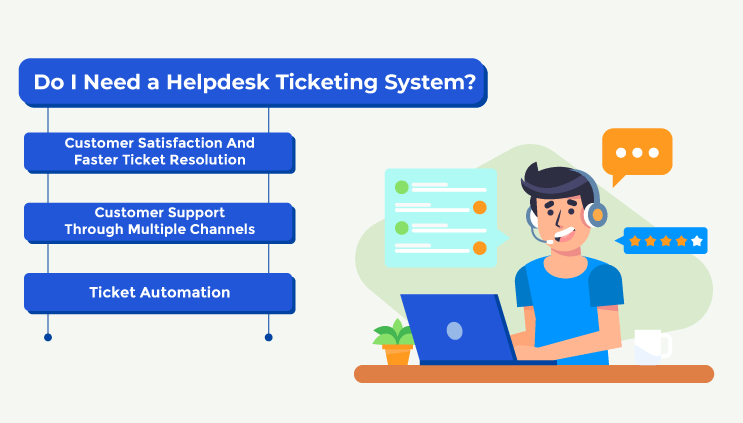 If your support team's daily efforts aren't converting into pleasant customer and employee experiences, it is time for you to consider switching to a helpdesk ticketing system. Your team has a higher chance of solving queries with a support system that provides transparency, accountability, insights, and the room to communicate. Here are three key benefits of a helpdesk ticketing system.
1. Customer Satisfaction And Faster Ticket Resolution
Having a help desk solution allows agents to address problems quickly. Agents can also access a library of FAQs in order to respond to consumer inquiries faster and thus boost customer satisfaction. A ticketing system also lets a customer care employee send customers articles related to their query while they are waiting for them to be addressed.
2. Customer Support Through Multiple Channels
Customers like to communicate with the support staff via their preferred channel. A multi-channel helpdesk ticketing system makes this possible. Customers can file a complaint through the software by email, social media, phone, etc.
3. Ticket Automation
The agent does not need to generate a ticket manually. A ticketing system produces a ticket each time the client contacts for the same or a different issue. As a result, the agent may concentrate on fixing the problem at hand rather than wasting time writing a new ticket every time.
How to Find The Right Helpdesk Ticketing System For Your Business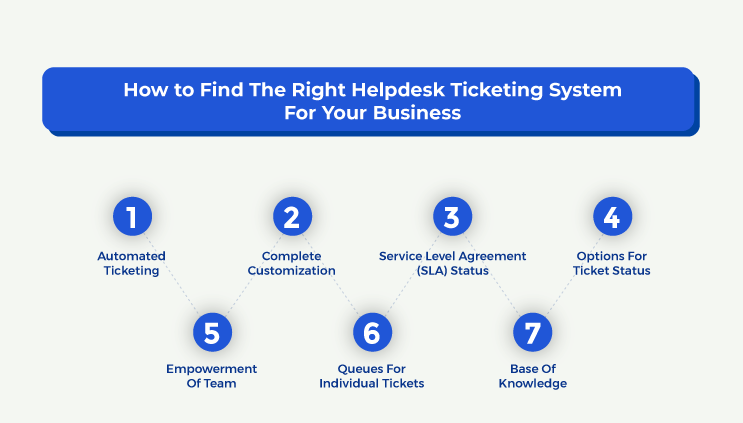 Ticketing software is one of the most commonly used tools by any customer service team. Your ticketing system should, at the very least, track customer satisfaction and agent performance. However, a helpdesk ticketing system provides many other essential features as well.
Ticket automation is an obvious and essential component of every helpdesk ticket management system. The only difference you may notice among the software provided by different vendors is the quality of the available automation. Therefore, you should seek automation capabilities that are simple to use and compatible with your company's existing procedures, staff, and culture.
Your ticketing system should be based entirely on your brand. In other words, it should have the same look, feel, and functionality as the rest of your internet presence. Consumers don't want to feel as though your company didn't put enough effort into the customer care platform. Therefore, the ability to customize the ticketing template is essential for any helpdesk ticketing system. This can involve changing the color and design of the template to match your brand.
Service Level Agreement (SLA) Status
An SLA is a contract that specifies particular actions or services expected by a customer from a company. Failure to achieve the standards mentioned may result in significant penalties that can harm your organization's brand image. A good helpdesk ticketing system or service ensures to meet your company's SLA standards.
Options For Ticket Status
Not all tickets are ""open"" or ""closed."" Some require further information from a consumer, while some are in limbo. A helpdesk ticketing system should provide in-depth information on a ticket, including its status. It can also give your customer care employees reminders so the query is not missed or overlooked.
A solid ticket management system should drastically minimize the time necessary to respond to a ticket. In addition, a helpdesk ticketing system should contain tools to boost team communication and productivity. Managers should also be able to track the individual and collective performance of the team, as well as create announcements that can be easily conveyed to the whole team.
Queues For Individual Tickets
Organizations generally use the same ticketing queues for all of their answers. Unfortunately, this might lengthen the time it takes to respond. Your helpdesk system should support queues for individual tickets, which allows your customer care staff to organize tickets more efficiently, thus, speeding up the process.
A robust knowledge base is the foundation of an effective customer support service. Quick replies using a searchable content database can result in happy clients and fewer support queries. Therefore, having a helpdesk platform with smart recommendation capabilities can save you the time and effort required to look for appropriate information.
Summing It Up
Platforms with sophisticated helpdesk ticketing system provide reports and analytics on customer behavior, their likes and dislikes, as well as connectors with a wide range of third-party applications. These features can help the individual generate leads. In addition, it can streamline your marketing process and produce targeted advertisements, as the software can provide you with important information regarding customer behavior as well as likes and dislikes.
If you are still wondering which system is ideal for your company, we recommend getting Support.cc.
Support.cc by 500apps has capabilities to streamline customer support queries. Based on real-time input, this software determines the order in which the tickets should be processed and lets you maintain complete control over your tickets. The software can also sort the tickets by status to determine the order in which they should be processed. Moreover, the Helpdesk Software helps you to build workflows that automate responses to your clients, enabling you to focus on more important tasks. With such intuitive features, Support.cc can keep up with customer expectations while bringing in new technological changes to ensure growth in business.
Discover Why Support.cc Stands Out
#1
Manage all your support tickets in one place
#2
Provide multi-channel support via email, chat, call, knowledge base and social media
#3
Create automation rules for faster resolutions and routing
#4
Get a 360-degree view of customer data with CRM integrations
#5
Enable self-support for your customers through brandable knowledge base
#6
Organize tickets and follow-up on them using built-in task management
#7
Integrate with built-in NinjaChat (live-chat software) and BotUp (AI Chatbot)
#8
Generate customer service reports to identify areas of improvement
#9
Unbelievable pricing - the lowest you will ever find
#10
Everything your business needs - 50 apps, 24/5 support and 99.95% uptime
Join the SaaS Revolution
All-in-One Suite of 50 apps

Unbelievable pricing - $14.99/user

24/5 Chat, Phone and Email Support