Best Ways To Create A Perfect Customer Service Help Desk
A customer service help desk effectively mitigates unexpected challenges of a business or service lapse that you may face.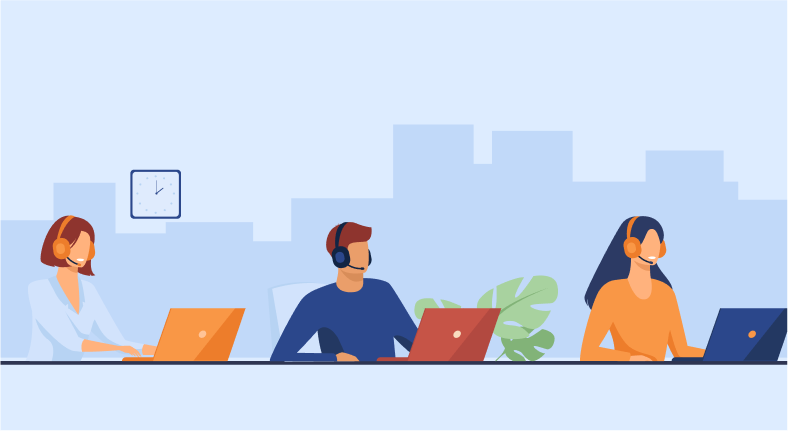 When you want to take your business to the next level, every aspect demands your attention, like development, sales, design, marketing, and so on. Why should you care about a customer service help desk in the midst of all this chaos? It is worth contemplation.
The answer is simple: a single negative customer review can tarnish your decade's worth of hard work and reputation that you might have earned with hardships in just a day or two. Yes, that's how quickly a review spreads.
Instead of attempting to sweep such service-failure horror stories under the rug, it is critical to confront them head-on and look for plausible solutions that add value. A perfect customer service help desk is possibly the first step to it.
A customer service help desk effectively mitigates unexpected challenges of a business or service lapse that you may face. It is a must-have business tool that can help your team collaborate effortlessly, automate repetitive tasks, and
A customer service help desk effectively stores the solution. It is an essential business tool that can help your team collaborate easily, automate repetitive tasks, and monitor the quality of services delivered to customers all over the world.
This blog examines those numerous advantages of a customer service help desk and trys to highlight some excellent strategies for improving its performance. Let's get started.
What exactly is a help desk for customer service?
A customer service help desk is a piece of customer-oriented business software and service that enables customer service teams to manage service requests and provide immediate and needed assistance to customers.
A customer service help desk serves as the single point of contact (SPOC) for a company's external customers and internal employees together. Your company can use this business tool to create and implement robust workflows for your customer-facing support team. Your team will be aware of every step that must be taken to manage incidents, resolve customer issues, and ensure that similar problems do not occur in the future.
When it comes to it help desk services, most service desks now follow the Information Technology Infrastructure Library (ITIL). ITIL defines best practises for managing the quality and delivery of IT support services in businesses. However, there is a noticeable shift.
Modern customer service help desks are no longer limited to IT. They are intended to effectively manage both IT and non-IT services.

A service desk improves the customer experience by doing the following:

Resolving issues and requests as quickly as possible

Making it easier for customers to contact a company through help desk services

Providing customers with the ability to solve common problems on their own
Significance of a Customer Service Help Desk
A service desk can help you win back customers, whether you are a small startup or a well-established company. Let's take a look at some of the most important advantages of a customer service help desk:
1. Boost Process Efficiency
Every company wants its departments to work in unison, like a well-oiled machine. However, the customer service department is not solely responsible for resolving customer issues.
Every business department or team is responsible for resolving critical business issues. A service desk is a centralised location for all customer communications and problems that can be resolved with input from relevant departments. For example, if a customer complains about repeated software downtime, your IT team can quickly intervene and resolve the issue.
2.Provide Proactive Customer Service
When most businesses think of customer service, they envision someone who contacted their customer service help desk with a problem and had it resolved. While this is the most common approach, reactive support may not result in rigid solutions, hence being proactive in service is the best way to go.
Instead of waiting for customers to flood you with help desk ticket system, a customer service help desk allows you to support them proactively. You can anticipate customer problems and notify them before they begin to complain. For example, if a product delivery is delayed due to bad weather, customers can be notified as soon as you learn about it, rather than waiting for customers to complain. This proactive customer service help desk helps both companies and customers with challenges at grass root level itself.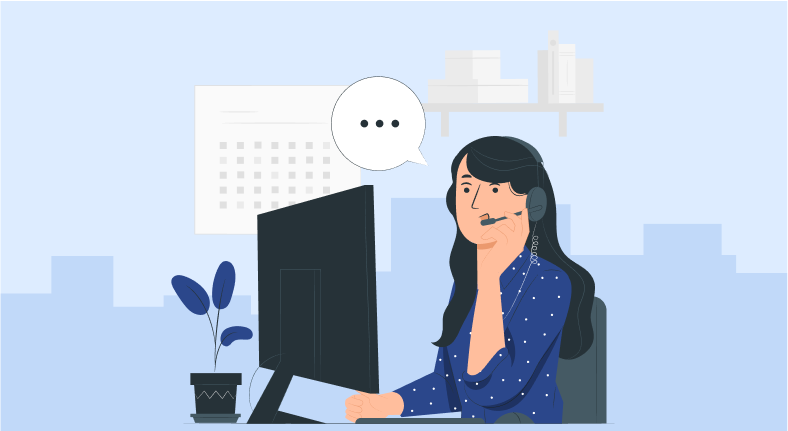 3. Get Data-driven :Assess Performance Using Insightful Reports
Measuring performance allows your company to track its growth and progress toward its objectives. Maintaining a higher bird's-eye view of your customer service process can help you avoid customer churn caused by poor service desk experiences.
A service desk, with its insightful reports and analytics, can be a game changer for your business. Individual and team performance can be tracked, as well as performance against SLAs and customer-focused KPIs such as CSAT, NPS, and so on perhaps with good applications like spiceworks help desk etc could help out in the same. Furthermore, you can identify your top performers and provide them with relative incentives to encourage positive results.
4. Build a Massive Information Library
Every business generates massive amounts of data that can be used to reduce effort, save time, and save money. But can businesses make use of this valuable data?
Across industries, roughly 80% of all customers attempt to resolve problems on their own before contacting a human representative.
Using customer service software tools, information pertaining to various customer problems can be stored in the knowledge database. Your employees can access them at any time and have all the information they need about a problem at their fingertips. All of this critical information, on the other hand, can be used to create self-help articles, FAQs, interactive videos, and other resources to assist customers in solving their own problems.
What Are the Key Service Desk Functions?
The customer service help desk serves as a central point of contact for internal employees, customers, and your company. The service desk includes a number of features to assist you in improving the support experience. There is a lot you can do, from a shared inbox to easy internal collaboration. Here are some of the most important service desk features to be aware of:
A service desk provides the shared inbox feature so that agents can see all incoming tickets in one place. Multiple agents can access and respond to customer service emails using a shared inbox. Many modern service desk tools include a universal inbox that allows you to capture requests from various channels such as live chat, web forms, phone, social media, and others. This is a fantastic feature for keeping everyone in the loop.
Collaboration within a Team
To avoid customer service horror stories, your agents must be able to collaborate in real-time. They should know who is working on what and avoid sharing multiple replies to a single incident or request. Service desk software allows support reps to leave private comments or notes for other team members. This way they can discuss complex tickets, leave important ticket updates, or simply make notes for future reference. You can even break complex support tickets into multiple child tickets and assign them to different people.
Customer help desks, as one of the most important features, enable you to create a user-centric knowledge base. Upload self-help content here and organise it into useful FAQs, tutorials, guides, articles, and more. Furthermore, a knowledge base designed for employee and customer self-service can significantly reduce your support volume.
Capabilities for Automation
Managing your IT support service desk manually can result in low productivity and long response/resolution times. You can, however, create efficient workflows by embracing automation technology. You can route tickets to agents automatically, send automated updates or notifications to employees and customers, and auto-suggest help articles. Furthermore, some service desk tools enable you to send automated feedback surveys to customers immediately after their issue has been resolved.
Customer service teams of all sizes require the right amount of data at their disposal. Managers can track individual performance, customer satisfaction, and team productivity using a service desk's real-time reporting feature. You can easily view data on key metrics like ticket response time, ticket resolution time, ticket backlog, CSAT, and so on to improve the customer experience.
Customer service teams are no longer isolated. They must maintain constant communication with other internal departments in order to provide the best advice or assistance to customers. Your customer support system should be simple to integrate with sales, information technology, and other business tools. The right integration options will enable your teams to collaborate more easily, establish a transparent process, and complete tasks more quickly.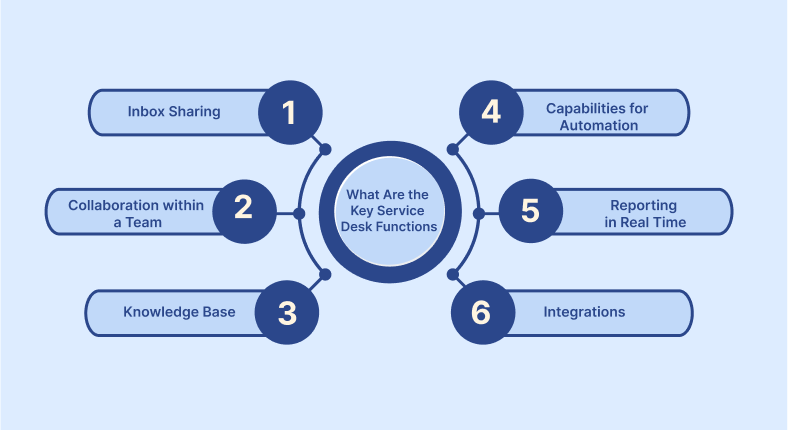 What Is the Difference Between a Help Desk and a Service Desk?
Anyone looking to improve customer service operations or find the best customer service tool must have come across an important question: what is the difference between a help desk and a service desk?
Although the terms service desk and help desk are frequently used interchangeably, there are some differences between them. The table below explains these distinctions.
The break-fix model is used by help desks. This means that if an issue arises (for example, something breaks), the end-user can contact the support department to have it resolved (fixed). Service desks, on the other hand, go beyond incident management and can assist you in developing the best service desk strategy.
The end-user is the primary focus of help desk teams. They concentrate on each individual case and strive to provide the best solution to customers or employees. The ""business"" is the primary focus of service desks. Service desk teams are constantly looking for ways to improve the overall support process, not just individual tickets.
It should be noted that these distinctions are frequently blurred. While the service desk can help you see the big picture and improve your business, that doesn't mean a help desk can't. You can, for example, use modern help desk tools like Pro Profs Help Desk to generate insightful reports and make data-driven decisions to improve your business.
Customer Service Help Desk, Service Desk, and ITSM Features
Fully functional & active service desk

End-user issues are handled by a single point of contact (SPOC)

Fundamental incident and problem management preferably with app interfaces

Ticket assignment and tracking are automated.

Create a nimble and effective knowledge base or a self-service portal.

Procedures for ticket escalation

The Service Desk

Serves as a single point of contact (SPOC) for information technology issues and requests.

Asset management gives you control over your IT assets.

Create and distribute your service catalogue.

Implement IT service management practises.

Increase the size and quality of support operations.

ITSM

Reduce the company's IT costs.

Provide end-users with continuous support and uptime.

Management and dissemination of knowledge

Asset identification and management

Determine the scope of new IT services.
In A Wrap !
It is common knowledge that companies that prioritise customer service out perform their competitors. Businesses that have mastered the art of delighting customers are available to their customers 24 hours a day, seven days a week, and employ sophisticated customer service tools.
A customer service help desk can assist your company in resolving incidents, encouraging teamwork, and managing the entire lifecycle of your customer service operations. A good service desk allows you to create a customer-centric culture where customer happiness is the top priority through effective communication.
Improve metrics such as first contact resolution (FCR), encourage self-service, train your agents on a regular basis, and implement valuable customer feedback or suggestions to improve the performance of your support service desk.
Discover Why Support.cc Stands Out
#1
Manage all your support tickets in one place
#2
Provide multi-channel support via email, chat, call, knowledge base and social media
#3
Create automation rules for faster resolutions and routing
#4
Get a 360-degree view of customer data with CRM integrations
#5
Enable self-support for your customers through brandable knowledge base
#6
Organize tickets and follow-up on them using built-in task management
#7
Integrate with built-in NinjaChat (live-chat software) and BotUp (AI Chatbot)
#8
Generate customer service reports to identify areas of improvement
#9
Unbelievable pricing - the lowest you will ever find
#10
Everything your business needs - 50 apps, 24/5 support and 99.95% uptime
Join the SaaS Revolution
All-in-One Suite of 50 apps

Unbelievable pricing - $14.99/user

24/5 Chat, Phone and Email Support